Looking for some easy & delicious camping food ideas ? You've come to the right place. This list of 22 camping food ideas offers a variety of dishes, from hearty breakfast options to delicious dinners and sweet treats for dessert. Each meal is not only delicious but also simple to prepare and cook outdoors. Whether you're a camping newbie or a seasoned pro, these camping food ideas are sure to elevate your outdoor cooking game and impress your fellow campers.
1. Campfire Foil Packets
Effortless and Delicious
These Campfire Foil Packets are your ultimate camping meal solution. They are effortless, customizable, and most importantly, delicious. All you need to do is wrap your chosen ingredients – such as diced chicken, vegetables, and seasoning – in foil and let it cook over the campfire. It's a true feast in a packet.
Enjoy the Versatility
This meal is about as versatile as it gets. You can make it with virtually any protein, vegetables, and spices you like, providing a world of flavors right at your campsite. Whether you prefer a savory combo of steak, potatoes, and bell peppers, or something more unusual like salmon, asparagus, and lemon, you can't go wrong.
Get Creative
Campfire Foil Packets are not just limited to main courses. Try making a dessert packet with bananas, chocolate, marshmallows, and graham crackers for a twist on the traditional s'more. The possibilities are endless.
2. Skillet Scrambled Eggs
Hearty Breakfast
Starting your day with a hearty breakfast is essential when you're camping, and Skillet Scrambled Eggs make it easy. This one-pan dish combines eggs, cheese, and your choice of veggies or meat for a delicious, protein-packed breakfast that will fuel your adventures.
Quick and Convenient
One of the best things about this recipe is its simplicity. All you need is a cast-iron skillet and a heat source. It's the perfect recipe for a hassle-free morning meal in the great outdoors.
Your Way
You can easily customize this dish to suit your tastes. Add some diced bell peppers, onions, and spinach for a veggie scramble, or throw in some diced ham or bacon for added flavor and protein.
3. Grilled Sausages with Peppers and Onions
Classic Campfire Meal
There's nothing quite like the flavor of Grilled Sausages with Peppers and Onions cooked over a campfire. The sausages get wonderfully smoky, and the peppers and onions become sweet and tender. It's a classic campfire meal that will satisfy your hunger after a long day of outdoor activities.
Simple and Straightforward
This meal is both simple and straightforward. Just skewer your sausages, peppers, and onions and grill them over the campfire. You can also cook them in a skillet if you prefer. Either way, the result is a hearty, flavorful dish that you'll love.
Suit Your Taste
The beauty of this dish is in its flexibility. You can use any type of sausage you prefer, from bratwurst to Italian, and choose your favorite bell pepper colors. For added flavor, consider marinating the sausages or adding a drizzle of mustard or barbecue sauce before serving.
4. Dutch Oven Chili
Comfort Food at Its Best
Dutch Oven Chili is comfort food at its best. There's something so satisfying about a hearty bowl of chili after a day of hiking, fishing, or simply enjoying the great outdoors. This one-pot dish combines ground meat, beans, tomatoes, and a blend of spices to create a meal that's both filling and full of flavor.
Easy to Prepare
Despite its complex flavors, this dish is surprisingly easy to prepare. All you need to do is brown the meat, add the rest of the ingredients, and let the Dutch oven do its magic over the campfire. The result is a robust and delicious chili that will warm you from the inside out.
Customize Your Chili
This recipe is very adaptable. You can use any type of meat you like or make it vegetarian by adding extra beans and vegetables. Feel free to spice it up with some chili powder or cayenne pepper, or keep it mild for those with sensitive palates.
5. Campfire Stuffed Bell Peppers
A Nutrient-Packed Meal
Campfire Stuffed Bell Peppers are a nutritious and satisfying camping meal. The bell peppers are packed with ground meat, rice, and spices, then roasted over the campfire. The result is a flavorful, nutrient-packed meal that's both filling and delicious.
Perfect for Meal Prep
This dish is ideal for meal prep. You can prepare the peppers at home, wrap them in foil, and store them in your cooler until you're ready to cook them. This saves you time and makes mealtime a breeze.
Make it Your Own
Feel free to experiment with the fillings for your stuffed peppers. Try using different meats or grains, or add some cheese for extra flavor. You can also make a vegetarian version with beans or tofu.
6. Campfire Pizza
A Fun Twist on a Classic
Who says you can't have pizza while camping? This Campfire Pizza is a fun twist on a classic favorite. It's made by cooking pizza dough on a grill or campfire and topping it with your favorite pizza ingredients. It's a fun and delicious meal that everyone will love.
Easy and Interactive
Making pizza over a campfire is surprisingly easy, and it's a great interactive meal that everyone can participate in. Kids will love being able to customize their own pizzas with their favorite toppings.
Mix it Up
The sky's the limit when it comes to topping your campfire pizza. Go classic with mozzarella, tomato sauce, and basil, or get creative with unique toppings like barbecue chicken, pineapple, or even dessert toppings like Nutella and strawberries.
7. Campfire Quesadillas
Quick and Delicious
Campfire Quesadillas are a quick and delicious camping meal that's perfect for a busy day of outdoor activities. These are made by filling tortillas with cheese and your favorite ingredients, then cooking them over the campfire until they're crispy and the cheese is melted. It's a satisfying meal that's sure to hit the spot.
Read also: 24 Thai Recipes
Customizable to the Core
Quesadillas are incredibly customizable. You can fill them with almost anything, from leftover chicken or beef to veggies, beans, or even fruit and chocolate for a sweet twist.
Meal on the Go
Once cooked, these quesadillas can be eaten right away or wrapped up for a meal on the go, making them a perfect choice for hiking, biking, or other activities where you need a portable meal.
8. Campfire Nachos
A Camping Favorite
Campfire Nachos are a camping favorite that's perfect for a fun and casual meal. Made by layering tortilla chips, cheese, beans, and your favorite toppings in a cast iron skillet or Dutch oven, these nachos are cooked until the cheese is melty and delicious.
Simplicity is Key
This dish is as easy as it gets. It requires minimal prep work and can be cooked right over the campfire, making it an ideal choice for those laid-back camping evenings.
Add Your Touch
Feel free to get creative with your nacho toppings. Add some salsa, guacamole, jalapenos, or even some leftover BBQ chicken for extra flavor and substance. This dish is versatile and easily adaptable to suit your tastes.
9. Campfire Burgers
Classic Outdoor Meal
There's something incredibly satisfying about a juicy burger cooked over an open flame. These Campfire Burgers are a classic outdoor meal that will keep you full and satisfied after a day of adventuring. The smoky flavor from the campfire adds an extra layer of deliciousness to this traditional favorite.
Easy and Adaptable
Making burgers over a campfire is simple and requires minimal equipment – all you need is a grill grate and your campfire. This recipe is also adaptable, as you can use any type of ground meat and add your favorite burger toppings.
Tailor to Your Liking
Customize your campfire burgers to your heart's content. Experiment with different types of cheese, sauces, and toppings. Whether you prefer a classic cheeseburger or something more gourmet, the choice is all yours.
10. Skillet Cornbread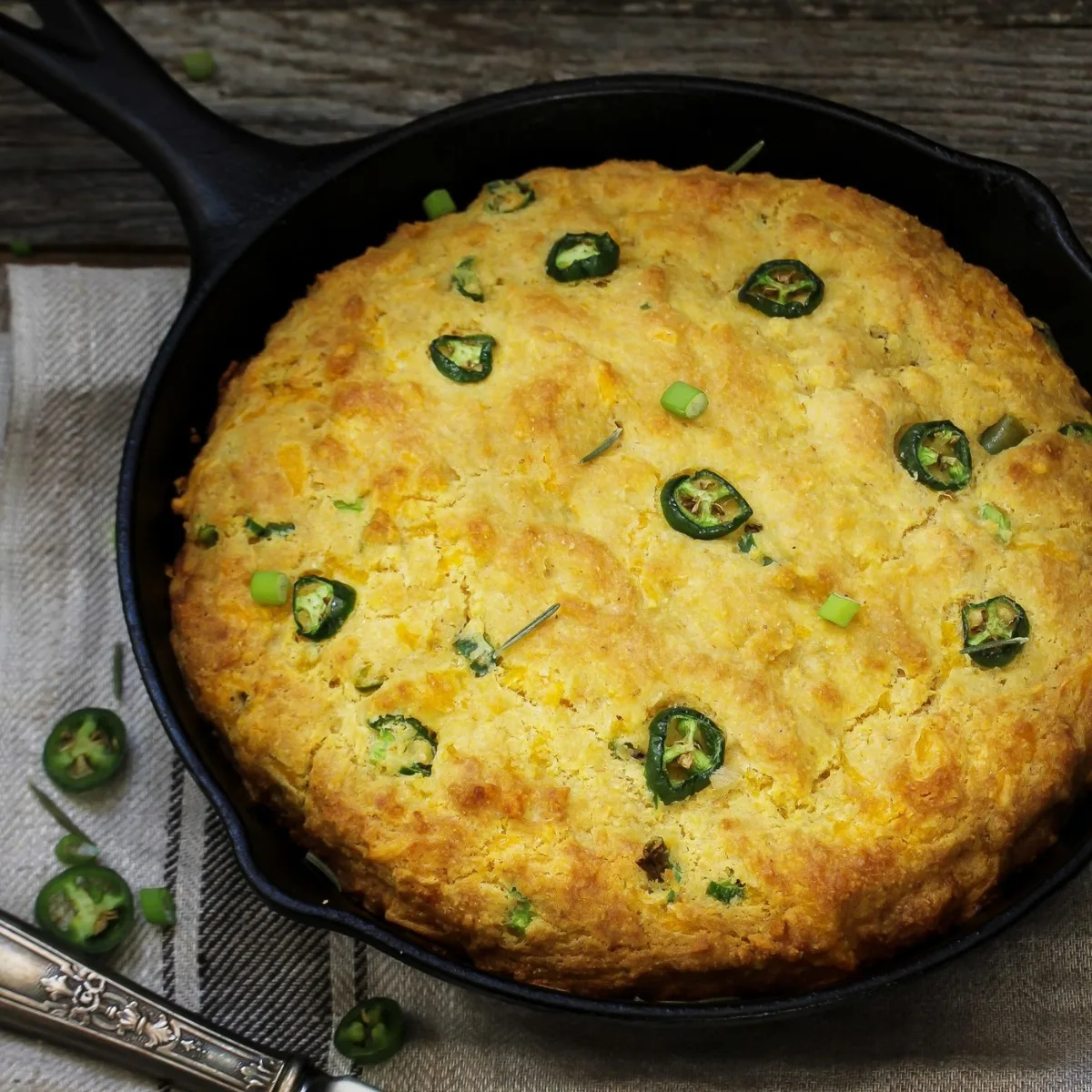 A Camping Comfort Food
Warm, buttery, and slightly sweet, Skillet Cornbread is a camping comfort food that's a perfect addition to any meal. Cooked in a cast iron skillet over the campfire, it's a simple and satisfying dish that pairs well with chili, BBQ, or any hearty camping dinner.
Simple Preparation
Making cornbread while camping is surprisingly easy. This recipe requires a few basic ingredients and a cast iron skillet. The result is a golden, delicious cornbread that's sure to please.
Customize Your Bread
Add your own touch to this classic dish. Mix in some diced jalapenos for a spicy kick, cheese for extra richness, or fresh corn kernels for additional sweetness and texture.
11. Campfire Baked Apples
A Healthy, Sweet Treat
Campfire Baked Apples are a healthy and delicious dessert option while camping. These are made by filling hollowed-out apples with a mixture of oats, nuts, spices, and sweetener, then wrapping them in foil and baking them over the campfire. The result is a warm, sweet treat that's reminiscent of apple pie, but much healthier.
Easy and Nutritious
This dessert is not only delicious, but also very easy to make and packed with nutrients. It's a great way to enjoy a sweet treat while still getting a good dose of fiber and vitamins.
Make it Your Own
Feel free to experiment with the fillings for your baked apples. Try adding different nuts, dried fruits, or spices. You can also drizzle some caramel or top with a scoop of ice cream for extra indulgence.
12. Campfire Popcorn
A Campfire Classic
Campfire Popcorn is a classic camping snack that's perfect for those relaxed evenings around the fire. All you need is a popcorn popper or a heavy-duty foil and your favorite popcorn kernels. As the popcorn pops over the fire, it takes on a slightly smoky flavor that's irresistible.
Easy and Entertaining
Making popcorn over the campfire is not only easy, but it's also entertaining. It's a great activity for kids and a fun way to enjoy a delicious snack.
Customize Your Popcorn
Feel free to customize your popcorn by adding your favorite flavors. Try some melted butter and salt for a classic taste, or add some nutritional yeast for a cheesy, vegan option. The possibilities are endless.
13. Campfire Breakfast Burritos
A Hearty Breakfast
Start your camping day right with these Campfire Breakfast Burritos. Loaded with scrambled eggs, cheese, and your favorite breakfast meats and veggies, these burritos are cooked over the campfire for an added smoky flavor.
Meal Prep Friendly
You can prepare these burritos at home, wrap them in foil, and then simply heat them up over the campfire when you're ready to eat. This makes for a quick and easy breakfast without the morning fuss.
Your Burrito, Your Way
Feel free to add your own favorite ingredients. Whether you like them with bacon, sausage, or just veggies, these breakfast burritos can be customized to fit any diet or taste.
14. Skillet BBQ Chicken
Flavorful and Satisfying
For a heartier meal option, try this Skillet BBQ Chicken. The chicken is cooked in a cast iron skillet right over the campfire until it's juicy and flavorful. Served with your favorite BBQ sauce, it's a satisfying meal that's sure to please.
Simple to Make
Despite its delicious outcome, this dish is surprisingly simple to make. With just a few ingredients and a good fire, you'll have a delicious, restaurant-quality meal right at your campsite.
Customize Your Dish
Try different BBQ sauces to change up the flavor, or add a rub to the chicken before cooking for an extra layer of spice. This dish is as versatile as it is delicious.
15. Dutch Oven Lasagna
Comfort Food at the Campsite
Dutch Oven Lasagna brings the comfort of home cooking right to your campsite. Layered with noodles, cheese, and your favorite sauce, this dish is cooked in a Dutch oven over the fire until it's bubbling and delicious.
Worth the Effort
While this dish requires a bit more prep work than some other camping meals, the delicious outcome is well worth the effort.
Customize Your Lasagna
Whether you prefer a classic tomato and cheese lasagna, a hearty meat version, or a veggie-packed variation, this recipe is adaptable to suit your preferences.
16. Grilled Pineapple
A Sweet and Healthy Dessert
Grilled Pineapple is a sweet and healthy dessert option for your camping meals. The heat of the grill caramelizes the natural sugars in the pineapple, bringing out its sweetness and giving it a delicious smoky flavor.
Quick and Easy
This dessert requires minimal prep work and cooking time. Just slice the pineapple, place it on the grill, and wait for it to become golden and juicy.
Variety is Key
Feel free to drizzle some honey or sprinkle some cinnamon on top for extra flavor. You can also serve it with a scoop of ice cream or yogurt for an indulgent treat.
17. Dutch Oven Pot Roast
A Hearty and Flavorful Dish
Bring the comfort of a home-cooked meal to your campsite with this Dutch Oven Pot Roast. This dish is cooked slowly over the fire, allowing the flavors to meld together and the meat to become tender and flavorful.
Worth the Wait
While this dish does require a longer cooking time, the result is a hearty and satisfying meal that will fill you up after a day of outdoor activities.
Customize Your Roast
Feel free to add your favorite vegetables and spices to the pot roast. This dish is highly customizable and can be tailored to suit your preferences.
18. Foil Pack Fajitas
A No-Fuss Meal
Foil Pack Fajitas are a no-fuss camping meal that's packed with flavor. Chicken, peppers, and onions are cooked in a foil pack over the fire, resulting in a delicious and easy-to-clean-up meal.
Simple Preparation
All you need to do is chop your ingredients, place them in a foil pack, and let the fire do the rest. This simple preparation makes it an ideal camping meal.
Make it Your Own
Feel free to add your favorite fajita ingredients like mushrooms, zucchini, or different types of meat. The possibilities are endless.
19. Dutch Oven Peach Cobbler
A Classic Campfire Dessert
Dutch Oven Peach Cobbler is a classic campfire dessert that's sure to satisfy your sweet tooth. The sweet peaches and the fluffy topping cooked over the fire create a dessert that's both comforting and delicious.
Easy and Rewarding
Making this dessert may seem daunting, but it's actually quite simple. And the result is a sweet and rewarding treat that's perfect for sharing around the campfire.
Customize Your Cobbler
Feel free to use different types of fruit for your cobbler, or add spices like cinnamon or nutmeg to your topping for an extra flavor kick.
20. Grilled Sausage and Vegetable Foil Packets
A Balanced and Flavorful Meal
Grilled Sausage and Vegetable Foil Packets are a balanced and flavorful camping meal. This dish combines hearty sausages and a variety of vegetables, all cooked together in a foil packet for a fuss-free, delicious dinner.
Read also: 30 Asian Side Dishes
Effortless and Efficient
Simply assemble your ingredients in a foil packet and cook it over the fire. This meal is not only effortless but also efficient in terms of cleanup.
Customizable to Taste
Feel free to swap in your favorite types of sausage or vegetables, and experiment with different seasonings to make this meal uniquely yours.
21. Grilled Shrimp Skewers
A Light and Tasty Dish
Grilled Shrimp Skewers are a light and tasty dish that's perfect for a warm summer evening at the campsite. The shrimp are marinated in a flavorful sauce, then grilled over the fire until they're perfectly cooked.
Quick and Satisfying
These shrimp skewers are quick to prepare and cook, making them an ideal choice for a satisfying yet easy-to-make meal.
Versatile and Adaptable
Feel free to experiment with different marinades for the shrimp, or add some vegetables to your skewers for a more balanced meal.
22. Grilled Veggie Skewers
A Healthy and Flavorful Side
Grilled Veggie Skewers are a healthy and flavorful side that can complement any camping meal. The vegetables are skewered and grilled over the fire, resulting in a side dish that's both nutritious and delicious.
Easy and Colorful
These skewers are easy to prepare and offer a burst of color to your campfire meal.
Make it Your Own
Feel free to choose your favorite vegetables for these skewers and season them with your preferred spices or herbs for a personalized touch.
Conclusion
Camping is an opportunity to connect with nature and enjoy some quality time with family and friends. But that doesn't mean you need to compromise on your meals. With a little creativity and the right ingredients, you can create a camping menu that's just as exciting and satisfying as your adventures. These 22 camping food ideas are designed to bring convenience, nutrition, and a whole lot of flavor to your campfire cooking.
So next time you're planning a camping trip, why not add some of these ideas to your meal plan? Happy camping !