Lucien Gaudin is a small cocktail but it packs a serious punch, and you can't figure out much by just the name itself. A very elegant cocktail from a time when gin was king.
This post may contain affiliate links. This post is meant for those of legal drinking age.
What is the Lucien Gaudin?
Lucien Gaudin is a gin-heavy cocktail that is very similar to a Negroni, but adds more orange via orange liqueur. It's a small drink but it's not to be underestimated, since all the alcohols involved are quite strong (gin, orange liqueur, orange aperitif, and vermouth).
The name is in honor of French fencer Lucien Gaudin, who was quite popular back in the 1920s. Whether the cocktail was named after him because he was popular, or because it was his favorite drink, or it had an ingredient he was very fond of, I can't say for sure but there is a connection between the drink and the fencer.
And since this is a very old cocktail, it's very gin-forward since gin was the go-to spirit at the time and drinks were meant to celebrate its flavor, not mask it entirely. If you're a gin lover, this will be right up your alley.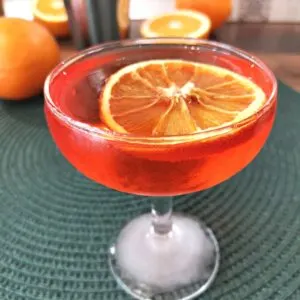 Lucien Gaudin Cocktail Recipe
Named after famous French fencer Lucien Gaudin, and serves as a delicious Negroni riff.
Ingredients
1

oz

gin

0.5

oz

orange liqueur

0.5

oz

orange aperitif

0.5

oz

dry vermouth

orange twist optional
Instructions
In a shaker combine gin, vermouth, orange aperitif, orange liqueur, and ice. Shake well.

Strain into a coupe glass.

Garnish with orange twist (optional).
Notes
This is a more orange-forward take on the classic Negroni, and you can easily scale the bitterness up or down depending on whether you use Campari (bitter) or Aperol (bitter-sweet).
When is this drink best ?
I think Lucien Gaudin works best as a pre-dinner or mid-dinner sipper. Drinking this on an empty stomach and/or without any incoming food will get you hammered right away. Its flavors work very well year-round, since it's overall gin and orange. I could see it served at an upscale place, not only because of the fancy-sounding name but also because it does taste very refined. Something to enjoy and ponder with each sip, instead of easily drinking.
My thoughts on Lucien Gaudin
I found the orange liqueur and aperitif go very well with the gin in this. Normally I don't go for gin cocktails but this one doesn't make me want to pass it to my husband. However this is a strong drink, it burns and it's the equivalent of drinking spirits neat, but in a nice mix.
The orange aperitif that most people use is Campari, but I used Aperol, simply because I can't handle the bitterness in Campari. Even so, it still had a bitter finish, but wasn't too much or bothersome in that regard.
The vermouth the classic used was dry vermouth, and I used white vermouth, which is sweeter than dry but far less sweet than sweet vermouth (red). So I think the vermouth goes well with the orange aperitif, but it gets a little lost in the background since the orange tends to overpower it.
Orange liqueur is a very nice touch, and it gives the entire drink an orange overtone that I think ties everything together. This isn't meant to be a sweet drink, especially if you make it with dry vermouth and Campari. Mine turned out a little sweet, but that how I like it anyway.
If you like Lucien Gaudin, you might also like…
Classic Negroni – extremely similar to Lucien Gaudin, but more bitter and without orange liqueur
Negroni Sbagliato – a Negroni with sparkling wine instead of gin
Leap Year – another gin, vermouth, and orange mix
Jasmine – a a similar gin sipper
Aperol Sour – a sour, with an Aperol base
Notes, substitutes, and tips
The gin you use will matter here, since it will come through the orange. The botanicals in gin pair very well with the orange, and the slight (or strong if using Campari) bitterness adds a layer of depth to gin. I'd recommend the driest gin you can stand, since there's a little sweetness in the orange liqueur as well.
The alcohol burn is real, be mindful when sipping on this. It looks very pretty but it's quite strong.