Barbecuing chicken is a summertime staple, and finding the right side dishes to complement this classic dish can elevate your dining experience. There are countless ways to prepare a delicious barbecue chicken, and similarly, the possibilities for accompanying side dishes are practically endless.
In this guide, you'll discover 27 exciting side dishes to pair with your BBQ chicken, each offering a unique and delicious addition to your meal. As you peruse the options, you'll find dishes that cater to various dietary restrictions, preferences, and styles – ensuring you have something to please everyone at your table. So whether you're a seasoned cook or a casual griller, this list will inspire you to create the perfect pairing for your next barbecue feast.
Classic Side Dishes
1. Potato Salad
There are many variations of potato salad, and it's always a hit at summer cookouts. The creamy combination of potatoes, mayonnaise, mustard, and other flavorful ingredients makes potato salad a favorite among BBQ chicken pairings. You can experiment with different herbs and spices to create your own unique version.
2. Coleslaw
Another classic side dish you often find accompanying BBQ chicken is coleslaw. Whether you prefer creamy coleslaw or a vinegar-based version, this crunchy cabbage salad offers a textural contrast to your tender, smoky chicken. Customize your coleslaw by adding additional vegetables like shredded carrots or bell peppers.
3. Corn on the Cob
When it comes to side dishes for BBQ chicken, you can't go wrong with corn on the cob. The slightly sweet taste of corn pairs perfectly with the smoky, tangy flavors in barbecued dishes. You can boil, grill, or even microwave corn on the cob, then add butter or your desired seasonings to elevate the taste.
4. Baked Beans
Finally, baked beans make a warm, comforting side dish to serve with BBQ chicken. This classic dish combines navy beans, bacon, onion, molasses, mustard, ketchup, brown sugar, and Worcestershire sauce for a hearty, savory flavor.
You can prepare baked beans in a slow cooker, on the stovetop, or in the oven, depending on your preference.

Read Also: 25 Side Dishes For BBQ Ribs
Healthy Alternatives
5. Quinoa Salad
If you're looking for a nutritious and low-carb BBQ side dish, this Easy Quinoa Salad is a great option. This salad is a mix of quinoa and summer veggies, so it's perfect for those watching their carb intake.
6. Cucumber Salad
Consider a refreshing Cucumber Salad packed with cucumbers, onions, and a tangy vinegar dressing. This light and simple salad pairs beautifully with BBQ chicken and is perfect for a summer cookout.
7. Green Beans
Green beans are a versatile and healthy side dish for BBQ chicken. Try this Balsamic Green Bean Salad featuring tangy balsamic vinegar and crunchy almonds. It's a fresh and appealing addition to your BBQ spread that won't disappoint you.
8. Bok Choy
For an Asian-inspired BBQ side dish, consider a Chopped Salad with Bok Choy. It's a no-cook, vegan-friendly salad that's packed with a variety of flavors and textures. Serve it alongside your BBQ chicken for a unique and exciting addition to your meal.
Starchy Comfort Foods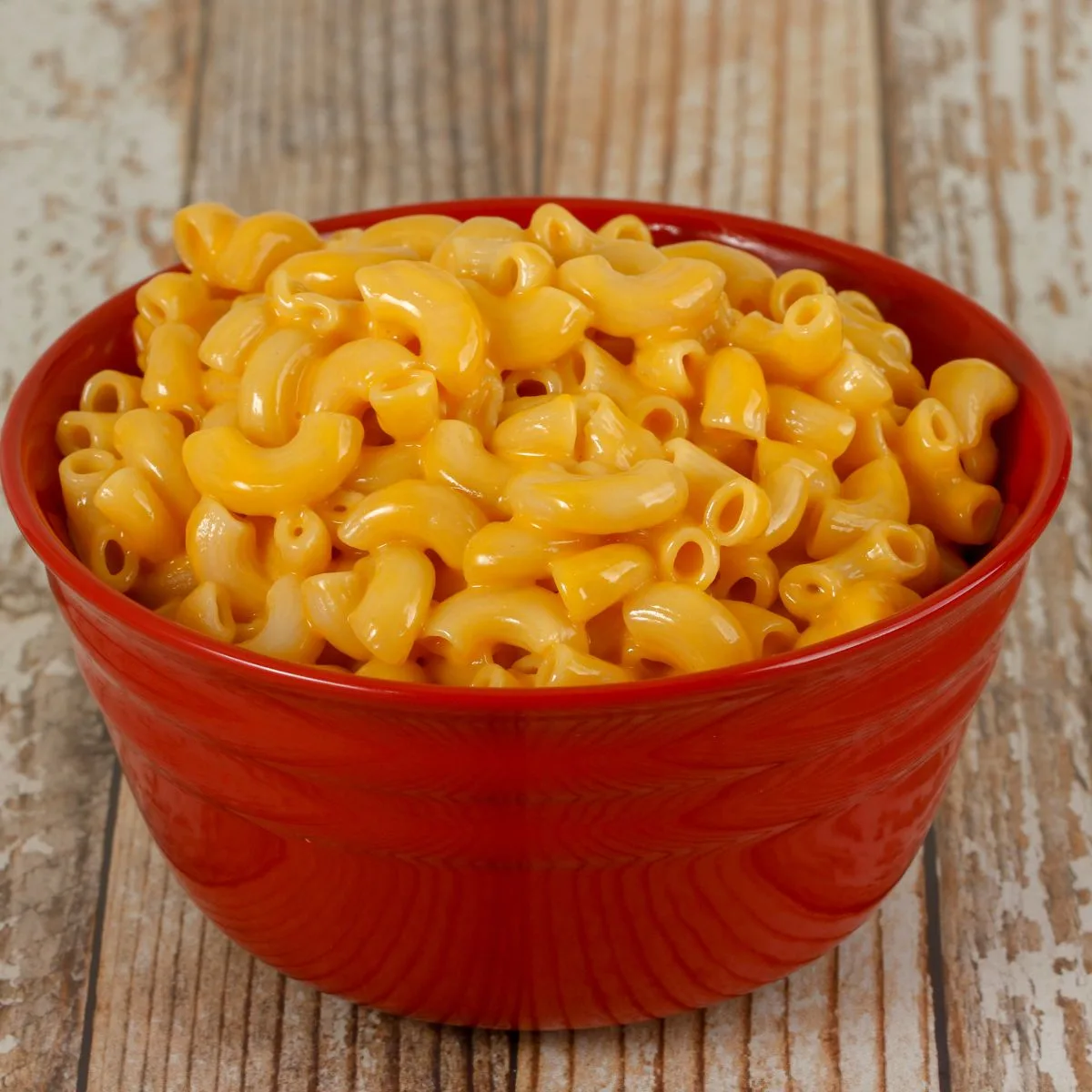 9. Macaroni and Cheese
Macaroni and cheese is a classic comfort food that pairs perfectly with BBQ chicken. This rich and creamy dish adds a layer of decadence to your meal, and it's definitely a crowd-pleaser. You can try this homemade macaroni and cheese recipe to upgrade your BBQ sides game.
10. Pasta Salad
Pasta salad is another excellent starchy side that complements the smoky, tangy flavors of BBQ chicken. There are countless variations of pasta salad – some with Italian dressing, while others with creamy sauces. A simple pasta salad recipe with Italian dressing is an ideal mix of fresh veggies and pasta, offering a refreshing break from heavier BBQ dishes.
Read also: 15 Chicken Breast Recipes
11. Potato wedges
For a crispier potato option, consider preparing potato wedges. They're easy to make, and you can customize them with your preferred seasoning—check out this oven-baked garlic-parmesan potato wedges recipe for a flavorful side dish.
12. Baked potatoes
Baked potatoes are a BBQ staple and go well with any type of BBQ sauce. Serve them with butter, sour cream, or even cheese for a delicious side. This classic baked potato recipe will guide you through the process.
13. French fries
You can never go wrong with a side of French fries. Crispy and golden, these add a satisfying crunch to your meal. You can follow this oven-baked French fries recipe for an effortlessly delicious side dish that everyone will want more of.
Crispy and Crunchy Options
14. Fried Green Tomatoes
Fried green tomatoes are another delicious side dish that goes well with BBQ chicken. They provide the perfect blend of crispy coating and tangy, tart green tomatoes. One fantastic recipe to try is the Classic Fried Green Tomatoes from Allrecipes. You'll love the golden brown crust and the flavorful tomatoes inside.
15. Fried Okra
Fried okra is a Southern classic that pairs perfectly with BBQ chicken. The crispy exterior and tender, slightly slimy interior create a unique textural experience.
Check out this Easy Fried Okra recipe from Food.com. This recipe guarantees the crunchiest and most flavorful fried okra you can imagine, a great complement for tender BBQ chicken.
16. Bacon
Bacon is already a crowd-pleaser, and it can also be an amazing side dish for BBQ chicken feasts. Try making Candied Bacon from Food Network. You'll create sweet and savory bacon strips that are both crispy and chewy. These tantalizing bacon strips will perfectly accent your BBQ chicken meal.
Fresh and Flavorful Salads
17. Arugula Salad
Arugula is a versatile leafy green that can be a great addition to your BBQ chicken menu.
A refreshing Arugula Salad mixed with cherry tomatoes, shaved parmesan, and balsamic vinaigrette offers a delightful combination of peppery flavors and crunchy textures that complement the smokiness of the grilled chicken.
This simple yet elegant dish can be easily prepared and is a perfect option for a light and healthy side.
18. Corn Salad
When it comes to BBQ side dishes, a Corn Salad is a must-try for your next cookout.
The sweetness of the corn, combined with the tanginess of the dressing and the added crunch of other fresh vegetables like bell peppers and red onions, creates a harmonious medley of flavors that pairs well with the bold taste of BBQ chicken.
The vibrant colors of this salad not only add visual appeal but also provide a satisfying range of flavors and textures.
19. Apple Salad
Add a touch of sweetness to your BBQ spread with a delightful Apple Salad.
The crispness of apples paired with the savory flavors of blue cheese and crunchy walnuts creates a unique balance of tastes that complements the smoky notes in grilled chicken.
Tossed in a tangy vinaigrette, this salad brings a refreshing twist to your BBQ menu, offering a dynamic flavor profile that will leave your taste buds craving more.
Breads and Biscuits
Something a bit more starchy and bread-based will always go well with BBQ chicken. Here are two traditional BBQ sides, and both pair exceptionally well with chicken.
20. Cornbread
A classic BBQ side dish that you can't miss is cornbread. This Southern-style cornbread recipe offers a delightful flavor and texture without being overly sweet.
Made using a combination of cornmeal, flour, buttermilk, and eggs, this cornbread has a rich and slightly crumbly texture that's perfect for soaking up BBQ sauces.
Serve this bread warm and fresh from the oven, and it will make a wonderful addition to your BBQ chicken spread.
21. Biscuits
Another bread option that goes perfectly with BBQ chicken is biscuits. A flaky, buttery biscuit can complement the bold flavors of barbecue sauce and smoked chicken.
This 2-ingredient cream biscuit recipe is not only incredibly easy to make but also yields delicious, tender biscuits. Combining self-rising flour and heavy cream, these biscuits come together in a matter of minutes and bake to golden perfection.
Serve them warm with a pat of butter, and enjoy their savory goodness alongside your BBQ chicken.
Delicious Toppings
BBQ chicken can be taken to the next level with the right toppings. In this section, we will explore three different toppings that can enhance the flavor of your BBQ chicken: cheddar cheese, olive oil, and sour cream.
22. Cheddar Cheese
Cheddar cheese adds a rich, creamy, and slightly sharp flavor to your BBQ chicken.
You can either sprinkle grated cheddar cheese on top of your chicken or use sliced cheddar to create a mouthwatering cheesy topping.
23. Olive Oil
Olive oil is an excellent topping choice for those who prefer a lighter and healthier option.
Drizzling some high-quality olive oil on your BBQ chicken can add a delicious and subtle fruity flavor. Combine it with a squeeze of lemon juice and a sprinkle of fresh herbs like rosemary or thyme to elevate the dish further.
24. Sour Cream
Sour cream provides a tangy and creamy contrast to the smoky flavors of BBQ chicken. To make it even more appetizing, mix sour cream with freshly chopped chives, a pinch of cinnamon, and a dash of lemon juice. This combination pairs beautifully with BBQ chicken, offering a delightful twist to the traditional BBQ flavor.
Each of these toppings has its unique taste appeal, and they can all enhance your BBQ chicken dish. Consider trying these recipes and experimenting with different combinations to find your favorite BBQ chicken topping.
Unique Side Dish Combinations
25. Sweet Potato Fries
Looking for something to serve alongside your BBQ chicken? Give sweet potato fries a try.
They offer a delicious twist on the traditional French fries and add a vibrant splash of color to your plate. Their natural sweetness is a perfect match for the smoky, tangy flavors of BBQ chicken.
Baking them keeps them healthier, and you can customize them with your choice of seasonings for extra flavor.
26. Corn Pudding
When you're in the mood for something different and comforting, try this corn pudding recipe.
This creamy and savory side dish can be prepared and baked in about an hour, and it is a wonderful complement to the hearty taste of BBQ chicken.
The combination of corn, butter, and milk creates a rich, custard-like texture that is sure to please your taste buds and keep you coming back for more.
27. Veggie Skewers
Add some variety to your BBQ sides with these creative veggie skewers. You can mix and match different vegetables and fruits to create an array of flavors and colors that cater to your preferences.
Grilling the skewers brings out the natural sweetness of the ingredients, making them the perfect sidekick to your BBQ chicken.
Plus, they're easy to prepare and can be a fun way to encourage everyone at the table to eat more veggies.
Conclusion
With these 27 BBQ chicken side dishes, you're all set to impress your family and friends at your next barbecue. The options mentioned offer a variety of flavors and textures to complement your BBQ chicken and ensure a satisfying meal. Remember to consider your guests' dietary preferences and requirements when preparing your side dishes to ensure everyone enjoys the feast.
So, roll up your sleeves, fire up the grill, and let your creativity shine as you explore new and delightful BBQ chicken accompaniments. Happy grilling!