Explore the many culinary possibilities of eggplant with these 22 creative eggplant recipes ! From savory soups to hearty main dishes, these recipes unlock the delicious versatility of this nutrient-rich vegetable.
Experience a journey of taste from the kitchens of Asia, Europe, and the Middle East, all from the comfort of your home. Whether you're an experienced cook looking for new inspiration, or a beginner eager to explore the world of eggplant cuisine, this list is your guide to creating memorable, flavorful meals with eggplant.
1. Grilled Eggplant with Basil Vinaigrette
Classic Summer Delight
This grilled eggplant with basil vinaigrette is the epitome of a summer delight. The smoky, charred eggplant paired with the freshness of the basil vinaigrette offers a heavenly combination of flavors. Plus, it's a versatile dish that can either be a side dish or a star in its own right.
Perfect for Outdoor Grilling
Nothing quite screams summer like firing up the grill. This recipe is the perfect way to make use of your grill while creating a healthy, flavorful dish. The slightly crispy texture of the eggplant coupled with the tangy vinaigrette is sure to impress your guests.
Customize to Your Liking
Feel free to sprinkle some feta cheese or add some cherry tomatoes to this dish for added flavor. Experiment with different herbs or spices in your vinaigrette to make it your own.
2. Spicy Szechuan Eggplant
A Taste of the Exotic
This spicy Szechuan eggplant recipe brings a taste of the exotic to your kitchen. The combination of spicy, sweet, and sour flavors create a symphony for the tastebuds. The tender, flavorful eggplant is sure to satisfy your craving for Asian cuisine.
A Quick and Easy Dinner
This dish is perfect for those busy weeknights when you need something quick and easy. With a few simple ingredients and a little time, you can have a delicious, restaurant-quality meal on your table.
Personalize Your Dish
Feel free to adjust the level of spice to suit your palate. Add more vegetables like bell peppers or carrots for added crunch and nutrition.
3. Baked Eggplant Parmesan
Italian Comfort Food
Baked eggplant parmesan is a comforting Italian classic that is sure to please everyone at the table. The combination of tender eggplant, savory tomato sauce, and bubbly, melted cheese is comfort food at its best.
A Healthier Twist on a Classic
This baked version of eggplant parmesan offers a healthier twist on the traditional recipe, without sacrificing flavor. It's baked until golden and bubbly, for a meal that's as nutritious as it is delicious.
Adapt to Your Preferences
Feel free to use your favorite kind of cheese or add additional herbs and spices to the sauce. This dish is easily customizable to suit your tastes.
4. Eggplant Rollatini
A Gourmet Dish at Home
Eggplant rollatini is a dish that looks and tastes like it came straight from a gourmet restaurant. It's a perfect dish for when you want to impress your guests or celebrate a special occasion. The combination of tender eggplant slices, creamy ricotta filling, and rich tomato sauce is absolutely delectable.
Perfect for Entertaining
This dish is ideal for entertaining, as it can be prepared in advance and baked just before serving. It's sure to impress your guests with its presentation and delicious flavors.
Make it Your Own
Feel free to play around with the filling, perhaps adding some spinach or different types of cheese. You could also experiment with the sauce, adding different herbs or spices to suit your taste.
5. Baba Ganoush
Delicious Middle Eastern Dip
Baba Ganoush is a delicious Middle Eastern dip that's perfect for snacking or serving at parties. It's made with roasted eggplant, tahini, garlic, and lemon juice, resulting in a smoky, creamy, and utterly delicious dip.
A Healthy Snack Option
Baba Ganoush is not only delicious but also incredibly healthy. It's packed with fiber and healthy fats, making it a great option for a satisfying snack. Pair it with some whole grain pita bread or raw veggies for a balanced snack.
Customizable to Your Taste
Feel free to add more garlic, lemon juice, or tahini according to your taste. You can also sprinkle some smoked paprika or chopped parsley on top for added flavor and color.
6. Eggplant and Chickpea Curry
A Burst of Flavors
Eggplant and chickpea curry is a vegetarian delight, bursting with the robust flavors of aromatic spices. The eggplant becomes incredibly tender, while the chickpeas add a satisfying bite.
Perfect One-Pot Meal
This curry is a perfect one-pot meal that is hearty and nourishing, ideal for chilly evenings. Serve it over rice or with warm naan bread to soak up all the delicious sauce.
Personalize Your Curry
Adjust the spice level to your liking or add additional vegetables for more color and nutrition. Coconut milk can be added for extra creaminess.
7. Eggplant Lasagna
A Low-Carb Delight
This eggplant lasagna recipe is a delightful low-carb alternative to traditional lasagna. The eggplant slices take the place of pasta, while still holding all the cheesy, saucy goodness.
Comforting Dinner
It's the perfect comfort food for dinner, whether you're cooking for a crowd or just a family meal. It's savory, filling, and will surely satisfy your cravings.
Customize Your Lasagna
Feel free to change up the cheese or add more veggies to the sauce. You can even add a meat of your choice if you desire.
8. Eggplant and Tomato Caponata
Italian Antipasto
This eggplant and tomato caponata recipe is a classic Italian antipasto that is packed full of flavors. It features a delightful mix of eggplant, tomatoes, capers, vinegar, and a touch of sugar.
Read also: 25 Tuna Steak Side Dishes
A Versatile Dish
Caponata is a versatile dish that can be served as an appetizer with crusty bread, as a side dish, or even as a main course tossed with pasta.
Make it Your Own
Feel free to add olives for a tangy touch or a sprinkle of chili flakes for a bit of heat. The sweetness can be adjusted according to your preference.
9. Ratatouille
A Classic French Dish
Ratatouille is a classic French dish that combines eggplant, zucchini, bell peppers, and tomatoes into a vibrant and flavorful stew. It's a perfect way to showcase summer vegetables in their prime.
A Healthy and Comforting Meal
Ratatouille is a comforting and healthy meal. Serve it on its own, over pasta, or with a piece of crusty bread for a satisfying dinner.
Variety is the Key
Feel free to experiment with different herbs or add a splash of balsamic vinegar for added depth of flavor.
10. Eggplant Pizza
A Lower Carb Pizza Option
Eggplant pizza provides a fun and lower-carb way to enjoy your pizza night. Slices of eggplant are used as the base, topped with your favorite pizza toppings, and baked until melty and delicious.
A Fun Family Dinner
This dish is a fun and healthy dinner option that even the kids will enjoy. Everyone can customize their own "pizza" with their preferred toppings.
Make it Your Own
Feel free to experiment with different toppings. From different cheeses to a variety of veggies, or even some pepperoni or ham if you'd like.
11. Miso Glazed Eggplant
Asian Flavored Side Dish
Miso glazed eggplant, or Nasu Dengaku, is a delicious Japanese side dish that's sweet, savory, and full of umami flavor. The eggplant is roasted until tender and then topped with a delicious miso glaze.
Great for Quick Meals
This is a great dish for quick and easy meals. It goes well with steamed rice and a side of greens, making a balanced meal.
Customize Your Dish
Feel free to adjust the amount of miso or sugar to suit your taste. You can also add a sprinkle of sesame seeds or chopped green onions for an extra touch.
12. Stuffed Eggplants
An Impressive Main Course
Stuffed eggplants are a wonderful main course, suitable for special occasions or a fancy weekend dinner. The eggplants are stuffed with a savory mixture of meat and spices, then baked until tender.
Perfect for Entertaining
These stuffed eggplants are perfect for entertaining, as they make a beautiful presentation. Serve them with a side of salad or couscous for a complete meal.
Make it Your Own
Feel free to substitute the meat with a vegetarian option, like lentils or chickpeas, and experiment with different spices and herbs to make the dish your own.
13. Eggplant Parmesan Stacks
A Fun Twist on a Classic
Eggplant Parmesan Stacks offer a fun twist on the classic eggplant parmesan, layering crispy eggplant with marinara sauce and melting mozzarella. They're hearty, delicious, and visually stunning.
Great for Special Occasions
These stacks make a great centerpiece for special occasions, but they're also easy enough to prepare for a weeknight dinner.
Customize to Your Liking
Feel free to change the sauce or cheese or add additional layers, such as fresh basil leaves or thinly sliced tomatoes.
14. Grilled Eggplant with Tzatziki Sauce
A Light and Fresh Side
Grilled eggplant with tzatziki sauce is a perfect summer side dish. The eggplant is grilled until it's nicely charred and smoky, then topped with a cool, creamy tzatziki.
Perfect for Barbecues
This dish is great for barbecues or outdoor dinners. It's light, fresh, and has a fantastic mix of textures.
Personalize Your Dish
You can play around with the spices on the eggplant or add more garlic or dill to the tzatziki, according to your preference.
15. Eggplant Fries
A Healthier Alternative to Traditional Fries
Eggplant fries are a healthier, low-carb alternative to traditional fries. They're coated in breadcrumbs and baked until crispy.
Perfect for Snacks or Sides
These fries are great for snacks or as a side dish. They're delicious on their own or served with your favorite dipping sauce.
Experiment with Flavors
Feel free to experiment with the seasonings in the breadcrumb mixture. Try adding parmesan, garlic powder, or your favorite herbs.
16. Eggplant and Lentil Stew
A Hearty Vegan Dish
Eggplant and lentil stew is a hearty and satisfying dish that's packed with nutrients. It's full of flavor and a great option for a vegan or vegetarian meal.
Perfect for Cold Evenings
This stew is perfect for cold evenings, and it's a complete meal in one pot.
Customize Your Stew
You can add other vegetables or spices to the stew, or even a splash of coconut milk for creaminess.
17. Eggplant and Goat Cheese Bake
A Simple Yet Elegant Dish
This Eggplant and Goat Cheese Bake is a straightforward dish that doesn't skimp on flavor. The tangy goat cheese perfectly complements the roasted eggplant, and the two are beautifully balanced with the addition of a rich tomato sauce.
Perfect for Entertaining
Despite its simplicity, this dish is impressive enough to serve to guests. It can be served as a main dish or a side dish, depending on your needs.
Easily Customizable
Feel free to add other ingredients to the bake, such as bell peppers, zucchini, or other types of cheese, to make it your own.
18. Vegan Eggplant Gyros
A Plant-Based Twist on a Classic Dish
These Vegan Eggplant Gyros replace the traditional meat with flavorful roasted eggplant, offering a plant-based version of the Greek classic that's just as delicious.
Perfect for a Casual Lunch or Dinner
This dish is perfect for a relaxed, casual meal. It's satisfying, tasty, and has a delightful blend of textures.
Adapt to Your Preferences
You can add other ingredients like cucumbers, tomatoes, or even feta cheese if you're not strictly vegan. The tzatziki sauce can also be made with dairy-free yogurt.
19. Eggplant Caviar
A Smooth and Flavorful Dip
Eggplant Caviar, also known as aubergine caviar, is a delightful, savory spread made from roasted eggplant. It's often seasoned with garlic, lemon juice, and various herbs, resulting in a rich and flavorful dip.
Read also: 23 Prosciutto Recipes
Perfect for Parties or Appetizers
This dip is perfect for parties, served with crackers or toasted bread. It's also a delicious spread for sandwiches or wraps.
Adapt to Your Taste
Feel free to add other ingredients, like roasted red peppers or sundried tomatoes, to make this dip your own.
20. Eggplant Moussaka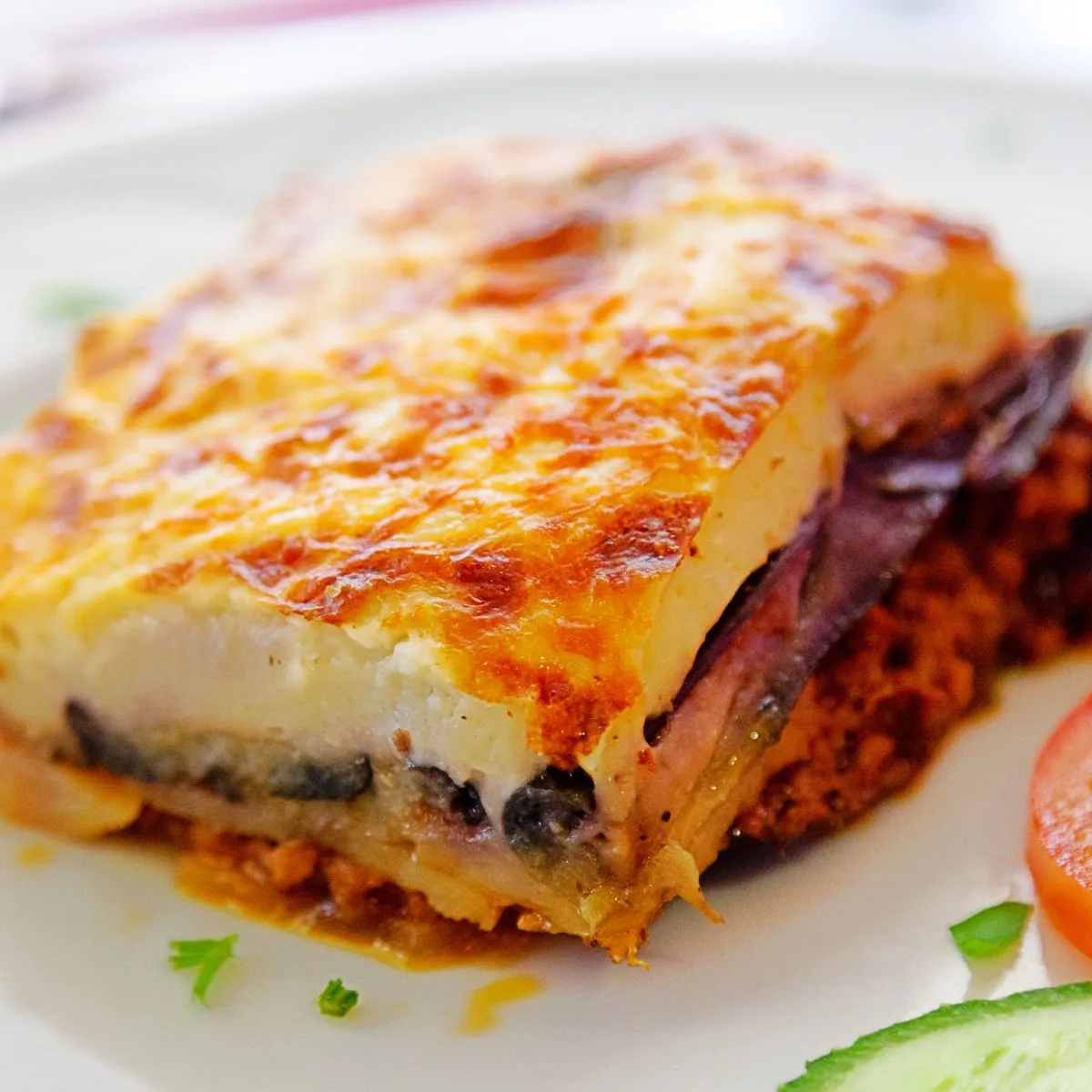 A Rich and Satisfying Greek Dish
Moussaka is a traditional Greek dish made with layers of sautéed eggplant, ground meat, and a creamy béchamel sauce. It's rich, hearty, and deeply satisfying.
Perfect for a Special Dinner
Moussaka is perfect for a special dinner or gathering. It takes some time to prepare, but the results are well worth the effort.
Customize to Your Liking
There are many versions of moussaka, so feel free to adapt the recipe to suit your own tastes or dietary needs.
21. Spicy Eggplant and Tomato Spread
A Flavor-Packed Spread or Dip
This Spicy Eggplant and Tomato Spread brings together roasted eggplant, fresh tomatoes, garlic, and a kick of spice. It's a great addition to sandwiches, served as a dip, or spread on toast.
Great for Snacks and Appetizers
This spread is perfect for a quick snack, party appetizer, or as part of a light lunch. It's versatile and pairs well with a variety of foods.
Make it Your Own
Feel free to adjust the spices to your liking, or add other ingredients like roasted peppers or olives.
22. Eggplant and Chickpea Salad
A Nutrient-Packed, Vibrant Salad
This Eggplant and Chickpea Salad is packed with flavor and nutrition. It combines roasted eggplant with protein-rich chickpeas, fresh vegetables, and a tangy dressing for a hearty and satisfying dish.
Perfect for a Light Lunch or Side Dish
This salad is perfect for a light lunch or a side dish with dinner. It's also a great option for meal prep, as it keeps well in the fridge.
Customize to Your Liking
Feel free to add other vegetables, different legumes, or even some crumbled cheese to this salad. The dressing can also be adapted to suit your tastes.
Conclusion
With these 22 fantastic eggplant recipes, you now have a multitude of ways to bring the unique, savory flavor of this versatile vegetable to your table. From Italian Eggplant Parmesan to Vegan Eggplant Gyros, there's a recipe to suit every taste and occasion. Remember, the best thing about cooking is that you can always experiment and make each dish your own. So don't be afraid to try new spices, incorporate other veggies, or even mix different recipes. Happy cooking, and enjoy the delightful world of eggplant dishes!