When the clock is ticking down to the New Year, having a collection of irresistible and festive desserts can elevate any celebration. Whether you're hosting a lavish party or a cozy gathering, our diverse list of 30 New Year's Eve desserts—from the elegant Crème Brûlée to the exciting Baked Alaska—has something for everyone.
These delightful confections, rich in flavor and aesthetic appeal, are sure to dazzle your guests and satisfy every sweet tooth. Each dessert comes with a convenient link to the recipe, making your party preparation seamless and stress-free. Explore the multifarious flavors and textures of these desserts and find the perfect sweet ending to your year!
1. Chocolate Dipped Strawberries
A Sweet and Simple Treat
Chocolate Dipped Strawberries are a delightful and easy-to-make dessert that combines the sweetness of chocolate with the tartness of fresh strawberries. They're an elegant yet simple treat perfect for ringing in the New Year. You'll love the contrast between the creamy chocolate and the juicy, fresh berries.
A Celebration Favorite
This dessert is a crowd-pleaser, ideal for sharing with friends and family during your New Year's Eve celebrations. They're not only delicious but also visually appealing, adding a festive touch to your dessert table.
Personalize Your Treat
Feel free to experiment by using different types of chocolate, or by adding toppings like nuts, coconut, or sprinkles. Tailor them to suit your taste and make them your own.
2. Mini Cheesecakes
A Bite-Sized Delight
Mini Cheesecakes are the perfect little treat to indulge in without feeling overly full. They offer all the creaminess and richness of a traditional cheesecake but in a smaller, more manageable portion. They're a fantastic option for a diverse dessert spread on New Year's Eve.
Serve in Style
Their petite size makes them ideal for serving at parties where guests might want to sample multiple desserts. You can garnish them with fruit, whipped cream, or a drizzle of chocolate to add an extra touch of elegance.
Customize Your Cheesecakes
Feel free to get creative and try different flavors, from fruity to chocolatey, to match your personal preference and the theme of your celebration.
3. Sparkling Champagne Cupcakes
A Festive Flavor Fusion
Sparkling Champagne Cupcakes are a harmonious blend of light, fluffy cake and the crisp, bubbly notes of champagne. They embody the spirit of celebration and are perfect for toasting to the New Year. The incorporation of champagne into the batter gives them a unique and delightful flavor profile.
Elegant and Celebratory
These cupcakes are not just delicious but also add a touch of sophistication to your New Year's Eve spread. They're bound to be a conversation starter and a hit among your guests.
Add Your Personal Touch
Feel free to adorn them with your favorite frosting and decorations, such as edible glitter or colored sugar, to make them even more festive.
4. Chocolate Fondue
A Rich and Decadent Dip
Chocolate Fondue is a decadent and interactive dessert that allows you to dip your favorite fruits, marshmallows, or cookies into silky, melted chocolate. It's a versatile and communal dessert ideal for ringing in the New Year with loved ones. The combination of warm chocolate and various dippables is simply irresistible.
A Social Dessert Experience
Gathering around a fondue pot creates a fun and social eating experience, making it a great dessert option for parties and celebrations. It's a delightful way to bring people together and end the year on a sweet note.
Mix and Match Dippables
Explore different dippable options and chocolate varieties to suit your taste. The possibilities are endless, so don't hesitate to get creative and try new combinations.
5. New Year's Eve Ball Drop Cookies
A Themed Treat
New Year's Eve Ball Drop Cookies are inspired by the iconic Times Square Ball Drop, representing the excitement and anticipation of the New Year. These cookies are both festive and flavorful, with sparkling decorations to mimic the dazzling lights of the ball.
A Creative Countdown
These cookies are perfect for adding a touch of creativity to your New Year's Eve celebrations. They're not only tasty but also a great way to countdown to midnight in a sweet way.
Customize Your Cookies
Feel free to play around with colors, decorations, and flavors to make these cookies align with your party's theme and your personal taste.
6. Peppermint Bark
A Festive and Refreshing Bite
Peppermint Bark is a delightful confection combining the creamy sweetness of chocolate with the refreshing, cool flavor of peppermint. It's an ideal sweet treat for celebrating the festive season and welcoming the New Year. The crunchy texture and minty flavor are sure to invigorate your palate.
A Beautiful Gift
Aside from being a wonderful addition to your dessert table, it also makes for a beautiful and thoughtful homemade gift for friends and family during the holiday season.
Make it Your Own
Experiment with different types of chocolate, and consider adding nuts or other toppings to create your version of this festive classic.
7. Tiramisu
A Rich and Elegant Dessert
Tiramisu is a classic Italian dessert that combines the bold flavors of coffee with the creamy richness of mascarpone cheese, creating a luxurious and indulgent treat. It's an elegant choice for any New Year's Eve celebration, sure to satisfy your sweet tooth and leave a lasting impression on your guests.
Layered to Perfection
The layers of coffee-soaked ladyfingers and creamy filling make each bite a harmonious blend of textures and flavors. It's a sophisticated dessert that's as pleasing to the eye as it is to the palate.
Customize Your Tiramisu
Feel free to adapt the recipe by adding your preferred liqueur or experimenting with different coffee types to make it truly your own.
Read also: 29 New Year's Eve Dinner Ideas
8. Champagne Jelly Flutes
A Glistening Celebration in a Glass
Champagne Jelly Flutes offer a novel and sparkling way to enjoy champagne in a new form. The jelly's effervescence and the subtle sweetness of the champagne make it a delightful and festive dessert for ringing in the New Year. It's a visually striking and unique way to serve champagne at your celebration.
A Light and Refreshing Option
These Champagne Jelly Flutes are not overly sweet, making them a light and refreshing dessert option. They're perfect for guests who prefer a less decadent sweet treat to end the evening.
Add Your Creative Touch
Enhance the flavor and appearance by adding fruit or edible flowers to the jelly, creating a beautiful and flavorful dessert that's sure to impress.
9. Red Velvet Cake
A Vibrant and Velvety Dessert
Red Velvet Cake is a stunning and decadent dessert, known for its vibrant red color and velvety texture, complemented by creamy frosting. It's a show-stopping addition to your New Year's Eve dessert spread, capturing the spirit of celebration and the promise of a new year.
Rich in Flavor and History
Originating from the Southern United States, this cake has become a popular choice for various occasions. Its unique flavor, a combination of cocoa and tangy buttermilk, sets it apart from other cakes, making it a favorite for many.
Personalize Your Creation
While traditional red velvet cake is paired with cream cheese frosting, you can get creative with your choice of icing or even add fillings like berries or chocolate chips to customize your cake to your preferences. Check this recipe.
10. Crème Brûlée
A Classic French Delight
Crème Brûlée is a renowned French dessert characterized by its creamy custard base and a hard caramelized sugar top. The joy of breaking through the crisp sugar layer to reach the velvety custard underneath is a sensory experience you and your guests will adore.
A Touch of Elegance
Serving Crème Brûlée at your New Year's Eve party adds a sophisticated touch to your dessert offerings. It's not only delightful to taste but also visually appealing with its golden-brown top and rich custard.
Experiment with Flavors
Though vanilla is the traditional flavor for Crème Brûlée, feel free to infuse the custard with other flavors like lavender, coffee, or citrus for a unique twist.
11. Mocha Pots de Crème
A Coffee Lover's Dream
Mocha Pots de Crème are an indulgent dessert combining the rich flavors of chocolate and coffee. It's a silky-smooth and dense custard that offers a refined and luxurious treat perfect for any New Year's celebration.
Simple Yet Sophisticated
Despite its elegant appearance and taste, this dessert is surprisingly simple to make, requiring only a few ingredients. Its velvety texture and depth of flavor are sure to impress.
Garnish to Impress
Top with whipped cream, a sprinkle of cocoa, or even a coffee bean to elevate its presentation and enhance its flavors.
12. Lemon Sorbet
A Zesty Palate Cleanser
Lemon Sorbet is a light, refreshing, and tangy dessert, perfect for cleansing the palate after a rich New Year's Eve feast. It's icy, zesty, and bursting with a fresh lemon flavor that will invigorate your senses.
A Refreshing Choice
For those wanting a less decadent dessert to wrap up the year, lemon sorbet is the ideal choice. It's both sweet and tart, offering a delightful contrast to other rich desserts on the table.
Add a Splash of Spirits
For an adult twist, consider drizzling a splash of vodka or limoncello over the sorbet just before serving.
13. Salted Caramel Brownies
A Gooey and Decadent Treat
Salted Caramel Brownies are the epitome of indulgence. Combining the fudgy richness of brownies with the sweet and salty allure of caramel, this dessert is bound to be a hit as you countdown to the New Year.
A Perfect Balance
The saltiness of the caramel cuts through the sweetness of the brownies, providing a balanced flavor profile that's irresistibly delicious.
Elevate with Toppings
Consider adding a scoop of vanilla ice cream or a drizzle of chocolate sauce to make this dessert even more decadent.
14. Panna Cotta with Berry Compote
Silky Smooth Italian Classic
Panna Cotta is a traditional Italian dessert known for its creamy consistency and delicate flavor. Paired with a tangy berry compote, it's a harmonious blend of creamy and fruity, ideal for a celebratory New Year's Eve dessert.
Versatility at Its Best
The mild flavor of Panna Cotta makes it an excellent canvas for various toppings, from fruit compotes to chocolate shavings or even a dash of liqueur.
Quick and Elegant
Despite its sophisticated appearance, Panna Cotta is relatively easy to make, allowing you to whip up an elegant dessert in no time.
15. Chocolate Truffles
A Bite-Sized Chocolate Delight
Chocolate Truffles are small, rich, and decadent, making them the perfect treat for a New Year's Eve celebration. Made with a creamy chocolate ganache and often coated in cocoa powder, nuts, or even gold leaf, they're a luxurious way to ring in the new year.
Perfect for Sharing
Their bite-sized nature makes them ideal for a party setting where guests can pick and choose from various flavors and coatings.
Craft Your Flavors
From dark chocolate and orange to white chocolate and coconut, the possibilities are endless when it comes to flavors and coatings. Create a mix to cater to all taste preferences.
16. Macarons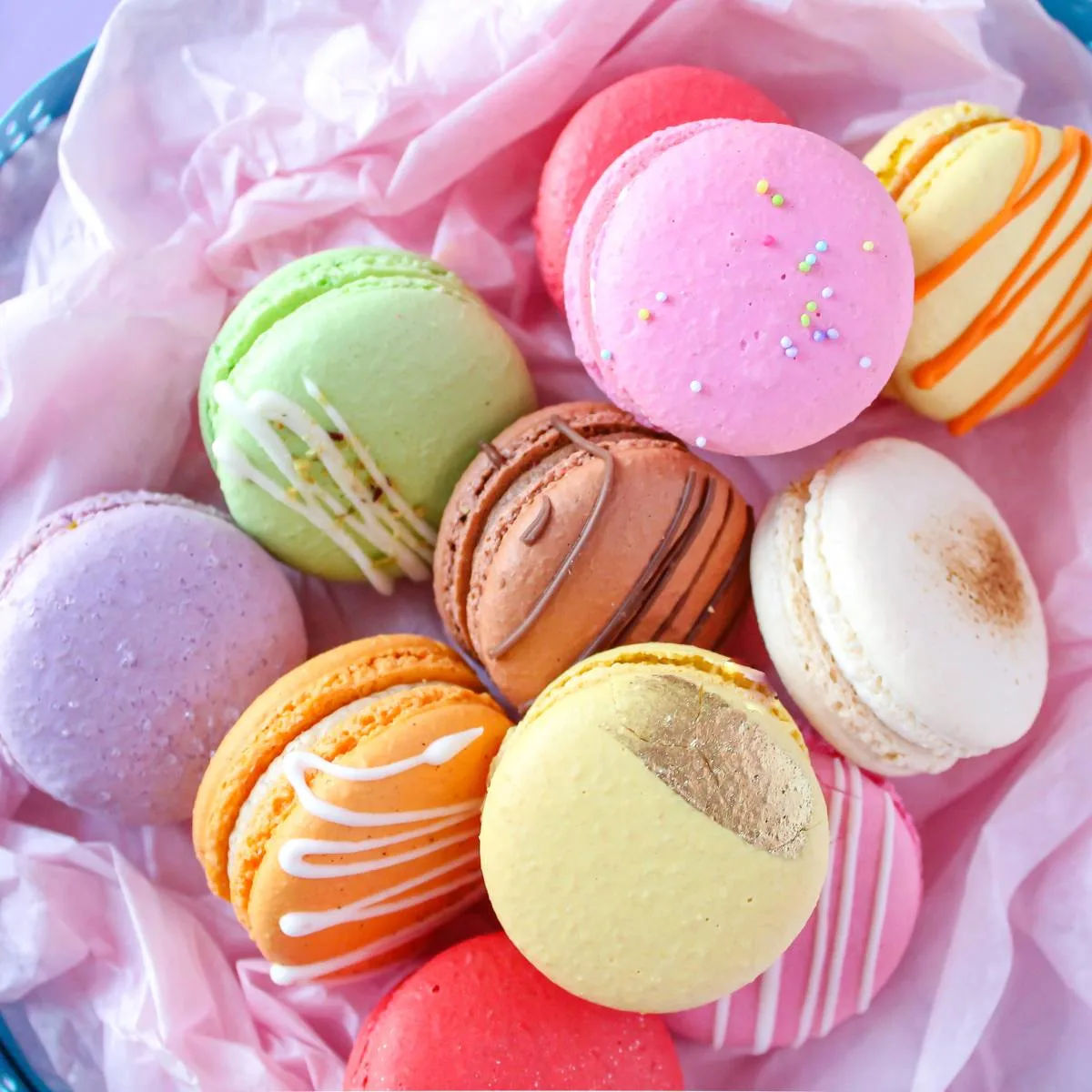 A Colorful French Confection
Macarons are delicate and colorful French pastries filled with ganache, buttercream, or jam filling sandwiched between two cookies. They are known for their unique texture, crisp on the outside and chewy on the inside, making them a festive and sophisticated choice for New Year's Eve celebrations.
A Palette of Flavors and Colors
These petite confections can be created in a plethora of flavors and colors, allowing you to match them to the theme of your celebration or simply to provide a vibrant and flavorful assortment.
Personalize Your Filling
Feel free to experiment with different fillings and flavor combinations, adding a touch of uniqueness to your dessert table.
17. Baklava
A Sweet Layered Delight
Baklava is a rich, sweet dessert pastry made of layers of filo filled with chopped nuts and sweetened with honey or syrup. Its crisp and flaky texture, combined with the sweet and nutty flavor, makes it a distinctive and delicious choice for a New Year's Eve gathering.
A Time-Honored Treat
This dessert, with its origins in the Middle East, has been loved for centuries and brings a touch of tradition and exotic flavor to your celebration.
Spice It Up
Experiment with different nuts and spices, such as cardamom or cinnamon, to give this classic dessert your own twist.
Read also: 29 New Year's Eve Appetizers
18. Flourless Chocolate Cake
A Dense and Rich Indulgence
Flourless Chocolate Cake is a dense, fudgy, and intensely chocolatey dessert, making it a dream come true for chocolate lovers. It's a perfect gluten-free option that doesn't compromise on flavor or texture.
Elegant and Satisfying
Despite its simplicity, this cake is exceedingly satisfying and can be garnished with powdered sugar, berries, or a dollop of whipped cream for an extra touch of elegance.
Customize Your Flavor
Infuse the cake with your favorite liqueur or add in spices to create a dessert that reflects your taste.
19. Lemon Bars
A Tangy and Sweet Treat
Lemon Bars combine a buttery crust with a tangy lemon filling, topped with a dusting of powdered sugar. They offer a refreshing citrus flavor that contrasts beautifully with their sweet counterpart, making them a crowd-pleaser at any New Year's celebration.
Bite-Sized Refreshment
Cut them into small squares or rectangles for an easy-to-eat dessert that guests can enjoy while mingling.
Play with Citrus
Experiment with different citrus fruits like lime or orange to bring variety and a different flavor profile to this classic treat.
20. Chocolate Mousse
A Creamy Chocolate Dream
Chocolate Mousse is a sophisticated, airy, and creamy dessert that melts in your mouth. It's an elegant choice for New Year's Eve, with its rich chocolate flavor and velvety texture, pleasing to both the eye and the palate.
Elevate with Garnishes
Top with whipped cream, chocolate shavings, or berries for a visually appealing presentation and an extra layer of flavor.
Experiment with Intensity
Play around with the cocoa content to adjust the richness to your liking, or add a splash of your favorite liqueur for an adult upgrade.
21. Eclairs
A Classic French Pastry
Eclairs are a decadent French dessert, consisting of choux pastry filled with cream and topped with chocolate icing. They bring a touch of elegance and indulgence to any New Year's Eve celebration, with their combination of crispy pastry, velvety cream, and rich chocolate.
A Sweet Display
Arrange them on a platter with a dusting of powdered sugar for a stunning dessert display that will have your guests coming back for more.
Try Different Fillings
Explore various fillings like custard, whipped cream, or even fruit-flavored creams to add a unique twist to this classic pastry.
22. Pavlova
A Cloud of Sweetness
Pavlova is a meringue-based dessert with a crisp crust and a soft, light interior, often topped with fresh fruit and whipped cream. It's a sweet and airy confection, offering a visually stunning and delicious end to your New Year's Eve meal.
A Fruitful Top
The addition of fresh, colorful fruit not only enhances the flavor but also makes it a vibrant centerpiece for your dessert table.
Customize Your Pavlova
Feel free to experiment with different fruit combinations or add a drizzle of chocolate or fruit sauce for an extra layer of flavor.
23. Tres Leches Cake
A Milky and Moist Marvel
Tres Leches Cake is a moist and sweet sponge cake soaked in three kinds of milk. This Latin American dessert is wonderfully rich and creamy, making it a satisfying way to conclude your New Year's celebrations.
A Sweet Soak
The blend of evaporated milk, condensed milk, and heavy cream imparts a luxurious sweetness and moist texture to the sponge, creating a melt-in-your-mouth experience.
Dress It Up
Top it with whipped cream, fresh fruit, or a sprinkle of cinnamon to enhance its appearance and flavor.
24. Fruit Tart
A Vibrant and Versatile Dessert
Fruit Tart is a colorful and versatile dessert, featuring a buttery crust filled with creamy custard and topped with fresh fruits. It's a delightful way to showcase the vibrant colors and flavors of different fruits at your New Year's Eve party.
A Palette of Flavors
The combination of the sweet crust, rich custard, and tangy fruits creates a balanced and refreshing dessert that will please a variety of palates.
Play with Combinations
Experiment with different fruit arrangements and custard flavors to create a tart that's both beautiful and delicious.
25. Baked Alaska
A Showstopping Dessert
Baked Alaska is a dramatic dessert, featuring ice cream and sponge cake encased in a layer of browned meringue. It's the ideal centerpiece for a New Year's Eve celebration, offering both a visual spectacle and a delightful contrast of textures and temperatures.
A Fiery Presentation
Ignite the meringue briefly before serving to caramelize the exterior, adding a layer of drama and flavor to your dessert presentation.
Customize Your Creation
Play around with different cake and ice cream flavors to make a Baked Alaska that reflects your personal taste and celebration theme. Check this recipe.
26. S'mores Dip
A Campfire Favorite Reinvented
S'mores Dip transforms the beloved campfire treat into a communal dessert that's perfect for parties. It combines the classic ingredients of s'mores—melted chocolate, toasted marshmallows, and graham crackers—in a fun and interactive way, making it a surefire hit at your New Year's Eve gathering.
Easy and Delicious
This dessert is incredibly easy to prepare and offers the nostalgic flavors of s'mores without the need for a campfire.
Get Creative with Dippers
Beyond graham crackers, explore various dippers like fruit slices or cookies to scoop up this delightful concoction.
27. Churros with Chocolate Sauce
A Crispy and Sweet Spanish Delight
Churros, crispy Spanish pastries, paired with a rich chocolate sauce make for a delicious and fun New Year's Eve dessert. They're golden and crunchy on the outside, soft and warm on the inside, and dusted with a sprinkle of sugar and cinnamon.
A Crowd-Pleasing Snack
Served with a side of chocolate for dipping, churros are a surefire crowd-pleaser that will add a touch of sweetness and warmth to your celebrations.
Experiment with Dipping Sauces
While chocolate is a classic pairing, feel free to serve churros with other sauces like caramel or fruit coulis for a unique twist.
28. Cannoli
A Sweet Sicilian Specialty
Cannoli are Italian pastries that consist of tube-shaped shells of fried pastry dough, filled with a sweet, creamy filling usually containing ricotta. They are a sweet and creamy delight that can add a touch of Italian flair to your New Year's Eve dessert spread.
A Customizable Treat
You can customize the filling with chocolate chips, pistachios, or candied fruit, and dust them with powdered sugar for an extra touch of sweetness.
Play with Flavors
Experiment with different flavorings for the filling, such as citrus zest or liqueurs, to create a cannoli that suits your taste.
29. Sticky Toffee Pudding
A British Sweet Treasure
Sticky Toffee Pudding is a moist sponge cake, traditionally made with dates, covered in a luscious toffee sauce. This classic British dessert is rich, sweet, and satisfying, making it a comforting choice to enjoy as the year comes to a close.
A Warm and Comforting Dessert
Serve it warm with a scoop of vanilla ice cream or a dollop of whipped cream to contrast the warm, sweet, and sticky toffee sauce.
Adapt to Your Taste
Feel free to adjust the level of sweetness to your liking and try adding nuts or spices for an extra layer of flavor.
30. Matcha Green Tea Cheesecake
A Vibrant Fusion Dessert
Matcha Green Tea Cheesecake combines the creamy richness of cheesecake with the distinct flavor and color of matcha green tea. It's a vibrant and unique dessert that will stand out on your New Year's Eve dessert table.
A Modern Twist
This cheesecake brings a modern, colorful twist to the table, offering a flavor that is subtly sweet and slightly bitter, characteristic of matcha green tea.
Garnish for Aesthetic Appeal
Consider garnishing with whipped cream, fresh berries, or a dusting of matcha powder to enhance its visual appeal and flavor.
Conclusion
Whether you lean towards the timeless elegance of Tiramisu, the festive sparkle of Champagne Jelly Flutes, or the indulgent richness of Salted Caramel Brownies, choosing the right dessert can make your New Year's Eve unforgettable. Our curated list of 30 stunning desserts offers a flavorful journey, promising to add a sweet sparkle to your celebrations. Don't just stop at one; mix and match to create a dessert spread that's as diverse and exciting as the year ahead. Here's to a sweet, prosperous, and joyful New Year filled with delightful desserts and happy moments!