Explore these 23 prime rib side dishes that promise to elevate your dining experience ! From classic staples like Creamy Mashed Potatoes and Garlic Green Beans to delectable surprises like Cauliflower Au Gratin and Yorkshire Pudding, there's something for everyone.
Discover versatile dishes perfect for any occasion and enhance the rich, savory flavors of prime rib with the best complementary sides. Get ready to explore a variety of recipes bursting with fresh ingredients, exquisite textures, and vibrant flavors that will keep you coming back for more.
1. Roasted Brussels Sprouts with Bacon
A Flavorful Companion
These roasted Brussels sprouts with bacon bring a combination of savory, salty, and slightly sweet flavors to your plate. The charred, nutty Brussels sprouts harmonize perfectly with the rich, salty bacon. They're a wonderful accompaniment to the rich flavors of prime rib.
Versatile Side Dish
This side dish offers a great mix of textures and flavors. The combination of crisp bacon and tender Brussels sprouts works well alongside the robust taste of prime rib. You can also play with the flavors by adding a splash of balsamic vinegar or a sprinkle of Parmesan cheese.
Your Guests Will Love It
Impress your guests with this sophisticated yet straightforward side dish. You can prepare it quickly, and it adds a nice touch of green to your meal.
2. Rosemary Garlic Mashed Potatoes
A Classic Side
Rosemary garlic mashed potatoes are a classic accompaniment to prime rib. The creamy, comforting potatoes balance out the hearty prime rib, and the aromatic rosemary and garlic add a flavorful twist.
Comfort Food at Its Best
You'll love the silky texture and rich flavors of these mashed potatoes. The combination of butter, cream, garlic, and rosemary turns simple potatoes into a deliciously indulgent side dish.
Easily Customizable
Feel free to adjust the ingredients to your liking. Try using different types of potatoes, adding more or less garlic, or using fresh herbs for a unique flavor profile.
3. Roasted Root Vegetables
A Healthy and Hearty Option
Roasted root vegetables are a healthy, hearty side dish that pairs well with prime rib. The caramelization of the vegetables brings out their natural sweetness, complementing the savory flavors of the meat.
A Rainbow on Your Plate
Carrots, parsnips, beets, and sweet potatoes bring a variety of colors, textures, and flavors to your meal. This side dish not only tastes great but also makes your plate visually appealing.
Simple Yet Satisfying
The simplicity of this dish is part of its charm. It requires minimal preparation, and the oven does most of the work, resulting in a deliciously satisfying side.
4. Yorkshire Pudding
An English Classic
This English classic is a must-have with prime rib. Yorkshire pudding is light, airy, and crisp, making it the perfect accompaniment to a hearty meat dish. It's traditionally made with the drippings from the roast, infusing it with delicious flavor.
Unique and Impressive
Despite its simple ingredients, Yorkshire pudding makes an impressive addition to any meal. Its unique texture and shape are sure to delight your guests.
Perfect for Soaking Up Flavors
This side dish is ideal for mopping up gravy or any juices left on your plate. It's a savory sponge that makes sure no delicious flavors go to waste.
5. Creamed Spinach
A Luxurious Side
Creamed spinach is a luxurious side dish that pairs wonderfully with prime rib. The velvety texture and rich flavors complement the meat perfectly, providing a delicious contrast.
Nutrient-Dense and Flavorful
Despite its indulgent taste, creamed spinach is packed with nutrients. It's a great way to include greens in your meal without sacrificing flavor.
Versatile and Customizable
You can customize this recipe by adding ingredients like garlic, nutmeg, or Parmesan cheese. These additions can help balance the creaminess of the dish and add an extra layer of flavor.
6. Sweet Potato Casserole
A Sweet and Savory Treat
Sweet potato casserole is a delightful side dish that brings a touch of sweetness to your meal. The creaminess of the sweet potatoes pairs well with the savory prime rib, offering a fantastic flavor contrast.
A Crowd Pleaser
Topped with a crunchy pecan streusel, this dish is sure to please your guests. It offers a delightful combination of textures, from the soft, creamy sweet potatoes to the crunchy topping.
A Versatile Side Dish
This side dish is easily adaptable. You can add marshmallows for a traditional twist, or mix in spices like cinnamon or nutmeg for added warmth.
7. Green Bean Almondine
A Classic Side with a Twist
Green bean almondine is a classic side dish with a delightful twist. The crisp green beans and crunchy almonds offer a contrast to the soft, juicy prime rib. The light lemon-butter sauce adds a tangy flavor that cuts through the richness of the meat.
Read also: 22 Leftover Prime Rib Recipes
A Simple, Yet Impressive Side
Though simple to prepare, this side dish is sure to impress. The toasted almonds add an elegant touch that elevates this classic side dish.
Full of Flavor and Texture
The combination of tender-crisp green beans, crunchy almonds, and tangy lemon butter creates a flavorful side dish that's also a joy to eat. Each bite offers a burst of flavor and a delightful crunch.
8. Au Gratin Potatoes
A Cheesy Delight
Au gratin potatoes are a cheesy, creamy delight that pair perfectly with prime rib. The rich flavors and smooth texture of the potatoes complement the hearty meat, while the crispy, cheesy top adds a lovely crunch.
Comfort Food at Its Best
These potatoes are the ultimate comfort food. Slices of potato are smothered in a creamy sauce, topped with cheese, and baked until golden. It's a side dish that's sure to please everyone at the table.
Perfect for a Special Occasion
While a bit more indulgent, au gratin potatoes are perfect for a special occasion. They're a guaranteed crowd-pleaser that add a touch of luxury to your meal.
9. Lemon-Garlic Roasted Asparagus
A Zesty Side Dish
A vibrant addition to your prime rib meal, lemon-garlic roasted asparagus offers a zesty, flavor-packed experience. With the combination of asparagus' distinct taste, the tang of lemon, and the punch of garlic, this side dish adds brightness and depth to your dinner plate.
Ideal for a Healthy Diet
Asparagus is a great source of fiber, vitamins, and antioxidants, making it a healthy option. When paired with the richness of prime rib, this light and nutritious side provides a balanced meal.
Flexibility is the Key
Feel free to adjust the level of garlic or lemon to suit your taste. A sprinkle of Parmesan cheese can also add a delightful savory note to this dish.
10. Honey Glazed Carrots
A Sweet and Savory Treat
Honey glazed carrots are a deliciously sweet and savory side dish that pairs wonderfully with prime rib. The sweetness of the honey brings out the natural flavors of the carrots, while the butter gives them a rich, velvety texture.
Simple and Versatile
This recipe is simple to prepare, making it a great choice for a busy holiday meal. And the versatility of this dish allows it to easily pair with other sides, like mashed potatoes or green beans.
A Healthy Option
Carrots are high in beta-carotene, an antioxidant that is important for eye health. Plus, the addition of honey provides a touch of natural sweetness.
11. Garlic Mashed Cauliflower
A Low-Carb Alternative
Garlic mashed cauliflower is a healthy, low-carb alternative to traditional mashed potatoes. The cauliflower provides a creamy texture and neutral flavor that takes on the delicious taste of garlic and butter perfectly.
Ideal for Health-Conscious Diners
This dish is perfect for those who are watching their carbohydrate intake or anyone looking to add more vegetables to their meals.
Easily Adaptable
Feel free to mix in other flavors, like a sprinkle of parmesan cheese, chives, or even some roasted garlic for extra flavor.
12. Baked Macaroni and Cheese
A Classic Comfort Food
Baked macaroni and cheese is a classic comfort food that pairs perfectly with prime rib. The creamy, cheesy pasta is a delicious contrast to the rich, savory beef.
Great for Kids and Adults Alike
This dish is a hit with both kids and adults, making it a great choice for family gatherings or any meal where you want to please a crowd.
Customizable to Your Liking
Feel free to add extras to your mac and cheese, like crispy bacon, breadcrumbs, or even some sauteed vegetables.
13. Crispy Roasted Potatoes
A Versatile Side Dish
Crispy roasted potatoes are a versatile side dish that can be easily adjusted to suit your flavor preferences. The outside is crunchy and golden, while the inside remains soft and fluffy – a perfect texture combination to pair with prime rib.
Easy to Make
This recipe is simple and straightforward, making it a great choice for beginners or busy cooks.
Add Your Favorite Spices
Roasted potatoes can be flavored with a variety of spices and herbs. Try adding rosemary, garlic, or paprika for a tasty variation.
14. Bread Pudding
A Sweet Side Dish
Bread pudding can be served as a sweet side dish with prime rib. The soft, creamy interior with a crispy, caramelized top provides a nice contrast to the savory prime rib. It's a comfort food that can be spiced with nutmeg or cinnamon for a warm, aromatic flavor.
Perfect for Using Leftover Bread
Bread pudding is a great way to use up stale or leftover bread, turning something basic into a decadent treat.
Customizable to Your Liking
Feel free to add extras like raisins, nuts, or chocolate chips to suit your taste.
15. Cornbread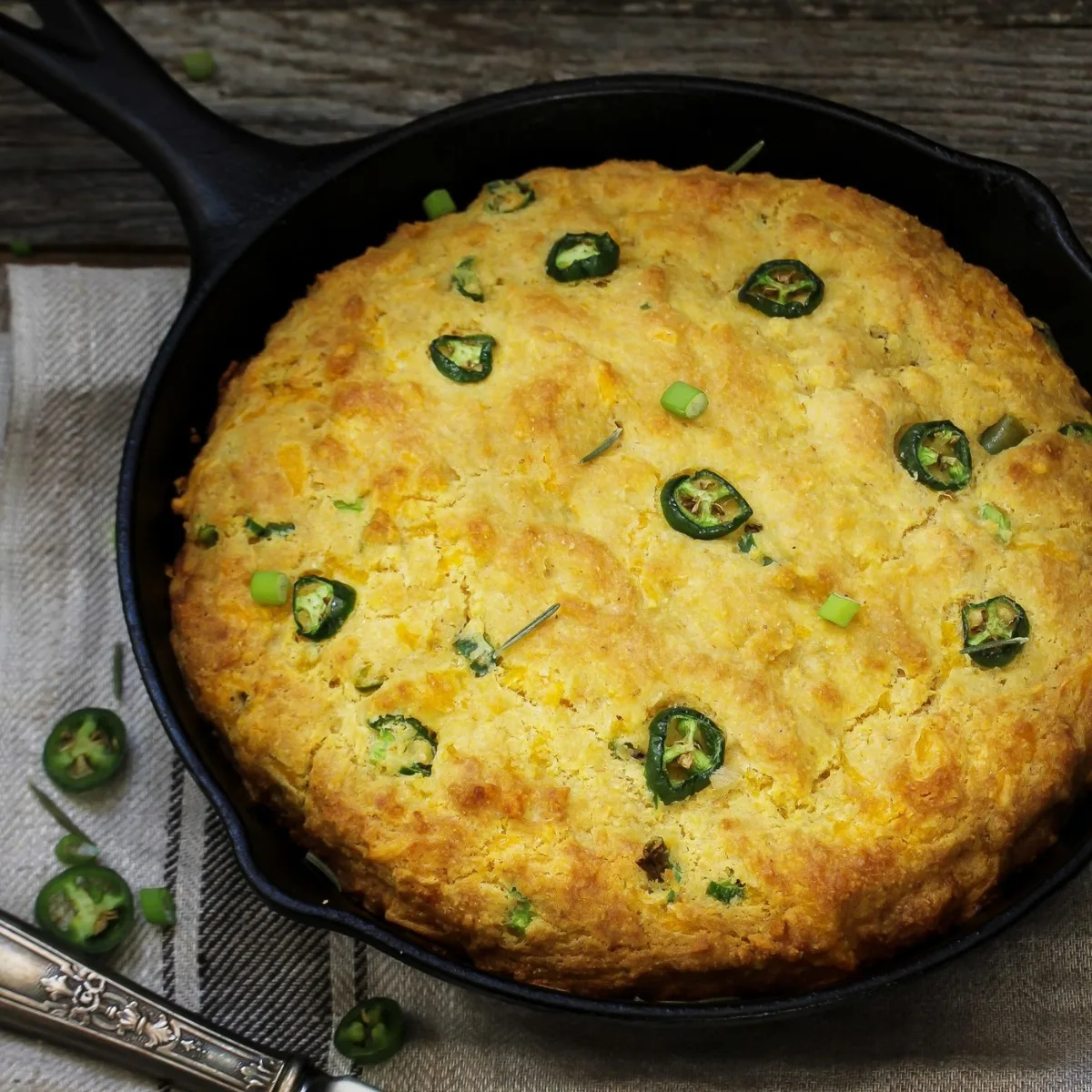 A Southern Classic
Cornbread is a Southern classic that pairs beautifully with prime rib. Its sweet and grainy flavor complements the richness of the beef, and the firm texture holds up well against the juiciness of the meat.
Versatile and Delicious
Cornbread can be flavored with a variety of ingredients, such as jalapeños, cheese, or honey, allowing you to customize it to your liking.
Comforting and Hearty
A slice of warm cornbread is the ultimate comfort food and can be a hearty addition to any meal.
16. Cauliflower Au Gratin
A Low-Carb Option
Cauliflower au gratin is a wonderful low-carb alternative to traditional potato dishes. The cauliflower is baked in a rich, cheesy sauce until it's tender and delicious, making it a great complement to prime rib.
Nutritious and Filling
Cauliflower is a good source of vitamins C and K, and the cheese provides plenty of protein, making this a nutritious and satisfying side dish.
Easily Adaptable
Feel free to add other ingredients to your cauliflower au gratin, such as bacon, chives, or even other types of cheese for added flavor.
17. Broccoli and Cheese Casserole
A Comforting Side Dish
Broccoli and cheese casserole is a comforting side dish that pairs well with prime rib. The tender broccoli and creamy, melted cheese are a perfect match for the savory beef.
Packed with Nutrients
Broccoli is a great source of vitamins C and K, as well as fiber. The addition of cheese provides protein and calcium, making this a nutritious side dish.
Easy to Make
This casserole is easy to assemble and can be made ahead of time, making it a great choice for busy meals.
18. Herbed Couscous
A Flavorful Grain Dish
This herbed couscous offers a refreshing contrast to your succulent prime rib, with its light texture and the rich aromatic blend of herbs. Couscous, known for its ability to absorb flavors well, delivers a delightful eating experience when seasoned with fresh herbs and a drizzle of olive oil.
Read also: 23 Sauces For Sweet Potato Fries
A Quick and Easy Side
Preparing couscous is a breeze, making it an ideal choice when you're pressed for time but don't want to compromise on flavor. Its versatility also means it pairs well with a wide variety of main dishes, especially our prime rib.
Personalize Your Couscous
You can customize this side dish according to your taste preferences, add in your favorite vegetables for a more nutritious punch or incorporate a variety of herbs for an enhanced flavor profile.
19. Roasted Garlic Bread
A Twist on a Classic
This roasted garlic bread is a deliciously upgraded version of the traditional bread side. It adds a new level of flavor to your meal with the deep, sweet taste of roasted garlic spread over crusty bread. This makes for an excellent accompaniment to the rich, savory juices of your prime rib.
Crunchy and Aromatic
Roasted garlic bread is as aromatic as it is crunchy. Each bite offers a satisfying texture contrast to the tenderness of the prime rib, and its robust flavor complements the meat perfectly.
Customizable to Your Liking
Add more or less garlic according to your preference, or sprinkle with some fresh herbs or Parmesan cheese for an extra layer of flavor.
20. Balsamic Grilled Vegetables
A Grilled Delight
Balsamic grilled vegetables are a refreshing, tangy side dish that pairs beautifully with your prime rib. The sweetness of the balsamic reduction brings out the natural flavors of the vegetables, while the grilling process adds a delightful char that enhances the overall taste.
Balanced and Nutritious
Adding grilled vegetables to your meal not only provides a balance to the heaviness of the prime rib but also contributes essential nutrients to your diet, making your meal healthier.
Get Creative with Your Veggies
Feel free to choose your favorite vegetables for this dish. Whether it's bell peppers, zucchini, eggplant, or cherry tomatoes, they'll all taste great when grilled with a balsamic glaze.
21. Sautéed Mushrooms with Thyme
An Earthy Delight
Adding a wonderfully earthy taste to your prime rib meal, sautéed mushrooms with thyme are an easy-to-make side dish that packs in a lot of flavors. The robust taste of the mushrooms, enhanced by the aromatic thyme and the savory hit of garlic, complements the rich flavor of the prime rib.
Quick and Satisfying
Not only are these sautéed mushrooms quick to prepare, but their meaty texture also provides a satisfying mouthfeel that goes well with your main course.
Experiment with Mushroom Varieties
Feel free to use your favorite kind of mushrooms in this recipe. Each variety brings a unique flavor and texture to the table, making this dish a fun culinary adventure each time.
22. Creamy Risotto
Comfort Food at Its Finest
This creamy risotto serves as the perfect comfort food to accompany your prime rib. The risotto's smooth, velvety texture contrasts beautifully with the prime rib's robust flavors, creating a well-rounded, satisfying meal.
A Hearty Side Dish
A well-made risotto is a hearty side dish that holds its own next to the prime rib. Its creamy consistency and rich flavors are sure to delight your taste buds.
Add Your Favorite Ingredients
Feel free to add your favorite ingredients to this risotto. Whether it's a variety of fresh herbs, different kinds of cheese, or your preferred type of wine, this dish is easily adaptable to suit your tastes.
23. Parmesan Roasted Cauliflower
A Crunchy, Savory Treat
Parmesan roasted cauliflower is a delicious side that's perfect with prime rib. The cauliflower florets become crispy and golden in the oven, and the dusting of parmesan adds a delightful umami flavor.
Healthy and Delicious
Cauliflower is a nutritious vegetable that's high in fiber and vitamins. When paired with the indulgent prime rib, it offers a well-rounded, balanced meal.
Make It Your Own
Feel free to adjust the level of Parmesan to suit your taste, or add other seasonings like paprika or garlic powder to enhance the flavor.
Conclusion
Pairing your prime rib with the right side dish can make all the difference, transforming your meal into a gastronomic delight. Whether you prefer traditional comfort foods like Baked Macaroni and Cheese, or you're in the mood to try something new like Broccoli and Cheese Casserole, this list of top 23 prime rib side dishes offers a plethora of options.
Each recipe has been chosen for its unique ability to complement the robust flavors of prime rib, adding balance, depth, and a touch of creativity to your meal. So, the next time you're preparing prime rib, consider these mouthwatering sides to create an unforgettable dining experience.