Indulge in the world of flaky, buttery goodness with our handpicked list of 24 puff pastry desserts. Whether you're a seasoned baker or a beginner in the kitchen, these versatile recipes offer something for everyone.
From timeless classics like apple turnovers to inventive creations like raspberry pinwheels, this list promises to take your dessert game to the next level. Perfect for holidays, special occasions, or your next weekend baking project, these puff pastry desserts are sure to impress and satisfy your sweet tooth.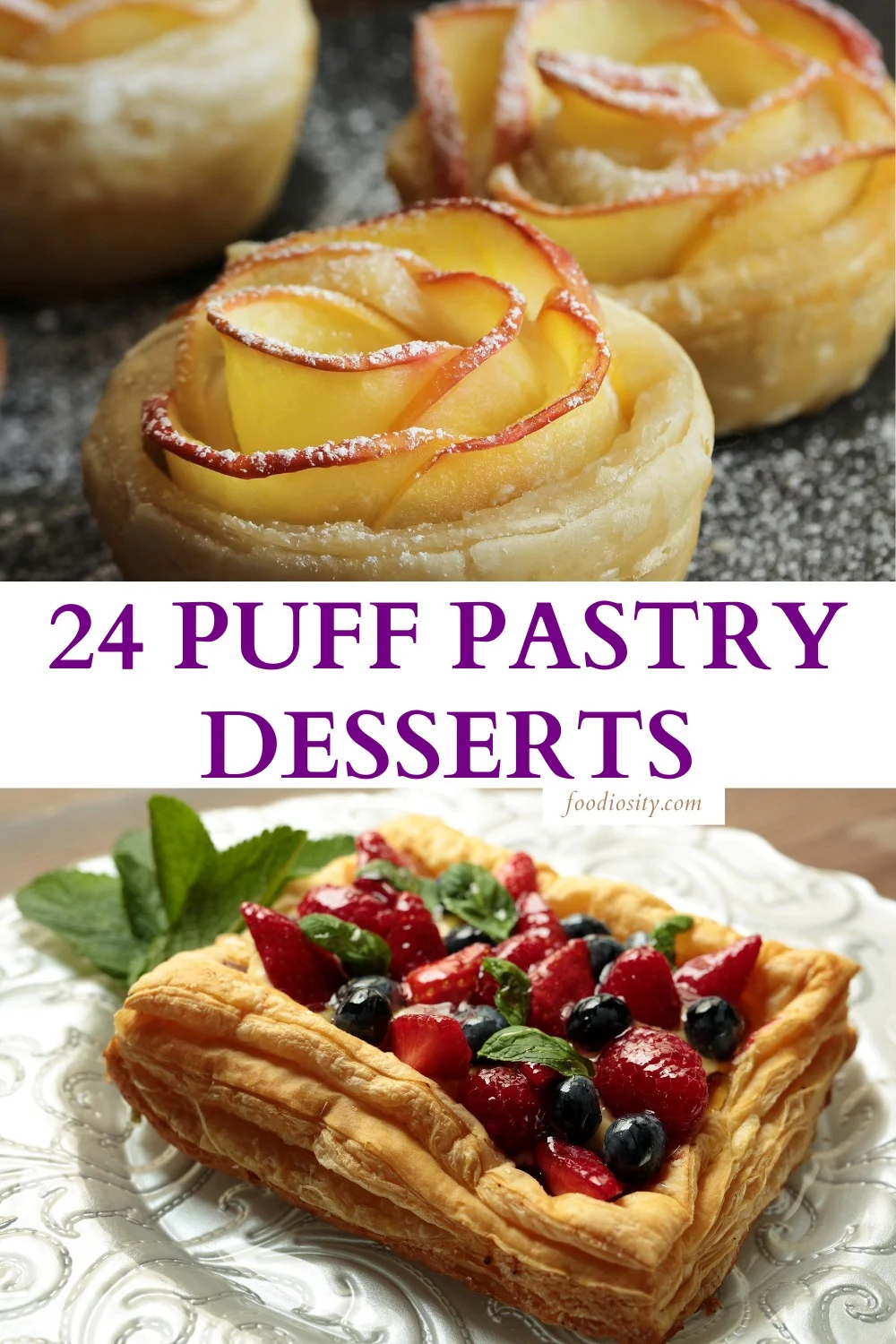 1. Apple Turnovers
A Classic Fall Dessert
Indulge in the warm flavors of autumn with these simple yet delicious apple turnovers. The flaky puff pastry envelopes spiced apple filling, creating a heavenly combination that's both comforting and gourmet.
Perfect for Any Occasion
Whether you're hosting a dinner party or simply enjoying a cozy night in, these apple turnovers are a hit for any occasion. They're easy to make, require minimal ingredients, and can be served warm or at room temperature.
Make It Your Own
Feel free to experiment with the apple filling. Add cinnamon for a classic taste, or mix in some caramel sauce for extra sweetness. The choice is yours, and the possibilities are endless.
Check this recipe
2. Chocolate Cream Puffs
A Chocolaty Delight
Who can resist the allure of chocolate cream puffs? These delicate pastries are filled with a rich chocolate cream that melts in your mouth, offering a sumptuous experience for chocolate lovers everywhere.
Ideal for Special Moments
Chocolate cream puffs are perfect for special occasions like birthdays or anniversaries. They're also a sophisticated dessert option for dinner parties, guaranteed to impress your guests.
Get Creative with Toppings
Drizzle with a bit of chocolate sauce or sprinkle some powdered sugar on top to make these cream puffs extra special. Feel free to add your favorite toppings to personalize your dessert.
Check this recipe
3. Raspberry Pinwheels
A Burst of Berry Goodness
Add a burst of fruity flavor to your dessert menu with these raspberry pinwheels. The puff pastry swirls are filled with raspberry jam, offering a tangy contrast to the buttery layers.
Quick and Easy
These raspberry pinwheels are perfect for those moments when you need a quick yet impressive dessert. The preparation is simple, and they bake in just 15-20 minutes.
Customize Your Filling
Not a raspberry fan? Swap out the raspberry jam for strawberry or apricot. The recipe is versatile, so you can easily adjust the filling to your liking.
Check this recipe
4. Nutella Palmiers
A Nutty French Classic
Give a twist to the classic French palmier with the inclusion of Nutella. The hazelnut-chocolate spread pairs wonderfully with the crispy layers of puff pastry, making it a dessert you'll want to make again and again.
Perfect with Coffee
These Nutella palmiers are the perfect accompaniment to a cup of coffee or tea. Enjoy them as a mid-day treat or as a delightful end to a meal.
Minimal Ingredients, Maximum Flavor
With just three ingredients—puff pastry, sugar, and Nutella—you can create a dessert that's as delicious as it is simple.
Check this recipe
5. Lemon Cream Cheese Danishes
A Citrusy Treat
Enjoy a touch of citrus with these lemon cream cheese danishes. The tartness of the lemon balances the richness of the cream cheese, wrapped up in layers of delicate puff pastry.
Breakfast or Dessert
Whether you're looking for a sweet breakfast option or a light dessert, these lemon cream cheese danishes fit the bill. Serve them with fresh fruit for a complete experience.
Make It Your Own
You can personalize your danish by adding a lemon glaze or substituting the lemon with another citrus fruit like orange or grapefruit.
Check this recipe
6. Cherry Blossom Tarts
A Fruit-Filled Delight
Indulge in the classic pairing of cherries and puff pastry with these cherry blossom tarts. The tart cherries are beautifully complemented by the buttery, flaky pastry, making this a dessert that's as delightful as it is beautiful.
Read also: 29 Puff Pastry Recipes
Ideal for Seasonal Events
These tarts are especially wonderful when cherries are in season but can also be made with canned or frozen cherries, making them a versatile choice for holidays, picnics, or any gathering.
Your Flavor Adventure
Feel free to add a touch of almond extract or substitute the cherries with another fruit like blueberries or apple slices.
Check this recipe
7. Puff Pastry Beignets
A Twist on a Classic
Put a French twist on a New Orleans classic with puff pastry beignets. Instead of traditional dough, this recipe uses puff pastry to achieve an airy, layered effect, and it's just as delicious.
Quick Snack or Decadent Dessert
These beignets are a hit any time of the day. Serve them dusted with powdered sugar for a quick treat or go all out with a dipping sauce for dessert.
Unlimited Filling Choices
Customize your beignets by injecting them with chocolate, jam, or even cream cheese.
Check this recipe
8. Apricot Puff Pastry Pinwheels
A Flavorful Creation
The delightful combination of sweet apricot and flaky puff pastry makes these pinwheels a dessert to remember. The apricot filling bursts with flavor, making each bite a scrumptious experience.
Great for Brunch or Tea Time
Whether it's a fancy brunch or a casual tea time, these apricot puff pastry pinwheels are a hit. They offer a blend of sweetness and tartness that pairs perfectly with a hot cup of tea or coffee.
Choose Your Own Fruits
If apricot isn't your jam, you can easily swap it out for any other fruit preserve you prefer.
Check this recipe
9. Puff Pastry Cannoli Cones
An Italian-Inspired Treat
Take your cannoli to the next level by replacing the traditional shell with puff pastry. The end result is an irresistible dessert that marries the creamy richness of cannoli filling with the airy flakiness of puff pastry.
Perfect for Parties
These cannoli cones are a crowd-pleaser and ideal for parties. They're elegant, delicious, and incredibly fun to eat.
Mix and Match Your Filling
You're not limited to traditional cannoli filling. Feel free to mix in mini chocolate chips, crushed pistachios, or even a dash of citrus zest to make it your own.
Check this recipe
10. Puff Pastry S'mores Twists
A Campfire Classic Reimagined
Bring the campfire to your kitchen with puff pastry S'mores twists. They have all the elements of a traditional S'mores—marshmallow, chocolate, and graham cracker crumbs—but with the added elegance of puff pastry.
A Treat for Kids and Adults Alike
Whether you're entertaining kids or adults, these S'mores twists are a hit. They're fun to make and even more fun to eat.
Add Your Own Spin
Switch up the traditional milk chocolate for dark chocolate or add a drizzle of caramel for an extra layer of flavor.
Check this recipe
11. Puff Pastry Fruit Tarts
A Versatile Dessert
Fruit tarts made with puff pastry offer endless customization. With a layer of pastry cream and topped with fresh fruit, each bite offers a combination of flaky crust, creamy filling, and juicy fruit.
Ideal for Any Occasion
These tarts are a perfect choice for various events, whether it's a brunch or an evening soirée. They are as elegant as they are delicious.
Customize with Seasonal Fruit
Use seasonal fruit for a timely twist. From summer berries to autumn pears, the options are limitless.
Check this recipe
12. Chocolate Croissants (Pain au Chocolat)
A French Classic
Bring a little bit of Paris to your home with these chocolate-filled puff pastry croissants. They offer an indulgent experience of buttery pastry layers and rich chocolate.
Perfect with Coffee
These croissants are the perfect breakfast pastry and go well with coffee or tea, making your mornings extra special.
Optional Filling Variations
Feel free to swap out the chocolate for almond paste or even a fruit preserve for a different twist.
Check this recipe
13. Puff Pastry Cinnamon Rolls
A Quick Twist on a Favorite
Get the essence of a cinnamon roll in a fraction of the time by using puff pastry. The swirls come out incredibly flaky and are packed with cinnamon goodness.
Perfect for Breakfast or Dessert
Serve them warm for breakfast or top with cream cheese frosting for a delicious dessert.
Add Nuts or Raisins
Feel free to sprinkle in some chopped nuts or raisins for added texture and flavor.
Check this recipe
14. Puff Pastry Apple Roses
A Blooming Good Treat
These apple roses aren't just stunning to look at; they're delicious to eat. Thin apple slices are wrapped in a spiral of puff pastry to create a rose-like shape.
Ideal for Special Occasions
Perfect for impressing guests during special events or holidays. They're as delicious as they are visually impressive.
Spice It Up
For added warmth, sprinkle some cinnamon or nutmeg over the apple slices before rolling.
Check this recipe
15. Puff Pastry Baklava
A Fusion Dessert
Combine the best of both worlds with this puff pastry baklava. You'll still enjoy the traditional flavors of honey and nuts but with the added bonus of flaky puff pastry.
Perfect for Festive Occasions
This dessert is a standout dish perfect for festive occasions, offering a delightful twist on the classic baklava.
Your Choice of Nuts
You can opt for walnuts, pistachios, or even a mix of both.
Check this recipe
16. Puff Pastry Lemon Knots
A Citrusy Delight
These lemon knots offer a citrusy zing that pairs beautifully with the flaky layers of the puff pastry. It's a refreshing change from the more traditional dessert flavors.
Ideal for Spring and Summer
Their light and tangy flavor makes them a great dessert choice for spring or summer gatherings.
Add Some Herbs
Try incorporating some fresh herbs like thyme or basil for an unexpected flavor twist.
Check this recipe
17. Puff Pastry Almond Cream Cheese Danish
A Cafe-Style Treat
Bring the coffee shop to your kitchen with this almond cream cheese Danish. The rich almond and cream cheese filling is a perfect complement to the flaky puff pastry.
Perfect for Brunch
These Danishes make an excellent addition to any brunch table and pair well with a variety of beverages.
Add Some Fruit
Feel free to top with sliced almonds and your favorite fruit preserves for extra flavor and texture.
Check this recipe
18. Puff Pastry Tiramisu Twists
A Coffee-Flavored Twist
Love tiramisu? These tiramisu twists bring together coffee, mascarpone, and puff pastry in one delicious package.
Ideal for Coffee Lovers
If you love the taste of coffee in your desserts, this is a must-try recipe for you.
Add a Liqueur
For an adult twist, feel free to brush the pastry with a bit of coffee liqueur before baking.
Check this recipe
19. Puff Pastry Peach Galette
A Rustic Fruit Dessert
The galette offers a more rustic, free-form take on a traditional fruit pie. Filled with fresh peaches and encased in a flaky pastry, this dessert is summer in a bite.
Ideal for Outdoor Meals
This peach galette is the perfect ending to a summer barbecue or picnic.
Make It Your Own
Swap out peaches for other seasonal fruits like plums or apricots.
Check this recipe
20. Coconut Cream Puff Pastry Bites
A Tropical Treat
Infused with coconut cream, these puff pastry bites are a tropical escape in dessert form. The creaminess of the coconut pairs well with the crispy pastry.
Great for Parties
These bite-sized treats are perfect for cocktail parties or buffet-style events.
Garnish Galore
Garnish with a sprinkle of toasted coconut flakes or a small mint leaf for added flair.
Check this recipe
21. Puff Pastry Strawberry Napoleons
A Layered Delight
This dessert features layers of puff pastry, fresh strawberries, and whipped cream, offering a range of textures and flavors in every bite.
Read also: 24 Latte Recipes To Enjoy Your Coffee Break
Ideal for Romantic Dinners
Their elegant presentation makes them an excellent choice for romantic dinners or special occasions.
Use Seasonal Berries
While strawberries are classic, you can use any fresh berry depending on the season.
Check this recipe
22. Puff Pastry Cherry Turnovers
A Sweet and Tart Dessert
The sweet and tart cherries enclosed in the flaky pastry make for a satisfying and balanced dessert.
Quick and Simple
Turnovers are easy to make and can be prepared in advance, making them a convenient option.
Add a Drizzle
A simple powdered sugar glaze can elevate these turnovers into a more decadent treat.
Check this recipe
23. Puff Pastry Plum and Thyme Tart
A Unique Flavor Combo
The sweetness of plums is beautifully contrasted by the savory hint of thyme in this unique puff pastry tart.
Seasonal and Savory
This tart is an excellent choice when plums are in season, offering a delightful mix of flavors that elevate the simple fruit.
Cheese Option
For a more complex flavor profile, sprinkle some goat cheese over the top before baking.
Check this recipe
24. Puff Pastry Raspberry Mocha Mille-Feuille
A Coffee-Infused Delight
Layers of puff pastry, raspberry and mocha-flavored cream, and a dusting of cocoa powder make this mille-feuille a coffee lover's dream dessert.
Elegant and Indulgent
With its intricate layers, this dessert is as pleasing to the eye as it is to the palate.
Add a Liqueur
For an adult version, consider adding a splash of coffee liqueur to the cream.
Check this recipe
Conclusion
We hope you've enjoyed exploring this delectable assortment of puff pastry desserts. Armed with these 30 curated recipes, you're ready to dazzle your friends and family with treats that are as visually stunning as they are mouthwateringly delicious. Whether you opt for fruity galettes, chocolatey twists, or creamy tarts, you're bound to create unforgettable desserts that will have everyone asking for seconds. Happy baking!