Feast your eyes on this list of 26 diverse bread recipes from around the globe ! From the simplicity of a classic White Sandwich Bread to the exotic flavors of Indian Naan, this list caters to both novices and seasoned bakers.
Whether you're seeking the dense, sweet delight of Banana Bread or the tangy, artisan appeal of Sourdough, this guide will transport you into the world of bread-making, one loaf at a time. Explore the intricacies of texture, the chemistry of ingredients, and the joy of pulling a fresh loaf from your oven with these crowd-pleasing bread recipes.
1. Classic French Baguette
A Timeless Favorite
Few things can compare to a perfectly baked French baguette. The crunchy crust and airy interior are the embodiment of simplicity yet sophistication. It's a staple in French households and an excellent accompaniment to your meal.
A Versatile Ingredient
The French baguette is as versatile as it is delicious. It's perfect for sandwiches, as a base for bruschetta, or simply enjoyed on its own with a pat of butter. This bread is an ideal starting point for exploring the world of baking.
Experiment with Shapes and Sizes
While traditional baguettes are long and thin, feel free to experiment with different shapes and sizes. From mini baguettes to larger loaves, the choice is yours. Just ensure to adjust the baking time accordingly.
2. Whole Wheat Bread
A Nutritious Option
Whole wheat bread is a delicious and nutritious addition to your meals. Packed with fiber and essential nutrients, it's a healthy choice that doesn't compromise on flavor. It has a slightly nutty flavor and a hearty texture that's perfect for sandwiches or toast.
Perfect for Meal Prep
Baking a loaf of whole wheat bread is a great way to prepare for the week ahead. Slice it up for easy sandwich-making, or toast it for a satisfying breakfast. It's a versatile staple that will serve you well throughout the week.
Personalize Your Loaf
Feel free to customize your loaf by adding seeds or nuts for extra flavor and crunch. You can also experiment with using a mixture of whole wheat and white flour to alter the texture and taste.
3. Sourdough Bread
A Fermented Delight
Sourdough bread, with its unique tang and chewy texture, is a true delight. The process of making sourdough involves natural fermentation, which not only enhances the flavor but also aids in digestion.
A Bread for All Occasions
Whether you're making a sandwich, avocado toast, or simply enjoying a warm slice with butter, sourdough bread is a versatile choice. Its distinct flavor can elevate any meal and make your dishes even more enjoyable.
A Fun Baking Project
Creating a sourdough starter and making your own loaf can be a rewarding baking project. Don't worry if your first few attempts aren't perfect – the process is part of the fun and each loaf will be an improvement on the last.
4. Italian Ciabatta
An Italian Classic
Ciabatta, with its light, porous texture and crisp exterior, is an Italian classic. It's perfect for soaking up sauces and making delectable sandwiches, making it a staple in Italian cuisine and beyond.
Master the Technique
Baking ciabatta may be slightly challenging due to its high hydration dough, but mastering it can be incredibly satisfying. It's an excellent way to improve your baking skills and impress your guests.
Experiment with Flavors
While traditional ciabatta is delightfully simple, you can also experiment with adding herbs, olives, or sun-dried tomatoes to the dough for an extra burst of flavor.
5. Rye Bread
A Bread with Depth
Rye bread, known for its slightly sour taste and dense texture, offers a unique depth of flavor. It pairs well with robust fillings like smoked salmon or strong cheeses, making it a great choice for sandwiches or as an accompaniment to hearty meals.
Health Benefits
Rye bread is packed with fiber and can be a good source of nutrients, including magnesium, protein, and phosphorus. It's a wholesome choice that is as nourishing as it is tasty.
Try Different Varieties
Rye bread can be light or dark, depending on the proportion of rye to wheat flour used. Feel free to try baking different varieties to discover your personal favorite.
6. Focaccia
A Flavorful Flatbread
Focaccia is a flavorful and versatile Italian flatbread that's known for its soft texture and rich olive oil flavor. Typically topped with coarse salt and rosemary, it can be enjoyed as is or used for sandwiches and pizza.
A Canvas for Creativity
While classic focaccia is a delight in its own right, the bread serves as a perfect canvas for a variety of toppings. Feel free to experiment with different herbs, cheeses, and even vegetables to make your focaccia uniquely yours.
An Easy Introduction to Bread Baking
Focaccia is an excellent bread for beginners to try their hand at baking. Its forgiving nature and straightforward process make it a fun and rewarding baking project.
7. Brioche Bread
A Sweet and Buttery Treat
Brioche bread is a French classic that's rich, buttery, and slightly sweet. It's often enjoyed for breakfast or brunch, but it can also make a decadent base for a sandwich or a luxurious addition to bread pudding.
A Test of Patience
Making brioche requires patience, as the dough needs ample time to rise. But the result – a soft, fluffy loaf with a beautifully golden crust – is well worth the wait.
Experiment with Shapes
Brioche can be baked in various shapes, from a traditional loaf to individual buns or even a braided design. Feel free to get creative and shape your brioche to suit the occasion.
8. Multigrain Bread
A Healthy, Hearty Choice
Multigrain bread, packed with a variety of grains and seeds, is a healthy and hearty choice. It has a deliciously complex flavor and a satisfying texture that's perfect for sandwiches or toast.
Read also: 21 Cranberry Recipes
Packed with Nutrients
This bread is not only flavorful but also packed with nutrients. The combination of grains provides a wealth of fiber, vitamins, and minerals, making it a great choice for a wholesome meal.
Make It Your Own
Feel free to customize your multigrain bread with your choice of grains and seeds. From flaxseeds to sunflower seeds, oats to barley, the possibilities are endless.
9. Olive Oil and Rosemary No-Knead Bread
A Rustic, Flavorful Loaf
Your kitchen will smell amazing as you bake this Olive Oil and Rosemary No-Knead Bread. It's a perfect blend of earthy rosemary and rich olive oil folded into a beautifully rustic, artisanal loaf. The no-knead technique makes this recipe easy even for novice bakers.
Great for Beginners
If you're new to bread making, this is an ideal place to start. No-knead bread requires minimal handling, and the dough does most of the work on its own as it rests and develops flavor.
Make it Your Own
Feel free to customize the recipe by using different herbs like thyme or sage. The olive oil can also be swapped for another variety, or you can add ingredients like olives or sun-dried tomatoes for added complexity.
10. Sweet Potato Bread
A Nutrient-Rich Sweet Loaf
This Sweet Potato Bread is a deliciously moist, sweet, and nutritious twist on a classic loaf. It's made with pureed sweet potatoes, which add a natural sweetness and a beautiful orange hue, making it perfect for a fall afternoon treat.
A Versatile Treat
Whether it's for breakfast, dessert, or a snack, this bread fits the bill. Pair it with a pat of butter or a drizzle of honey for a delectable treat that's hard to resist.
Add Your Favorite Spices
Feel free to add your favorite fall spices like cinnamon, nutmeg, or allspice to enhance the sweet potato flavor. Adding chopped nuts or dried fruits can provide a nice textural contrast.
11. Bagels
A Classic Breakfast Staple
Homemade Bagels can be an exciting weekend baking project. They are boiled before being baked, which gives them their distinctive chewy texture and shiny exterior. You can top them with sesame seeds, poppy seeds, or everything bagel seasoning for an authentic bakery experience.
A Family Activity
Making bagels can be a fun family activity. The process is interactive and a little bit science-y, making it a perfect opportunity to bake with kids and teach them about the magic of yeast.
Customize Your Bagels
Feel free to experiment with different flavors by adding ingredients like cinnamon and raisins, blueberries, or even jalapenos and cheese. The sky's the limit with homemade bagels.
12. Honey Wheat Bread
A Healthy, Flavorful Loaf
This Honey Wheat Bread is a wholesome and flavorful bread that's sweetened with honey and made with whole wheat flour. It's perfect for sandwiches, toast, or simply served warm with a bit of butter and honey.
Perfect for a Healthier Diet
If you're trying to incorporate more whole grains into your diet, this bread is a delicious option. It's rich in fiber and has a wonderfully complex flavor compared to white bread.
Experiment with Flavors
Feel free to play around with this recipe. Try using different types of honey for a unique flavor, or add oats on top for added texture.
13. Naan Bread
A Soft and Chewy Flatbread
This Naan Bread is a soft, pillowy flatbread that's perfect for scooping up curry or hummus. It's traditionally cooked in a tandoor oven but can be made in a hot skillet at home, resulting in deliciously charred edges and a soft, chewy interior.
Simple Ingredients, Amazing Results
With just a few simple ingredients, you can make your own naan bread. The process is straightforward, and the result is far superior to store-bought versions.
Add Your Favorite Toppings
Sprinkle your naan with garlic and fresh cilantro for a classic take, or get creative with toppings like za'atar, sesame seeds, or even cheese.
14. Irish Soda Bread
A Quick and Easy Loaf
Irish Soda Bread is a quick bread made with baking soda as the leavening agent instead of yeast. It has a dense, hearty texture and a distinctive tang from buttermilk. It's perfect served warm with a bit of butter.
Perfect for Beginners
If you're new to baking bread, Irish soda bread is a great place to start. The recipe is straightforward, and there's no need to worry about kneading or proofing the dough.
Customize Your Bread
Feel free to add raisins or currants to your soda bread for a sweet twist, or incorporate herbs and cheese for a savory version.
15. Pretzel Bread
A Salty, Chewy Delight
This Pretzel Bread recipe combines the best characteristics of soft pretzels in a versatile loaf form. It has a slightly sweet, deep-brown crust and a soft, chewy interior, perfect for sandwiches or as an accompaniment to hearty stews or soups.
A Fun Baking Project
Making pretzel bread is a unique baking project that involves boiling the loaves in a baking soda solution before baking, which gives the bread its distinctive flavor and texture.
Experiment with Shapes
While the recipe suggests making a loaf, you can shape the dough into individual rolls or traditional pretzel twists. Sprinkle with coarse salt before baking for that classic pretzel taste.
16. English Muffins
A Breakfast Staple
English Muffins are soft, round, and have a distinctive fork-split interior that toasts up perfectly crisp. They are great for breakfast sandwiches, as a base for Eggs Benedict, or simply spread with butter and jam.
A Fun Weekend Project
Making English muffins at home can be a fun weekend project, and you'll love the fresh, homemade flavor.
Make it Your Own
Try whole wheat flour for a healthier version, or add in some raisins and a touch of cinnamon for a sweet twist.
17. Cinnamon Swirl Bread
A Sweet, Spiraled Loaf
Cinnamon Swirl Bread is a delightful, sweet bread that's perfect for breakfast or dessert. The beautiful swirl of cinnamon sugar in the middle of the loaf not only adds flavor but makes each slice visually appealing.
Perfect for a Sweet Treat
This bread is great for a sweet morning toast or as a special treat with a cup of tea.
Experiment with Additions
Try adding raisins or nuts to the cinnamon swirl, or top the loaf with a simple glaze for an extra sweet touch.
18. Banana Bread
A Moist, Sweet Loaf
Banana Bread is a delicious way to use up overripe bananas. It's moist, sweet, and perfect for breakfast or a snack. Plus, it's an easy recipe that's great for novice bakers.
Healthy and Flavorful
With bananas as a main ingredient, this bread is a bit healthier than some other sweet breads. It's also easy to make it more nutritious by using whole wheat flour or adding nuts.
Make it Your Own
You can customize banana bread with add-ins like chocolate chips, walnuts, or blueberries.
19. Challah Bread
A Sweet, Braided Loaf
Challah Bread is a traditional Jewish bread that's sweet, eggy, and beautifully braided. It's perfect for special occasions, but also makes an excellent base for French toast or bread pudding.
A Beautiful Presentation
The intricate braiding makes this bread a stunning centerpiece for any meal. While it may look complicated, the braiding process is quite simple once you get the hang of it.
Experiment with Flavors
Try adding poppy or sesame seeds on top for a bit of crunch, or add raisins to the dough for a sweet surprise.
20. Zucchini Bread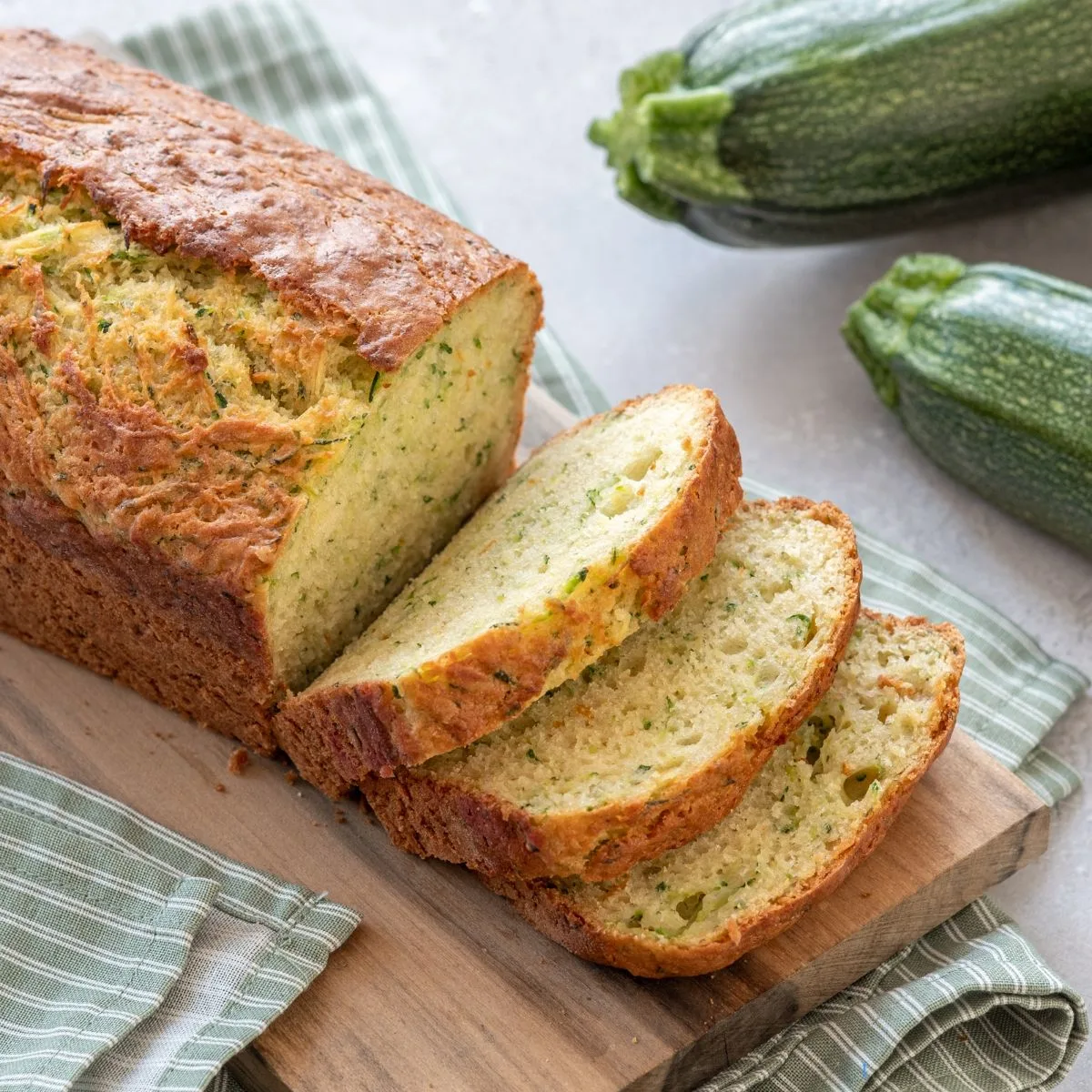 A Moist, Nutritious Loaf
Zucchini Bread is a great way to sneak in some veggies. It's moist and sweet, and the zucchini gives it a beautifully tender crumb.
Perfect for a Healthy Snack
Zucchini bread is a healthier alternative to some other sweet breads, making it a great choice for a snack or quick breakfast.
Customize Your Bread
Try adding walnuts for crunch or chocolate chips for a sweet treat. You could also experiment with spices, like nutmeg or ginger.
21. Cornbread
A Southern Staple
Cornbread is a classic Southern bread with a beautiful golden color, a slightly sweet flavor, and a tender crumb. It's perfect served alongside chili or barbeque.
A Quick and Easy Bread
Cornbread is a quick bread, so it's very easy to make and doesn't require any yeast or rising time.
Make it Your Own
Try adding in diced jalapenos for some heat, or fresh corn for extra flavor and texture. You could also sweeten it up with a touch of honey.
22. Multigrain Bread
A Healthy, Flavorful Loaf
Multigrain Bread is packed with a variety of whole grains that give it a hearty texture and rich, nutty flavor. It's a great choice for a healthy sandwich or toast.
A Nutritious Choice
With multiple types of grains, this bread is packed with fiber and nutrients. It's a delicious and healthy choice.
Customize Your Bread
Feel free to use any combination of grains that you like. You can also add seeds like sunflower or flax for extra texture and nutrition.
23. Pumpkin Bread
A Spiced, Seasonal Loaf
Pumpkin Bread is a moist, sweet bread that's perfect for the fall season, though its comforting flavors of cinnamon, nutmeg, and pumpkin are welcome any time of year.
Read also: 29 Halloween Dinner Ideas
A Cozy Treat
This bread is perfect for a cozy breakfast, afternoon snack, or dessert. It's also great for gifting during the holiday season.
Add Some Extras
For added texture and flavor, consider mixing in chopped nuts, chocolate chips, or dried cranberries.
24. Croissants
Buttery French Pastry
Croissants are a delicious French pastry known for their flaky, buttery layers. They're perfect for a decadent breakfast or to use for a fancy sandwich.
Learn New Skills
Making croissants at home is a great way to learn the technique of laminating dough, which involves folding butter into the dough multiple times to create thin, flaky layers.
Sweet or Savory
While croissants are delicious on their own, they can also be filled with chocolate, almond paste, or ham and cheese for a flavorful twist.
25. Pita Bread
A Versatile Flatbread
Pita Bread is a soft, round flatbread that's often used in Middle Eastern and Mediterranean cuisine. It's great for sandwiches, as a base for pizza, or to serve with hummus and other dips.
A Fun Project
Making pita bread at home can be a fun project, and it's a delight to watch the dough puff up in the oven to form the characteristic pocket.
Experiment with Flavors
Try mixing in some dried herbs or garlic for a flavorful twist.
26. Parker House Rolls
A Soft, Buttery Roll
Parker House Rolls are a classic American dinner roll known for their soft, buttery texture. They're perfect for special occasions or to make any dinner a bit more special.
A Delicious Side
These rolls are a delicious side for any meal, and are especially good when warm from the oven and spread with more butter.
Add Your Own Flavors
Try brushing the rolls with garlic butter or sprinkling them with herbs for a flavorful twist.
Conclusion
The aroma of fresh bread is a universally loved scent that can make a house feel like home. So, roll up your sleeves and get ready to knead, proof, and bake your way to bread perfection. Remember, every loaf tells a story, and every slice is a chapter of deliciousness waiting to be savored. Happy baking!