The coconut Martini is the next best thing this summer. It's light, tropical, and definitely something to try next.
This post may contain affiliate links. This post is meant for those of legal drinking age.
What is Coconut Martini?
Coconut Martini is a vodka Martini with a splash of cream of coconut, and it's classed as more of a vodka sour than anything else. The only sweetness in this comes from the cream of coconut (not coconut cream!), which is sweetened but isn't nearly as sweet as coconut syrup.
Don't use coconut milk for this, it won't have the right texture or pack as much flavor as cream of coconut.
Coconut Martini Cocktail Recipe
A tropical Martini to get you in a vacation mood.
Ingredients
2

oz

vodka

0.5

lime juice

1

oz

cream of coconut

granulated sugar for the rim
Instructions
Wet the rim of a Martini glass, dip it in the sugar. Set aside.

In a shaker combine vodka, lime juice, cram of coconut, ice. Shake very well.

Strain into rimmed Martini glass.
Notes
The only sweetness here is from the cream of coconut, so feel free to add more if you like.
When is this drink best ?
Coconut Martini feels like a nice summer cocktail, especially since it's a little sour so you won't be sipping on something overly sweet in a heatwave.
Or, if you tend to associate coconut with winter, this could also work as a winter cocktail. The coconut flakes can easily stand in for fresh snow, so perhaps give it a try when on the first snow day.
My thoughts on Coconut Martini
I think the coconut Martini is a bit on the sour side, since the only sweetness comes from the cream of coconut and isn't very much. If you're a vodka sour fan then this is going to be a very good coconut cocktail.
I think vodka pairs very well with coconut, since it allows the fruit to shine and really have its moment. It's definitely a very strong cocktail though, you can easily feel the alcohol burn here.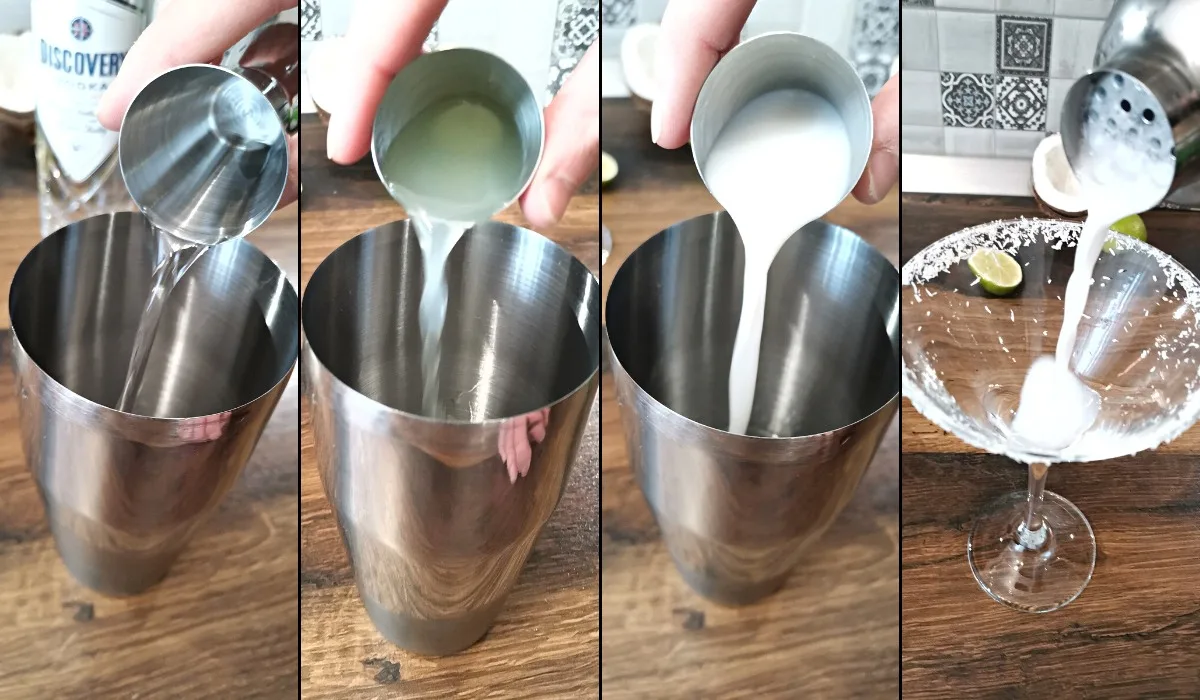 If you like Coconut Martini, you might also like…
Coconut Margarita – a splash of cream of coconut in the classic Margarita
Notes, substitutes, and tips
The recipe calls for plain vodka, but you can use a flavored one if you have some on hand. Lime or lemon will work great, but if you have any coconut flavored vodka I think it would work even better.