The Cointreau fizz is a delicious bubbly drink that will remind you why people love a bubbly highball in the first place. Refreshing, orange-based, and definitely something to try year-round.
This post may contain affiliate links. This post is meant for those of legal drinking age.
What is Cointreau Fizz?
The Cointreau fizz is a highball made with club soda, sometimes known as a fizz or a bubbly. This recipe is actually courtesy of Cointreau themselves, and it's a great take on the refreshing nature of a fizz.
As long as you have Cointreau, lime juice, and club soda, you can easily make one of these.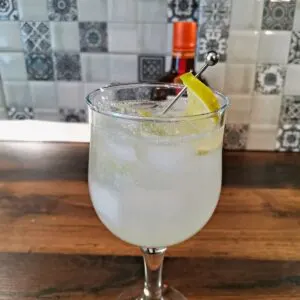 Cointreau Fizz Cocktail Recipe
A fizzy way to enjoy your Cointreau.
Ingredients
2

oz

Cointreau

1

oz

lime juice

3

oz

club soda
Instructions
Build in an ice-filled Collins glass.

Start with Cointreau, lime, then club soda. Stir lightly.
Notes
The recipe calls for Cointreau but you could use any triple sec of your liking and get a similar result.
When is this drink best ?
I think Cointreau fizz works great both in summer and winter, and here's why. The orange in this reminds me of winter and all the spicy recipes that call for orange peel, and I love that. However the lime juice and club soda (and accompanying ice) just scream summertime to me, relaxing in the sun.
Regardless of the season you choose to drink this, the cocktail is first and foremost a casual, bubbly drink. It could easily work well in a brunch setting, a lunch setting, at dinner, in your backyard at a cookout, by the pool, or at a picnic. Really it goes with pretty much anything, anytime, anywhere (within reason).
My thoughts on Cointreau Fizz
I liked the Cointreau fizz, though I personally prefer drinks that are a bit more aromatic and/or sweet. In this recipe there are 2 parts Cointreau to 3 parts club soda, and I think reducing the club soda to 2 parts would work better (for my tastes).
The lime juice pairs beautifully with the orange notes in Cointreau, and the club soda livens up everything. Overall a very refreshing drink.
If you like Cointreau Fizz, you might also like…
Hugo – an elderflower spritz
Aperol Spritz – a mix of Aperol, sparkling wine, and cub soda
Garibaldi Spritz – a mix of Campari, orange juice, and sparkling wine
Mojito – a classic summer bubbly drink
Americano – similar to a Negroni with club soda
Notes, substitutes, and tips
The only sweetness in this comes from Cointreau. If you want more sweetness, either add more Cointreau or add a bit of simple syrup (or orange syrup). Or, you can add less club soda so it won't be as diluted.
The recipe calls for Cointreau, but if you're at home and you don't have any on hand, you can use any brand of triple sec.