Mojito has become so well known on so many menus around the world, it's bound to have a staunch fan base. This drink is rum-based, and it's a long drink (or highball) that goes especially well with summer. Initially it was meant to be made with aguardiente (Spanish for 'burning water', is the ancestor of rum) but as alcohol production was refined and rum came about, it became a rum drink.
This post may contain affiliate links. This post is meant for those of legal drinking age.
What is a mojito ?
The actual recipe for mojito is fairly simple (rum, club soda, syrup, lime, and mint), but requires an extra step if you really want to get a great flavor. What is that extra step ? Muddling lime and mint to extract as much flavor as possible, as opposed to simply placing them in the glass. It makes a very, very big difference.
And like many beloved menu items, opinions are many when it comes to just how to make the perfect mojito. What kind of rum to use and what kind of sugar, sugar vs syrup, or how to handle the mint. So, this is the version I consider to be the best, as per my tastes (and my husband's).
It's a bit different from the original or traditional mojito, in that I used a mojito syrup instead of granulated sugar or simple syrup. This is a syrup that's lime and mint based, and I think a mojito without it is fine, but not great.
When is this drink best ?
Is it summer if you don't have a mojito in your hand ? Or, do you have a mojito in your hand at any other point than summer ? Of all the light and summery drinks, mojito is one of the top 3 in my book. Easy to get into, easy to make in large batches (if you want), and you don't really notice how many drinks you're in until you get a nice buzz.
Mojito
Highly refreshing minty drink, well worth the extra step to get it right. This is my version and it's very minty.
Ingredients
3

lime wedges

2-3

lime wheels for garnish

1

sprig of mint for garnish

7-8

mint leaves for muddling

1

oz

mojito syrup

or simple syrup

3

oz

white rum

3

oz

club soda
Instructions
In a shaker add the mint leaves and lime wedges. Muddle to extract mint oil, lime oil, lime juice.

Add rum, syrup, and ice, shake.

Strain into a highball glass, half-filled with ice.

Top with club soda, add fresh mint and lime wheels for garnish.
Notes
Mojito syrup is not traditional and can be easily swapped for simple syrup and extra mint leaves.
If you want old-school mojito, use 2 tbsp granulated sugar while muddling.
My thoughts on mojito
This version of mojito, the one I like, is mint-forward and brings quite a bit of rum to the table. I like it because it's easy to just sip on, and it's easy to have several during an afternoon without getting a massive hangover the next day. After all, it's 3 oz of actual alcohol per serving so it's not going to hit you like a ton of bricks.
That being said, I understand everyone likes their mojito a little different. The base recipe is still the same, and you should feel free to fiddle with the ingredients until you get what you like. Add more or less mint, more or less lime, use lime juice instead of wedges, simple syrup instead of granulated sugar. You do you, as long as you like it.
I know using a mojito syrup may seem lazy to some, while some people think it's the coolest thing ever. For me and my tastes, this is the way to make a good mojito. I like my flavors bold.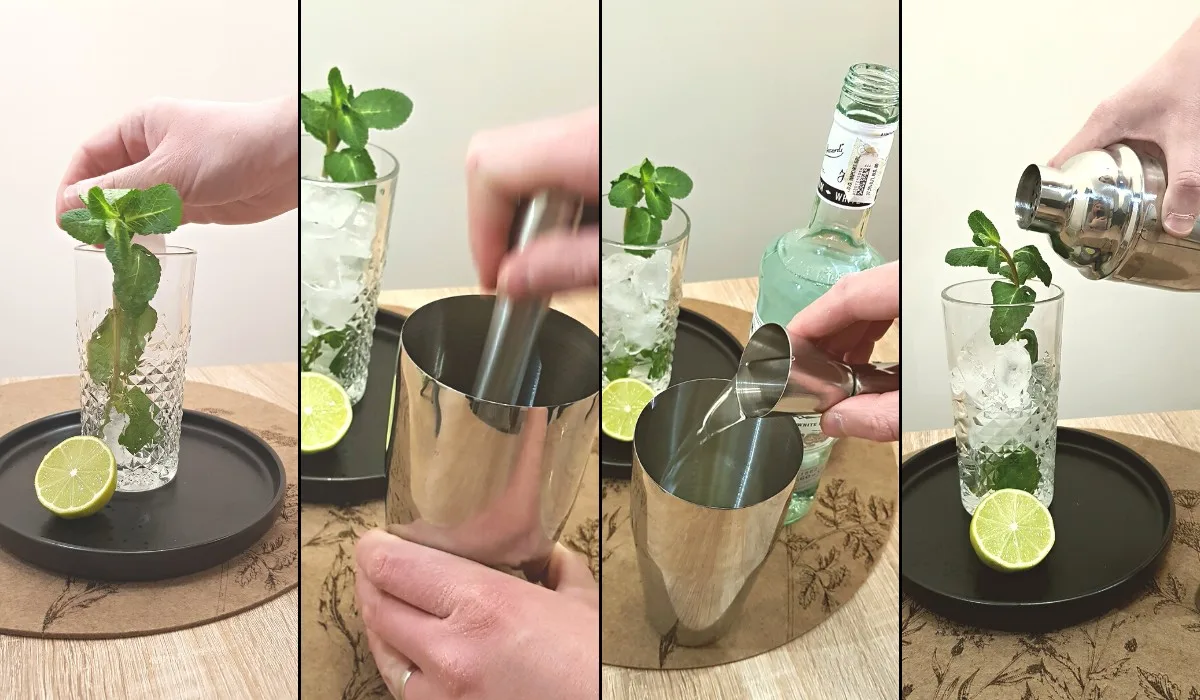 If you like mojito, you might also like
Hugo – sparkling wine, elderflower, and all of the mint.
Southside Fizz – gin-based but quite similar
Caribeno – white rum and coconut water, gives Mojito a run for its money
Canchanchara – an ancestor of the Mojito
Blueberry Mojito – a Mojito with blueberries
Strawberry Mojito – a Mojito with fresh strawberries
Raspberry Mojito – a mojito with raspberries
Cointreau Fizz – Cointreau, lime juice, club soda
Rum Collins – a Tom Collins with rum
Caipirissima – a rum caipirinha
Rum Lemonade – a refreshing mix of rum and lemonade
Notes, substitutes, and tips
The best mint for this is peppermint, if you can find it. It's got more flavor than menthol, and also smells better.
If you don't have or can't find mojito syrup, that's fine. Double up on the mint leaves and you're going to get a similar flavor.
White rum has a crisp, fresh taste compared to dark rum, and it doesn't compete too much with the other ingredients. If you find white rum to be too sharp, use gold or dark rum and see how you like it. Keep in mind this will also give the drink a deeper color.
If you feel the club soda is too bland, consider adding a splash of lemon/lime soda. Seltzer and tonics are also a good idea, though the flavor will be slightly bitter but more rounded.