Margaritas are the quintessential summer cocktail, so why not make a cucumber Margarita to amp up the fresh and cool factor ? This combination works better than you might think !
This post may contain affiliate links. This post is meant for those of legal drinking age.
What is Cucumber Margarita?
A cucumber Margarita is exactly what it sounds like – a Margarita with added fresh cucumber, to achieve a refreshing version of the original drink. This recipe uses fresh cucumber, and you'll find it's actually one of the more interesting combinations for tequila.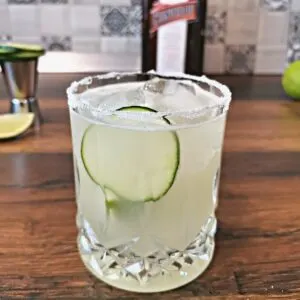 Cucumber Margarita Cocktail Recipe
A new take on the flavored Margarita - a cucumber one, and it's actually a nice touch !
Ingredients
2

oz

tequila

1

oz

triple sec

1

oz

lime juice

1

oz

simple syrup

2-3

cucumber slices

salt for the glass rim
Instructions
Wet the rim of a rocks glass, dip it in salt. Add a bit of ice. Set aside.

In a shaker combine all ingredients, plus ice. Shake well.

Strain into salt-rimmed glass.
Notes
Any tequila will work in this, but perhaps silver is best as it's more mellow in flavor.
The salt rim is optional. You can either skip it entirely, or do just a smudge on the glass. I just think it looks cool.
When is this drink best ?
I think the cucumber Margarita works great as a summer cocktail, especially on a hot summer afternoon when you want something strong but refreshing. The cucumber offers a great cooling sensation, and it blends right into the rest of the flavors.
My thoughts on Cucumber Margarita
I liked the cucumber Margarita, though perhaps it can seem underwhelming to some. Tequila is still very strong in this, and the agave kind of hides the cucumber as they're very complementary flavors. You won't be able to pick out the cucumber very easily, but you'll notice if it's gone.
Overall it tastes and feels like a regular Margarita, with a lighter, refreshing undertone. The salt rim is optional, and if you do drink through it this becomes quite salty.
If you like Cucumber Margarita, you might also like…
Classic Margarita – the classic Margarita recipe (shaken)
Cucumber Gimlet – a gin gimlet with cucumber
Cucumber Martini – a vermouth and gin Martini, with cucumber
Texas Margarita – an extra sour Margarita
Notes, substitutes, and tips
The type of tequila you use is entirely personal. I used gold tequila, though I think silver would've worked better as it has a more neutral flavor.
If cucumber isn't your style, consider other related fruits and veg like zucchini, pumpkin, watermelon, honeydew, and cantaloupe. Some of these are also found in syrup form, and you could add the syrup in place of simple syrup, and not add fresh cucumber instead.