The Texas Margarita is going to show you a brand new side of tequila, and possibly make you appreciate it even more. This will depend on whether you're a sour drink fan or not.
This post may contain affiliate links. This post is meant for those of legal drinking age.
What is Texas Margarita?
A Texas Margarita is a twist on the classic, with added orange juice. The exact history or reason for naming it Texas Margarita is unclear, but it's definitely a delicious drink. A little on the sour side, and it depends entirely on the oranges you use. To get the best flavor make sure to use navel oranges – they're juicier, sweeter, and have way less seeds. Here's how to make your own Texas Margarita.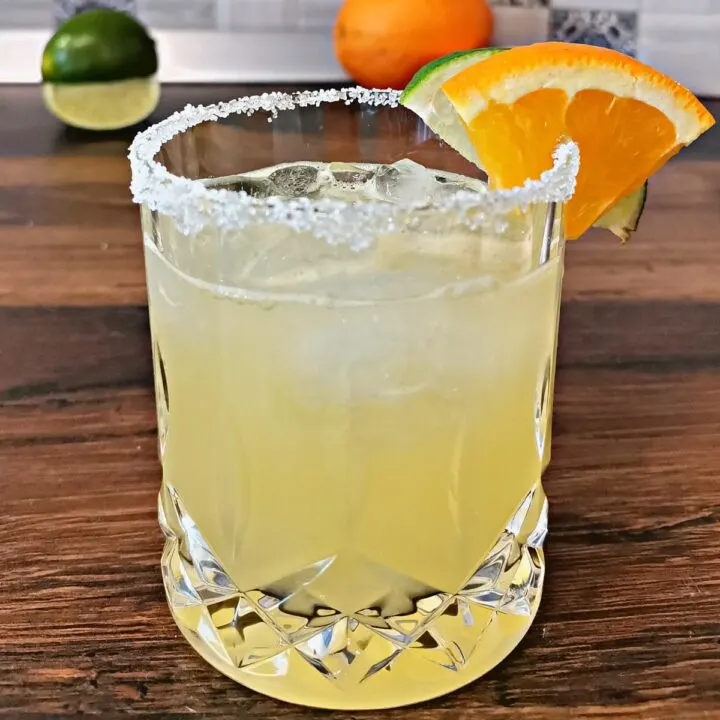 Texas Margarita Cocktail Recipe
A whole new twist on the classic Margarita, now with Texas flavor !
Ingredients
2 oz tequila
1 oz triple sec
1 oz orange juice
1 oz lime juice
granulated sugar for the rim (optional)
Instructions
For the sugar rim wet the rim of a rocks glass, dip it in sugar, add a few ice cubes, set aside.
In a shaker combine tequila, triple sec, orange juice, lime juice, ice. Shake very well.
Strain into glass.
Notes
The drink will come out quite sour, so feel free to try it as-is first and then experiment with simple syrup or less lime juice if you want it less tart.
If you want to make great cocktails at home, this 24-piece Bartender Kit will help you a lot,
check the price on Amazon
.
When is this drink best ?
I think a Texas Margarita works great as a summer cocktail, especially when you think of the citrus factor. Fresh lime and orange make it a bright, crisp drink that's just perfect for hot afternoons.
My thoughts on Texas Margarita
I think the Texas Margarita is quite sour, and it definitely benefits from a sugar rim ! I know it's traditional to add a pinch of salt to most tequila-based drinks, but this one definitely needs whatever help the sugar rim brings. Of course, if you're a sour drink fan then you can omit the sugar rim entirely.
The lime and orange go well together, and pair exceptionally well with the triple sec in this drink. The tequila is strong, and the entire drink almost feels like a large tequila shot, with a bit of depth of flavor.
If you like Texas Margarita, you might also like…
Golden Margarita – a Margarita with gold tequila
Italian Margarita – a Margarita with a dash of Amaretto
Classic Margarita – the classic shaken Margarita recipe
Cucumber Margarita – a simple Margarita with fresh cucumber
Pomegranate Margarita – a Margarita with pomegranate juice
Blood Orange Margarita – a Margarita with blood orange juice
Tommy's Margarita – a simpler, but arguably better Margarita
Notes, substitutes, and tips
The sugar rim in this is optional, but it helps with the extra-sour citrus. Or, you could add a bit of simple syrup to help things along, or cut the lime juice in half.
Make sure to use fresh orange juice ! Carton orange juice often has a bitter undertone that will not help this Margarita at all.