Discover the aromatic world of rosemary with these 24 flavorful recipes that showcase this versatile herb. From the classic to the unexpected, these dishes promise a culinary journey infused with rosemary's distinctive pine-like fragrance. Whether you're looking to elevate a simple dish or experiment with bold flavors, this compilation has something for every palate. Boost your kitchen repertoire and discover the magic of rosemary!
1. Rosemary Lemon Roast Chicken
An Invigorating Combination
Bask in the delightful flavors of rosemary paired with zesty lemon. This roast chicken brings out a refreshing taste that'll elevate your dinner experience. The savory aroma of rosemary combined with the tang of lemon creates an enticing dish.
Ideal for Special Occasions
Impress your guests with this centerpiece-worthy roast. It's a showstopper at gatherings, and the flavor will undoubtedly receive praises.
Perfect Pairings
Serve alongside roasted vegetables or a fresh garden salad. It pairs beautifully with white wine, enhancing the dish's citrus notes.
2. Rosemary Garlic Bread
A Fragrant Twist
Elevate your classic garlic bread with the addition of aromatic rosemary. Every bite delivers the punch of garlic softened by the herbaceous touch of rosemary, making it a delightful accompaniment to any meal.
Quick and Satisfying
It's a perfect choice when you want a quick yet impactful side dish. Toasty on the outside and soft within, this bread will have you reaching for more.
Pairing Ideas
Perfect with pasta dishes or as an appetizer. Dip it into olive oil for an extra flavor boost.
3. Rosemary Focaccia
Simple Yet Flavorful
Experience the rustic charm of homemade focaccia, perfumed with fresh rosemary. This Italian flatbread, with its airy texture and olive oil richness, is a delight in every bite.
Baking Made Easy
Even if you're new to baking, this recipe ensures a hassle-free experience. The result? A golden-brown crust with a soft, flavorful inside.
Serve it Up
Slice and serve with soups, stews, or salads. Or, enjoy it as is, savoring the herby goodness.
4. Rosemary Infused Olive Oil
Herbal Elixir
Transform your regular olive oil into a gourmet concoction. The combination of rosemary's fragrance with the depth of olive oil is heavenly, making it a versatile kitchen staple.
Elevate Every Dish
A simple drizzle can enhance the flavors of your salads, pastas, and breads.
A Thoughtful Gift
Present this in a decorative bottle for a thoughtful and delightful gift for food enthusiasts.
5. Rosemary Buttered Popcorn
Snacking Redefined
Give your popcorn a gourmet twist. The freshness of rosemary combined with rich butter takes this snack to a whole new level.
Movie Nights Just Got Better
Enhance your movie-watching experience with this aromatic and savory popcorn variant.
Quick and Effortless
In minutes, you can enjoy a bowlful of this herbed delight. It's snacking made fancy!
6. Rosemary Potato Wedges
Rustic Delight
Crispy on the outside and tender within, these rosemary-infused potato wedges are the epitome of comfort food.
Ideal Side Dish
Pair them with grilled meats or enjoy them on their own with a dip of choice. Their earthy, fragrant flavor complements a wide range of dishes.
Effortless Cooking
With just a handful of ingredients and minimal prep, you'll have a delightful dish ready in no time.
7. Rosemary Balsamic Steak
Succulent and Fragrant
Elevate your steak game with the infusion of balsamic vinegar and rosemary. This pairing brings a depth of flavor, enhancing the meat's natural richness.
Read also: 30 Fall Crockpot Recipes
Grill to Perfection
Whether it's a summer barbecue or an indoor grill session, this steak is sure to impress with its juicy tenderness and captivating aroma.
Pairing Suggestions
Complement with a side of garlic mashed potatoes or a fresh arugula salad. A glass of red wine completes the experience.
8. Rosemary Lemonade
A Refreshing Twist
Reimagine the classic lemonade with the invigorating touch of rosemary. This drink offers a unique blend of tangy and herby, promising to refresh and rejuvenate.
Perfect for Every Occasion
From garden parties to quiet afternoon breaks, this lemonade fits every mood and setting.
Customizable Sweetness
Adjust the sweetness level to your liking. Adding a sprig of fresh rosemary as garnish not only beautifies but also intensifies the flavor.
9. Rosemary Grilled Vegetables
Herbaceous Charm
Give your grilled vegetables a fragrant boost with rosemary. From bell peppers to zucchinis, the herb enhances the veggies' natural flavors.
Healthy and Delicious
Enjoy a plateful of these colorful delights without any guilt. It's nutritious meets delicious.
Versatility at its Best
Serve alongside grilled meats or as a standalone vegetarian dish. The possibilities are endless.
10. Rosemary Honey Ice Cream
Unexpectedly Divine
Dive into the delightful fusion of sweet honey and aromatic rosemary. This ice cream recipe takes a classic dessert to an extraordinary level.
Creamy Goodness
Every spoonful promises creamy smoothness with an undercurrent of herbaceous sweetness.
Perfect Dessert
Serve at dinner parties or indulge on a quiet evening. This ice cream is sure to be a conversation starter.
11. Rosemary and Orange Muffins
Sweet Meets Savory
The zesty punch of oranges combined with the savory undertone of rosemary creates a muffin that's perfect for breakfast or tea time.
Baking Delight
Enjoy the therapeutic process of baking with this simple yet flavorful recipe. The aroma that fills the kitchen is a bonus!
Serve it Up
Enjoy with a dollop of butter or a drizzle of honey. Pair with tea or coffee for a complete experience.
12. Rosemary Almond Pesto
Nutty and Fragrant
Combine the crunchiness of almonds with the fragrance of rosemary for a pesto that's unlike any other. It's rich, nutty, and full of character.
Multi-Purpose Delight
Use it as a pasta sauce, spread for sandwiches, or a delightful dip. Its versatility is unmatched.
Quick and Easy
Prepare this pesto in minutes. Store it in the fridge for a quick flavor boost any time.
13. Rosemary Caramel Brownies
Decadence Redefined
Indulge in the gooeyness of caramel brownies with a hint of rosemary. This unexpected pairing promises a roller-coaster of flavors.
Dessert or Snack
Enjoy these brownies post-dinner or as a midday treat. They're bound to satisfy your sweet cravings.
Elevate the Experience
Serve with a scoop of vanilla ice cream or a dash of whipped cream for an added touch of luxury.
14. Rosemary Roasted Potatoes
Crispy Perfection
Upgrade your roasted potatoes by infusing them with the fragrant goodness of rosemary. Golden on the outside, soft on the inside, they are a treat to your taste buds.
A Universal Side
Whether it's roast meats or grilled fish, these potatoes are the perfect side dish to complete your meal.
Twist on a Classic
Experiment by adding other herbs and spices, ensuring a new taste experience every time.
15. Rosemary and Olive Oil Cake
Sweet and Savory Fusion
Introduce a savory twist to your dessert with this delightful cake. The blend of olive oil and rosemary offers a unique, yet tantalizing taste.
Moist and Fragrant
Every slice is moist, tender, and exudes the sophisticated aroma of rosemary, making it a hit among adults and kids alike.
Serve with a Twist
Drizzle with a lemon glaze or top with fresh berries to further elevate the flavors.
16. Rosemary Citrus Shrimp
Zesty and Aromatic
Revel in the marriage of citrus zest and aromatic rosemary with succulent shrimp. It's a quick and flavorful dish, perfect for busy weeknights.
Impress Your Guests
Serve at dinner parties for a gourmet experience. Its unique taste will have guests asking for the recipe.
Pairing Recommendations
Opt for a light salad or steamed vegetables for a complete, healthy meal.
17. Rosemary Apple Butter
Herbaceous Fruit Spread
The combination of apples and rosemary creates a spread that's both sweet and savory. It's a refreshing twist on the traditional apple butter.
Multipurpose Delight
Spread on toast, use as a filling for pastries, or pair with cheese for a gourmet experience.
Fall Favorite
Particularly delightful in the autumn months, but can be enjoyed year-round.
18. Rosemary Gin Fizz
Sophisticated Cocktail
Elevate your cocktail game with the inclusion of rosemary. This drink offers a botanical touch to the classic gin fizz.
Impress at Parties
Serve at gatherings or special occasions. Its unique profile is sure to make it the talk of the evening.
Customization Tip
Adjust the sweetness level or add a splash of citrus for a personal touch.
19. Rosemary Infused Chocolate Truffles
Sweet Meets Savory
These decadent truffles, infused with the earthy aroma of rosemary, redefine chocolate treats. Perfect for those who love experimenting with flavors.
Read also: 46 Fall Cocktails (Easy Crowd Pleasers)
A Thoughtful Gift
Present them in a decorative box and surprise a loved one. These truffles are sure to impress.
Choco-Variety
Experiment with dark, milk, or white chocolate to suit your preference.
20. Rosemary and Garlic Grilled Lamb Chops
A Classic Combo
Rosemary and lamb have always been a match made in culinary heaven. Throw in some garlic, and you've got a mouthwatering main course.
Perfect for Special Occasions
Whether it's Easter or a family gathering, these grilled lamb chops will be the star of the table.
Pairing Suggestion
Complement with a red wine and roasted vegetables for a complete meal.
21. Rosemary Beet Soup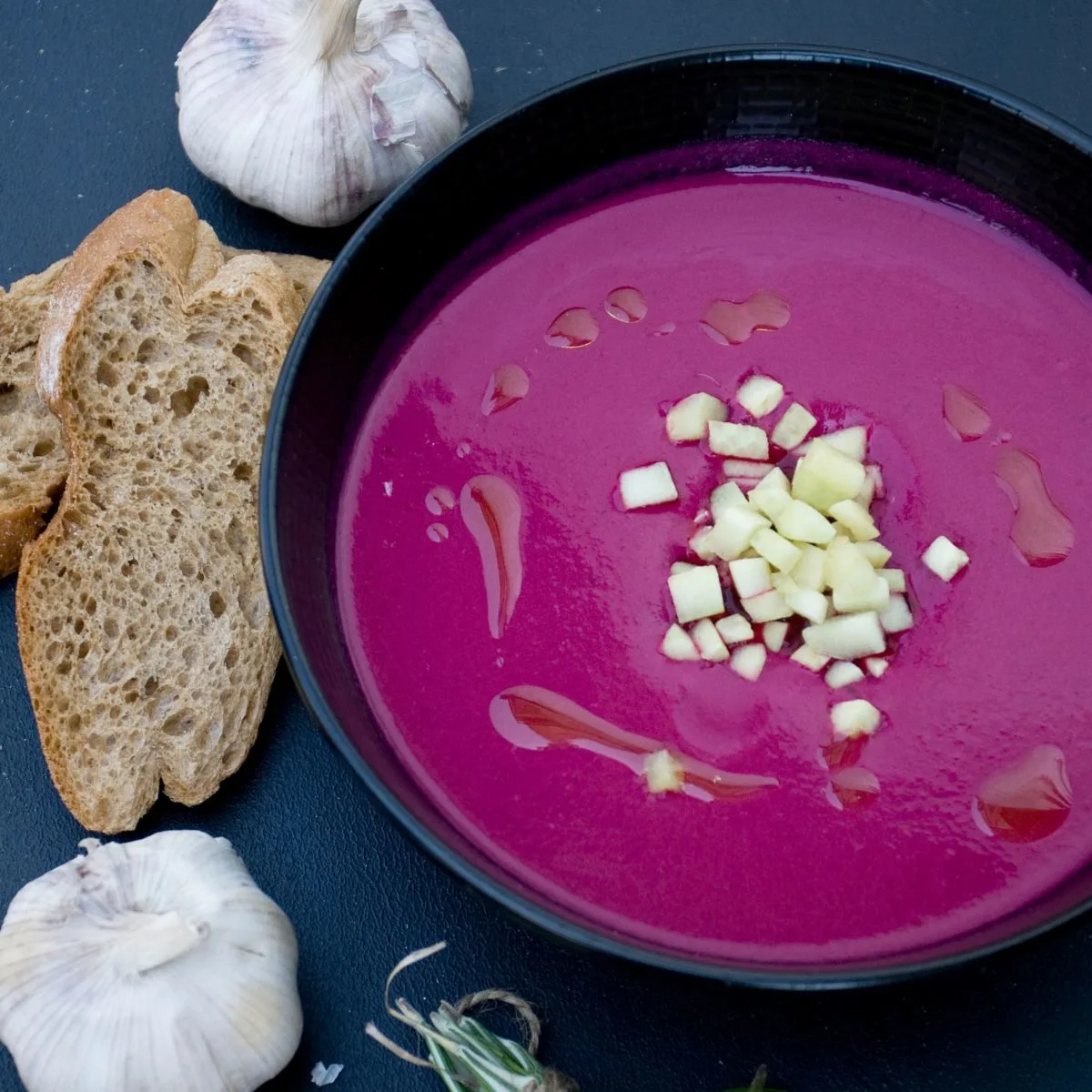 A Vibrant Delight
Delve into this earthy, aromatic soup that boasts a vibrant hue and a delightful taste, thanks to the combination of beets and rosemary.
Nutrition Packed
Rich in vitamins and minerals, it's not just tasty but also a healthy option.
Serving Suggestion
Top with a dollop of yogurt or sour cream for added creaminess.
22. Rosemary Blueberry Jam
Fruity and Herbaceous
The unlikely pairing of blueberries and rosemary results in a jam that's both fruity and uniquely aromatic. Perfect for those looking to try something different.
Versatile Spread
Smear it on toast, swirl in yogurt, or use it as a cake filling. The possibilities are endless.
Preservation Tip
Ensure it's stored in sterilized jars to prolong its shelf life.
23. Rosemary Almond Biscotti
Crunchy Perfection
Relish these Italian twice-baked cookies with a twist. The added rosemary offers a savory touch, balancing the almond's sweetness.
Perfect with Coffee
Dip them in your morning brew or enjoy as an afternoon snack.
Variation
Replace almonds with hazelnuts or pistachios for a different taste experience.
24. Rosemary Balsamic Reduction
A Rich Finish
Enhance your dishes with this aromatic, tangy reduction. Drizzle over salads, grilled meats, or roasted veggies for a burst of flavor.
Elevate Every Meal
A little goes a long way. This reduction can transform even the simplest of dishes.
Storage
Keep in an airtight container in the fridge. Warm slightly before using to achieve a drizzling consistency.
Conclusion
From refreshing drinks to delectable mains, we've journeyed through the myriad ways rosemary can transform a dish. Each recipe brings out the herb's unique essence, proving its worth as a kitchen staple. I hope this list inspires you to incorporate rosemary into your culinary adventures more often, unveiling layers of flavors and aromas that surprise and delight. Happy cooking!