Discover delicious scones with these 27 delightful variations. From the familiar tang of blueberries to the exotic allure of matcha, each recipe offers a unique flavor profile. Whether you're a seasoned baker or a novice eager to explore, this compilation ensures that every morning tea or coffee break becomes an exquisite culinary adventure.
1. Classic English Scones
A Timeless Treat:
These traditional scones are reminiscent of afternoon teas in the English countryside. Light, fluffy, and slightly sweet, they're the perfect canvas for your favorite jam or clotted cream.
Ideal for Any Occasion:
Serve these at brunch, tea time, or as a delightful dessert. Their versatility will make them a staple in your baking repertoire.
Personalize to Your Taste:
Feel adventurous? Add in currants, raisins, or even a hint of citrus zest to elevate the classic flavor.
Check this recipe.
2. Blueberry Lemon Scones
A Zesty Combination:
Bursting with fresh blueberries and zesty lemon flavor, these scones are a vibrant addition to your breakfast table.
Morning Delight:
Enjoy them with a cup of coffee or tea, and start your day on a fruity note.
Baker's Tip:
Sprinkle some coarse sugar on top before baking for a crunchy texture that complements the soft interior.
Check this recipe.
3. Cheddar and Chive Scones
Savory Satisfaction:
Break from the norm with these rich and savory scones, filled with sharp cheddar and fresh chives.
Perfect Pair:
These make a delightful companion to soups or salads, enhancing your meal with their hearty flavor.
Customize Your Scone:
Add crumbled bacon or a dash of cayenne pepper to bring an extra kick to this savory treat.
Check this recipe.
4. Chocolate Chip Scones
A Chocolatey Indulgence:
Infused with rich chocolate chips, these scones offer a sweet treat perfect for any time of the day.
Dessert or Breakfast?:
Why not both? Enjoy these scones with a dollop of cream for dessert or with your morning coffee.
Upgrade Your Scone:
Consider adding a dash of espresso powder to enhance the chocolate flavor and give an energizing kick.
Check this recipe.
5. Raspberry Almond Scones
Berry Delicious:
These scones are studded with juicy raspberries and crunchy almonds, offering a delightful texture and flavor.
Teatime Perfection:
Pair these with your favorite tea, be it green, black, or herbal, and savor the moment.
Baker's Suggestion:
Drizzle with a light almond glaze to amplify the almond notes and add a touch of sweetness.
Check this recipe.
6. Maple Pecan Scones
Autumn Delight:
Rich with the flavors of maple syrup and toasted pecans, these scones encapsulate the essence of fall.
Heartwarming Flavors:
Each bite delivers a comforting warmth, perfect for those chilly mornings.
Elevate the Experience:
Consider adding a sprinkle of sea salt on top to create a balance of sweet and savory.
Check this recipe.
7. Cranberry Orange Scones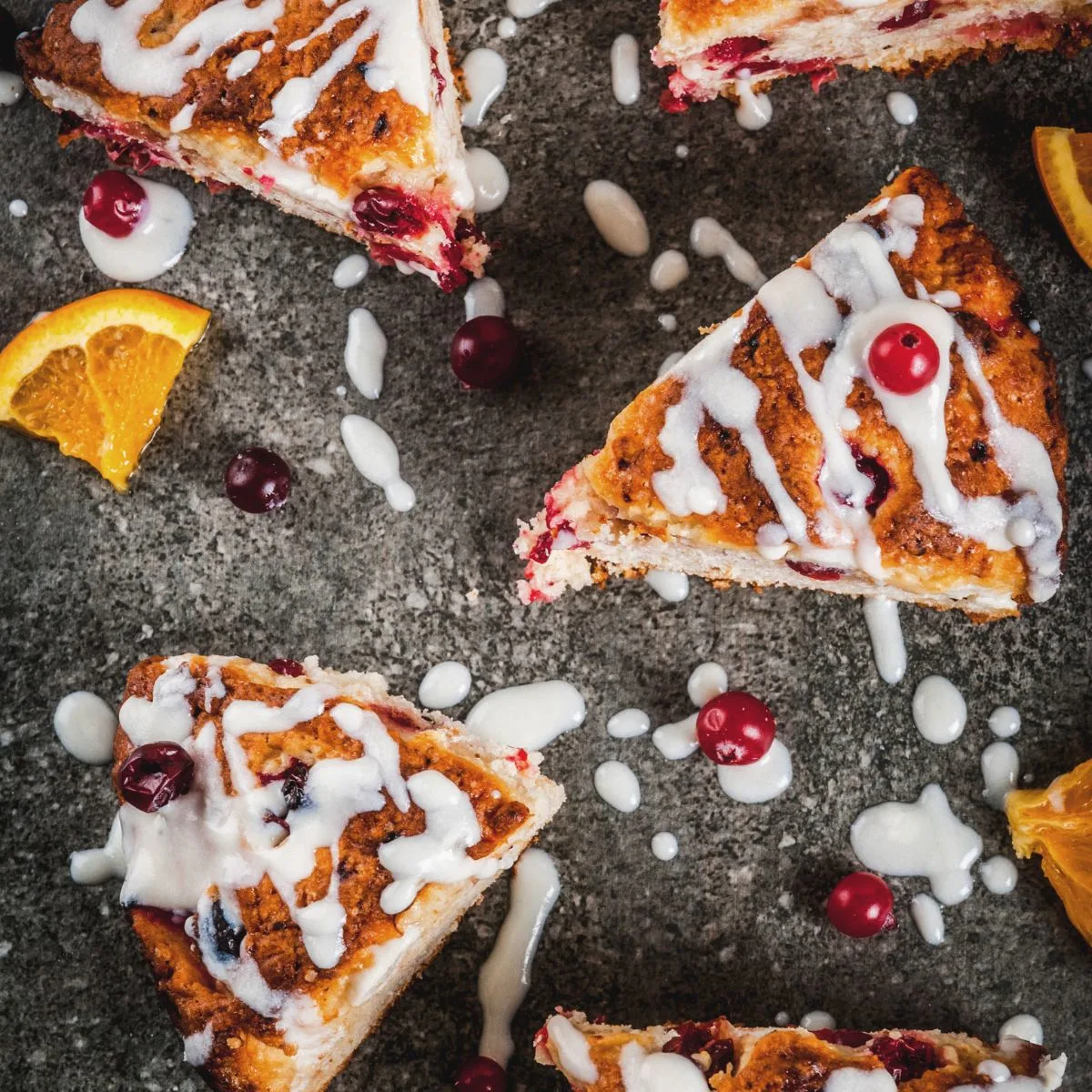 Citrus Meets Sweet:
Tart cranberries combine with zesty orange to offer a refreshingly vibrant flavor profile.
Festive and Flavorful:
These scones are perfect for the holidays or any festive occasion, bringing a burst of color and taste.
Boost the Orange:
Top with an orange glaze for an extra punch of citrus and sweetness.
Check this recipe.
8. Earl Grey Lavender Scones
Aromatic Indulgence:
Infuse your scones with the subtle flavors of Earl Grey tea and fragrant lavender for a unique treat.
Perfect for High Tea:
Elevate your tea time experience with these sophisticated flavors, paired best with a steaming pot of Earl Grey.
Enhance the Aroma:
Sprinkle with dried lavender buds for an extra aromatic kick.
Check this recipe.
9. Walnut and Date Scones
Nutty and Sweet:
The rich flavors of walnuts combine perfectly with the natural sweetness of dates in this hearty scone.
Read also: 23 Wonton Recipes
Fuel Your Day:
These nutrient-dense scones are a great way to start your morning, offering both energy and satisfaction.
Baker's Touch:
Add a hint of cinnamon or nutmeg to elevate the warmth of the flavors.
Check this recipe.
10. Coconut Lime Scones
Tropical Bliss:
Transport yourself to a tropical paradise with the zesty flavor of lime and the sweet notes of coconut.
Summer in a Scone:
Ideal for brightening up a summer morning or reminiscing about beach vacations during colder months.
Brighten the Flavor:
Use lime zest in the dough and finish with a lime glaze for a tangy punch.
Check this recipe.
11. Apricot and White Chocolate Scones
A Delightful Duo:
The tangy-sweetness of apricots marries seamlessly with the creamy decadence of white chocolate in this delightful scone.
Snack or Dessert?:
Perfect for an afternoon pick-me-up or as a dessert after dinner, their versatility is a win.
Enhance Your Bake:
Consider incorporating some chopped nuts or a hint of almond extract for added depth.
Check this recipe.
12. Rosemary and Olive Oil Scones
Herbaceous Elegance:
Allow the aromatic essence of rosemary to uplift the subtle richness of olive oil in this savory scone.
An Unexpected Pleasure:
Perfect with soups or salads, they offer a Mediterranean touch to your meals.
Baking Tip:
A sprinkle of sea salt on top will beautifully highlight the earthy rosemary.
Check this recipe.
13. Mocha Scones
Caffeinated Delight:
The allure of coffee and the sweetness of chocolate converge in this delectable morning treat.
Breakfast's Best Friend:
Pair these scones with your morning cappuccino or latte for a coffee-infused start to the day.
Elevate the Flavor:
A drizzle of dark chocolate glaze will not only add visual appeal but also an extra layer of richness.
Check this recipe.
14. Pear and Gorgonzola Scones
Sweet Meets Savory:
Savor the sweet juiciness of pears complemented by the robust tang of Gorgonzola cheese.
Sophisticated Palate:
Perfect for wine and cheese nights or sophisticated brunches, these scones are sure to impress.
Chef's Suggestion:
A sprinkle of chopped walnuts adds a delightful crunch and nutty flavor.
Check this recipe.
15. Vanilla Bean Cream Scones
Simple Elegance:
Relish the fragrant essence of vanilla beans in this delicate and creamy scone.
Timeless Classic:
Perfect for any occasion, these scones are an ode to the beauty of simplicity.
Baker's Tip:
Serve with a dollop of whipped cream and fresh berries for a delightful treat.
Check this recipe.
16. Strawberry Basil Scones
Summer's Bounty:
Taste the freshness of summer with the unique pairing of sweet strawberries and aromatic basil.
Garden Fresh:
Ideal for picnics or garden brunches, these scones embody the vibrant flavors of summer.
Enhance Your Scone:
A light lemon glaze can provide a zesty contrast to the sweetness of strawberries.
Check this recipe.
17. Spiced Carrot Scones
Autumnal Warmth:
Experience the coziness of fall with these spiced scones, reminiscent of carrot cake.
Morning or Evening:
Whether with morning tea or evening cocoa, these scones fit seamlessly.
Elevate the Bake:
Consider adding raisins or nuts for texture, and maybe even a cream cheese glaze for added richness.
Check this recipe.
18. Salted Caramel Scones
Sweet and Salty:
Dive into the addictive combination of sweet caramel accented with a hint of sea salt.
Indulgent Moments:
Ideal for moments when you wish to treat yourself, these scones are pure indulgence.
Boost the Caramel:
A caramel drizzle on top ensures a gooey experience with every bite.
Check this recipe.
19. Apple Cinnamon Scones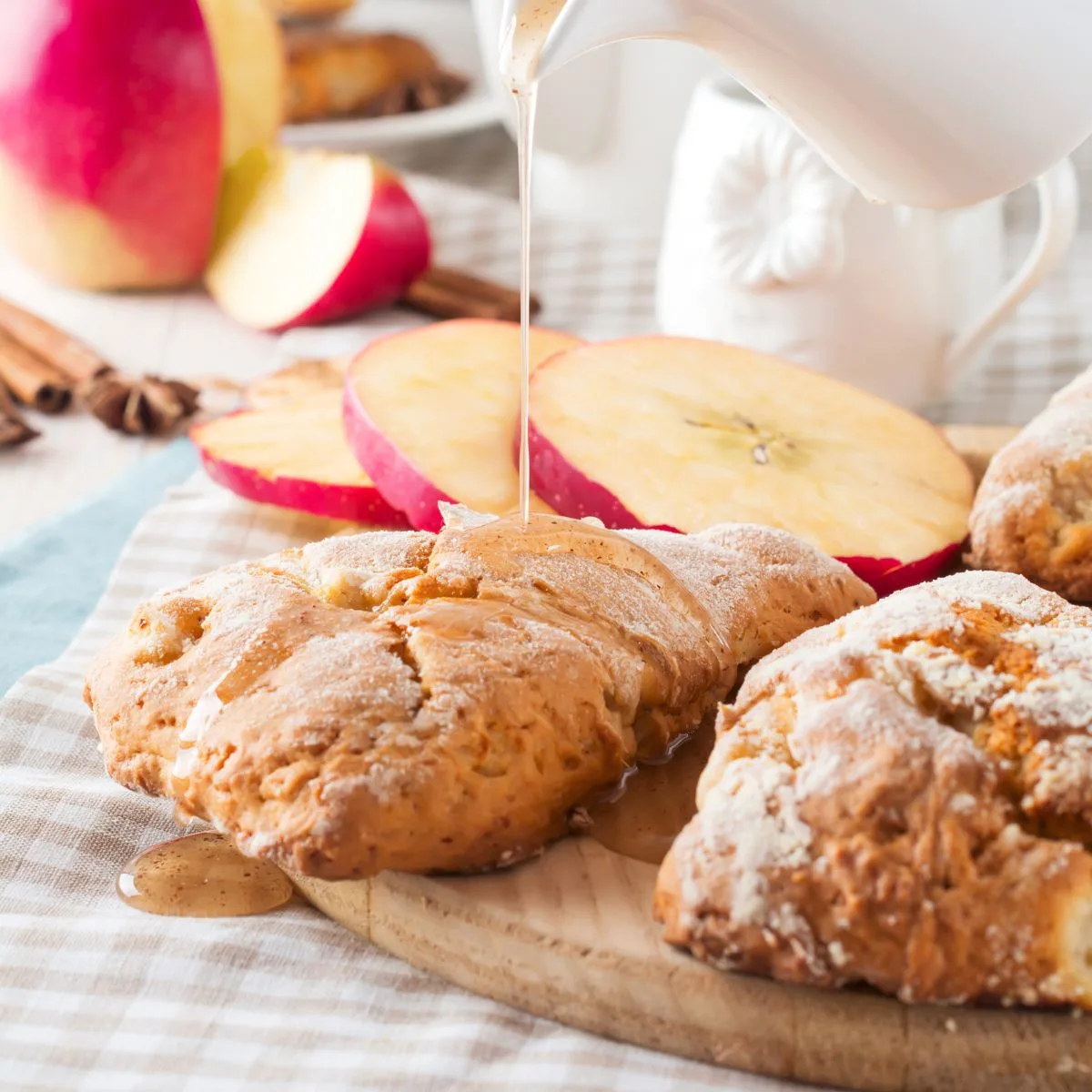 Orchard Fresh:
Relish the harmonious pairing of crisp apples and warming cinnamon in this delightful treat.
Read also: 29 Pork Chop Recipes For Dinner
Seasonal Delight:
Perfect for autumn, these scones bring the essence of apple orchards right to your table.
Top It Off:
A sprinkle of coarse sugar before baking adds a delightful crunch.
Check this recipe.
20. Mint Chocolate Chip Scones
Refreshing Indulgence:
Dive into the coolness of mint combined with the richness of chocolate chips.
Anytime Treat:
Perfect for dessert or a mid-day snack, their refreshing taste will uplift your mood.
Minty Fresh:
Consider adding a mint glaze for an extra layer of flavor and freshness.
Check this recipe.
21. Red Velvet Scones
Decadent and Rich:
Savor the classic flavors of red velvet cake in scone form, complete with a luscious cream cheese swirl.
Perfect for Celebrations:
Whether it's Valentine's Day, a birthday, or any special occasion, these scones are sure to make the event even more memorable.
Finishing Touch:
A light dusting of powdered sugar or a drizzle of cream cheese icing can elevate these scones to perfection.
Check this recipe.
22. Chocolate Orange Scones
Classic Pairing:
Indulge in the timeless combination of rich chocolate and zesty orange, brought together in scone form.
For Chocolate Lovers:
The depth of cocoa combined with the bright notes of citrus ensures every bite is a treat.
Boost the Flavor:
Consider adding some candied orange peel or a light orange glaze for an extra zesty touch.
Check this recipe.
23. Matcha Almond Scones
East Meets West:
Experience the earthy tones of matcha green tea combined with the nutty richness of almonds in this unique scone.
A Tea Time Delight:
Best paired with a hot cup of green tea or a latte for a harmonious flavor profile.
Enhance Your Scone:
A matcha glaze or a sprinkle of sliced almonds on top can further elevate these delicious treats.
Check this recipe.
24. Lavender Honey Scones
Floral Notes:
Relish the gentle aroma of lavender paired with the sweet richness of honey in this exquisite scone.
Perfect for Relaxation:
Enjoy these scones during a quiet afternoon, as the soothing notes of lavender have a calming effect.
Baker's Tip:
A light honey drizzle on top can accentuate the floral undertones and add a glossy finish.
Check this recipe.
25. Pomegranate White Chocolate Scones
Jewels in Every Bite:
The juicy burst of pomegranate seeds combined with creamy white chocolate creates a delightful texture and taste contrast.
A Festive Treat:
Their vibrant color and unique flavor profile make them perfect for holiday celebrations or special occasions.
Finishing Touch:
Consider adding a lemon zest glaze to provide a tangy contrast to the sweet pomegranate seeds.
Check this recipe.
26. Chai Spiced Scones
Warm and Spicy:
Let the comforting spices of chai – from cardamom to cloves – warm your senses with these aromatic scones.
Cozy Up:
Perfect for chilly mornings or rainy afternoons, these scones are the embodiment of coziness.
Elevate the Experience:
Serve with a dollop of clotted cream and a cup of strong chai for the perfect pairing.
Check this recipe.
27. Cranberry Pistachio Scones
Festive and Flavorful:
Celebrate the vibrant hues and contrasting flavors of tangy cranberries and nutty pistachios in this delightful scone.
Holiday Favorite:
Given their festive colors, these scones are perfect for holiday breakfasts or tea times.
Baker's Tip:
A light orange zest glaze complements the tartness of cranberries and adds a lovely sheen.
Check this recipe.
Conclusion
Whether you were looking for a tropical hint of coconut and lime, or the comfort of classic blueberry, I trust you've found a scone recipe (or several) to call your next favorite. Perfect for all occasions, from relaxed Sunday brunches to festive holiday gatherings, these 27 scone recipes are set to elevate your baking repertoire. Dive in, experiment, and most importantly, enjoy every bite of these globally-inspired treats.