Looking for the best sides for burgers ? Getting the perfect side dish can truly elevate your burger to a whole new level. Whether you're grilling up some classic beef patties or experimenting with plant-based alternatives, pairing your burger with a delicious side not only enhances the flavor experience but also adds balance and variety to your plate.
As you prepare for your next BBQ or family dinner, consider these 25 sides for burgers to create a mouthwatering and unforgettable meal.
From crispy fries and flavorful salads to savory baked beans and zesty coleslaws, you're sure to find the ideal companion to your burger masterpiece.
Get ready to treat your taste buds and impress your guests with these gourmet pairings.
Classic Sides for Burgers
When it comes to enjoying a delicious burger, the sides you choose can change it into a classy, casual, or innovative meal. In this section, we'll introduce you to five classic sides that pair perfectly with a juicy, flavorful burger.
Each of these sides has stood the test of time, and for good reason. Get ready to explore these delicious options that will remind you of comfort food and family.
1. French Fries
What could be better than a batch of golden, crispy fries to accompany your burger? When it comes to classic sides, french fries are a staple that you simply cannot go wrong with.
You can opt for thick-cut, crinkle-cut, or shoestring fries according to your preference. Don't forget to consider sweet potato fries as an alternative.
2. Onion Rings
If you're looking for a slightly different twist on a traditional side, onion rings might be your answer.
With their crispy, deep-fried exterior and tender onion center, these tasty rings can be a delightful accompaniment to any burger. Who knows, you might even find a new favorite side in these crunchy bites.
3. Coleslaw
For a refreshing and tangy contrast to a burger's rich flavors, consider adding coleslaw to your plate.
This classic side can be made with a creamy or vinegar-based dressing, incorporating your favorite mix of cabbage, carrots, and other crunchy vegetables.
Coleslaw is a satisfying and cool side that adds texture and flavor to any burger meal.
4. Salad
If you're in the mood for something lighter or looking to add some greens to your burger feast, a fresh salad can be a great choice.
From simple green salads with crisp lettuce and toppings like cucumber and tomato to more complex options like Caesar or Greek salad, the possibilities are almost endless.
Consider dressing your salad with a vinaigrette to complement the rich taste of your burger.
5. Grilled Vegetables
Finally, if you want to keep the theme of grilled deliciousness going, grilled vegetables can be a fantastic side for your burger.
Popular options include bell peppers, zucchini, cherry tomatoes, and mushrooms.
Grilling brings out the natural sweetness of veggies and adds a smoky depth of flavor that pairs wonderfully with the charred taste of a great burger.
Read Also: 25 Side Dishes for Hotdogs
Creative Sides for Burgers
Who says burgers have to be paired with the same old sides? Spice up your meal with these creative and tasty sides that are guaranteed to impress. These unique options work incredibly well, bringing new flavors and textures to your burger.
From Sweet Potato Fries to Tater Tot Skewers, this section will cover five innovative side dish ideas, complete with a link to the recipe for each. In no time, you'll elevate your next burger night with these delightful accompaniments.
6. Sweet Potato Fries
Sweet Potato Fries offer a healthier and tastier alternative to traditional fries. Their natural sweetness perfectly complements the savory taste of your burger. To make your own, follow this delicious recipe.
7. Loaded Nachos
Who said nachos are only for game night? Bring the fun to your burger feast with mouthwatering Loaded Nachos.
They offer an explosion of flavors that pair wonderfully with your juicy burger. Try out this drool-worthy recipe for the perfect side.
8. Macaroni and Cheese Bites
Imagine the creamy goodness of mac and cheese combined with the convenience of a finger food. Enter Macaroni and Cheese Bites, creamy morsels that will steal the show. Learn how to make them with this amazing recipe.
9. Avocado Fries
Switch things up with a side that's equal parts nutritious and delicious – Avocado Fries. Their crispy exterior and creamy interior make for a heavenly combination. Learn how to make these crunchy treats by following this tasty recipe.
10. Tater Tot Skewers
Say goodbye to boring burgers with fun and playful Tater Tot Skewers! These portable potato bites are perfect for dipping and sharing.
Get creative with this easy-to-make recipes and enjoy an unforgettable burger night.
Healthy Side Dishes for Burgers
Searching for lighter side dishes to complement your juicy burger? With these healthy options, you can enjoy a guilt-free and delicious side to your favorite burger meal.
From colorful salads to crunchy alternatives, there's no need to sacrifice taste for health. Let's explore five nutritious side dishes that will impress your taste buds and leave you feeling fantastic.
11. Quinoa Salad
A great quinoa salad not only brings vibrant colors to your plate, but it also offers a protein-packed alternative to traditional sides. Packed with fiber and essential nutrients, this refreshing quinoa salad is perfect for summer cookouts or everyday meals.
12. Kale Chips
Craving a crispy, crunchy treat? Swap out your usual chips for homemade kale chips. These nutritious and delicious crisps are easy to make and serve as the ideal guilt-free snack to enjoy alongside your burger.
13. Roasted Chickpeas
For a protein-rich and flavorful side, try roasted chickpeas. With their slightly nutty taste and versatility, these little legumes can be seasoned with your favorite herbs and spices for a delectable and crunchy alternative to chips.
14. Grilled Portobello Mushrooms
Vegetables don't have to be boring! Grilled Portobello mushrooms offer a meaty and satisfying texture that pairs perfectly with burgers. Plus, they're low in calories and high in nutrients, helping you maintain a balanced diet.
15. Cucumber Salad
Keep it cool and refreshing with a light cucumber salad. This crisp and tangy side dish combines cucumbers, onions, and a zesty vinaigrette for a palate-cleansing addition to your burger meal.
International Inspired Sides for Burgers
Bring your burger night to the next level by exploring some delicious international side dishes. These unique sides are guaranteed to add a burst of flavor and excitement to your meal. Let's dive into these worldwide tastes.
16. Yucca Fries
Swap out those regular potato fries for something more exotic: Yucca Fries. This Latin American favorite is a tasty alternative to potato fries, offering a slightly sweet and nutty flavor.
Make them crispy and satisfying on the outside and soft on the inside with this simple yet delightful recipe.
17. Kimchi
Bring a little Korean spice to your burger menu by adding a side of Kimchi. This fermented cabbage dish boasts vibrant flavors and a delightful crunch. Plus, it's an excellent source of probiotics!
Here's a recipe to make your own.
18. Greek salad
Consider pairing your burger with a refreshing Greek Salad filled with crisp veggies, crumbled feta, and juicy olives.
This salad is a symphony of colors and flavors, and it provides a lighter option to balance out the meal. Check out this recipe to whip up your own.
19. Falafel
Add some Middle Eastern flair to your meal by serving up a plate of crispy, savory falafel. It's a great finger food that can be enjoyed on its own or dipped in a tangy tahini sauce.
Try making your own falafel with this fantastic recipe.
20. Samosas
Last but not least, venture into Indian cuisine with some deliciously spiced samosas.
These deep-fried pastries filled with a mixture of potatoes, peas, and spices will surely bring your taste buds on a journey.
Get started with this mouth-watering recipe.
Dips and Sauces for Burgers
A burger can be truly transformed by the addition of various dips and sauces. Step up your sauce game by exploring some classic and versatile options that bring out the best flavors in your meal. Here are some popular dips and sauces to consider for your next burger night.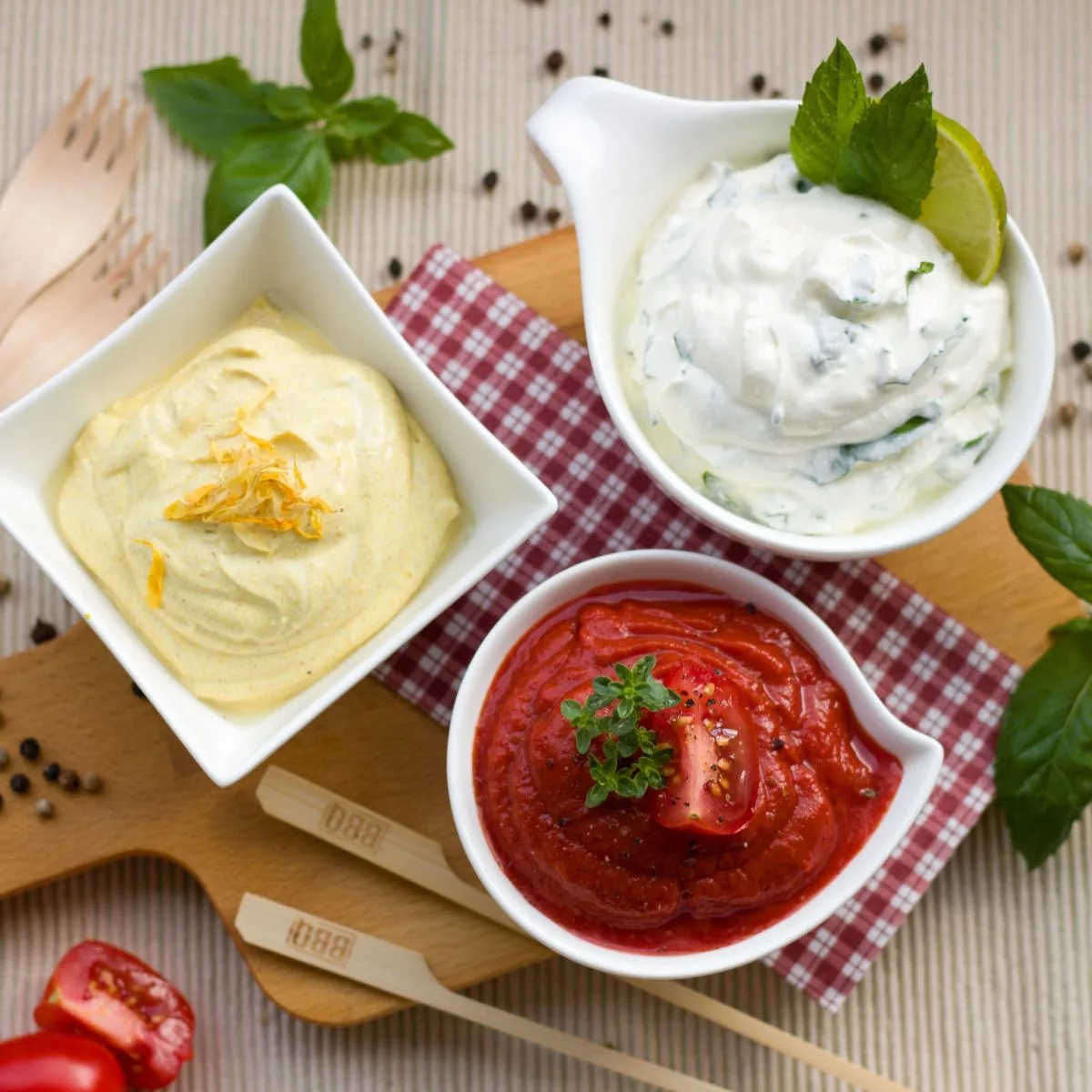 21. Ketchup and Mustard
You can never go wrong with the classic duo of ketchup and mustard. These tried and true condiments will always be a hit with the majority of your guests. Feel free to get creative and combine them for your own "secret sauce."
22. Mayonnaise
Mayonnaise is a popular choice for adding a rich and creamy texture to your burger. You can even go beyond the standard mayo by making a homemade flavored version, such as garlic or sriracha-infused mayonnaise, for an extra kick of flavor.
23. Ranch
Ranch dressing isn't just for salads – it's a delicious addition to your burger as well.
With its tangy, garlicky goodness, it pairs perfectly with a variety of toppings. Try this crowd-pleasing ranch recipe to complement your next burger.
24. Barbecue Sauce
Bring some smoky, sweet flavor to your burger with a generous drizzle of barbecue sauce.
It's a versatile choice that works well with toppings such as bacon, grilled onions, and even coleslaw. Check out this barbecue sauce recipe for a perfect homemade version.
25. Aioli
Take your mayonnaise game to the next level with aioli, a garlicky, creamy sauce that elevates any burger.
This aioli recipe is easy to make and offers a delicious, sophisticated twist to your burger condiments. Feel free to experiment with other flavors, such as lemon or chipotle, for a unique taste experience.
Read Also: 27 Delicious Leftover Roast Beef Recipes
Conclusion
In the end, choosing the perfect side dish to accompany your burger comes down to your taste preferences and the occasion. Remember, variety is the spice of life, and trying new side dishes keeps things interesting.
Perhaps you may even stumble upon a gem like Grilled veggies or the irresistible Garlic Parmesan Steak Fries.
Diversifying your burger sides not only enhances the flavors but makes the meal enjoyable for everyone. Be creative with options like Sweet Potato Fries or the classic Baked Macaroni and Cheese, and don't be afraid to mix things up.
Oh, and the moment you unveil that perfect side dish, don't be surprised when you become the star of the cookout.