Looking for a way to enjoy ground beef without feeling guilty about the calories and fat? You're in luck, because there are plenty of healthy ground beef recipes that you can easily prepare at home. These dishes do not sacrifice flavor, yet they're packed with nutritious ingredients to keep you satisfied and on track with your health goals.
In this collection of 17 healthy ground beef recipes, you'll find lean and tasty meals suitable for various tastes and dietary preferences. From stuffed bell peppers to Mediterranean stir-fry, these recipes will inspire you to get creative in the kitchen and enjoy ground beef in a healthier way.
Choosing Healthy Ground Beef
When selecting ground beef for your healthy recipes, it's important to consider the quality and nutritional content of the meat. In this section, we'll discuss how to choose lean ground beef and the nutrients and benefits it provides.
Lean Ground Beef
Opting for lean ground beef is a simple way to make your recipes healthier. Look for ground beef with a lower fat percentage, around 90% lean or higher. Lean ground beef contains less saturated fat, which can positively impact your heart health. By selecting lean ground beef, you can still enjoy the taste and texture of beef while maintaining a lower fat content in your meals.
Nutrients and Benefits
Ground beef, especially lean ground beef, is a great source of essential nutrients. It's an excellent provider of iron, which is vital for oxygen transport in your body, as well as protein, which helps support muscle growth and repair. Additionally, ground beef offers other nutrients such as zinc, vitamin B12, and selenium. These nutrients can contribute to your overall health and well-being, making ground beef an excellent choice for versatile, healthy meals.
Low-Carb Ground Beef Recipes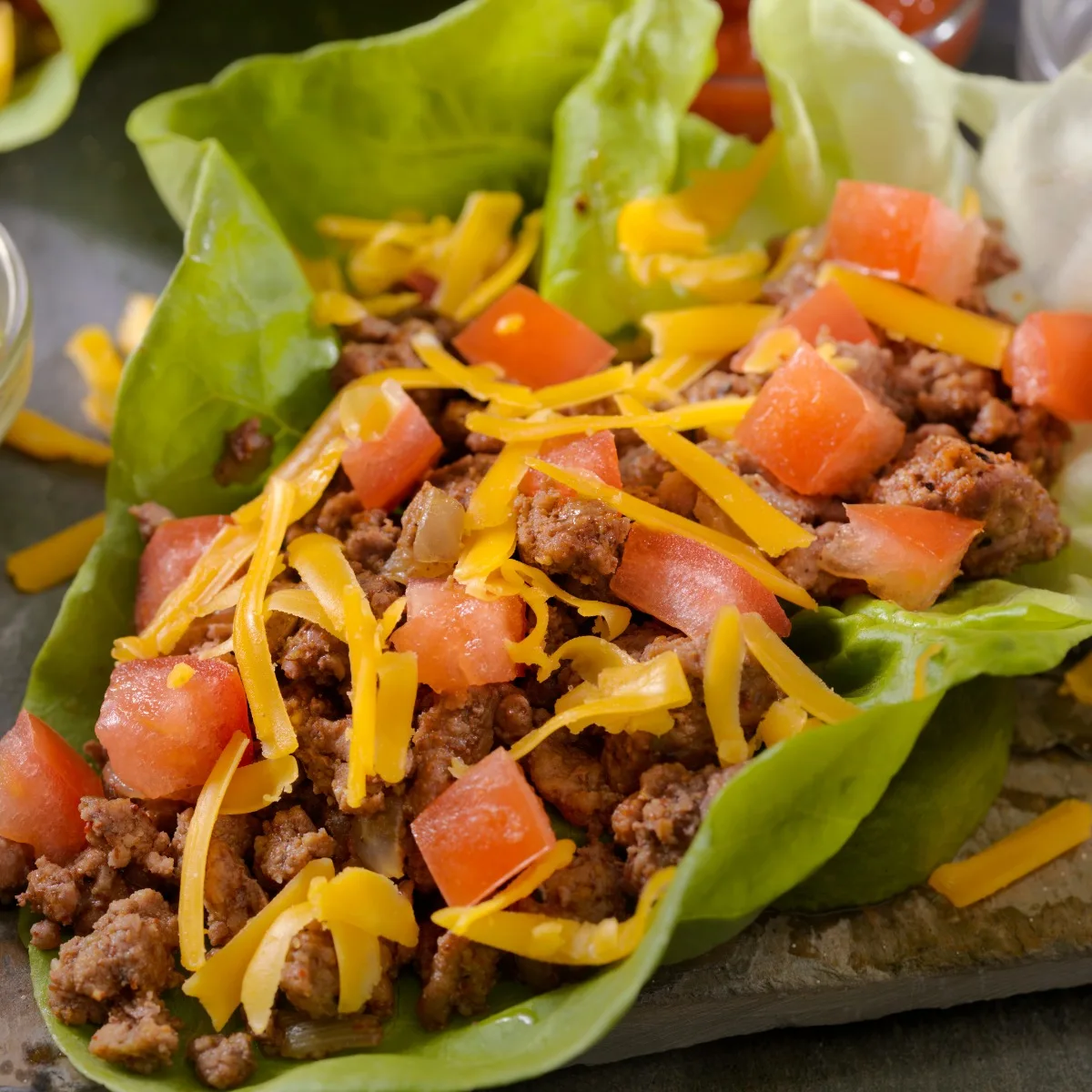 Adopting a low-carb lifestyle doesn't mean sacrificing delicious meals. Here are a few ground beef recipes to try that are tasty and satisfying, without being loaded with carbohydrates.
1.Taco Lettuce Wraps
Replace the traditional taco shells with lettuce leaves for a refreshing and healthy twist. Try this easy-to-follow Taco Lettuce Wraps recipe to make a delightful meal that's both nutritious and satisfying. Top your lettuce wraps with lean ground beef, tomatoes, avocado, and your favorite low-carb toppings for an enjoyable dining experience.
2.Stuffed Peppers
If you're craving something hearty and delicious, look no further than Stuffed Peppers. This recipe swaps out the rice used in traditional stuffed peppers for a low-carb alternative. Load your bell peppers with ground beef, onions, garlic, and a mix of your favorite vegetables, and bake them to perfection. Enjoy this healthy and wholesome meal that's sure to impress your taste buds.
Read also: 18 Chicken Crockpot Recipes
3.Sweet & Sour Beef-Cabbage Soup
For a comforting and flavorful meal, try this deliciously unique Sweet & Sour Beef-Cabbage Soup recipe. The combination of ground beef, cabbage, and a tangy tomato-based broth creates a delightful harmony of flavors. It's a perfect low-carb option, especially during colder months when you're in need of something warm and satisfying.
Ground Beef with Potatoes and Pasta
Want a little bit of carb with your ground beef ? When used moderately carbs bring balance to a meal and it can still be considered healthy. Here's a couple ideas of what to make.
4. Ground Beef & Pasta
You can enjoy a delicious and hearty meal by making this classic Ground Beef & Pasta recipe. It features ground beef, pasta, tomato sauce, and flavorful seasonings, creating a well-rounded meal that is quick to prepare. The simple ingredients make it easy to incorporate into your weekly dinner rotation.
5.Healthy Meatloaf with Veggies
Try this twist on traditional meatloaf by adding an extra dose of vegetables to the mix. This Healthy Meatloaf with Veggies recipe uses ground beef, potatoes, onions, and bell peppers to create a satisfying and nutritious meal. The additional veggies not only enhance the flavor but also provide essential nutrients to keep you feeling your best.
Versatile Ground Beef Skillet Meals
Ground beef skillet meals are a great way to prepare quick and healthy dinners using simple ingredients. In this section, we'll introduce you to two delicious and easy-to-make recipes: Cheesy Beef and Vegetable Skillet and Chili Con Carne.
6. Beef and Pepper Skillet
This Beef and Pepper Skillet recipe combines lean ground beef with a variety of fresh vegetables and cheese. You'll need a skillet, ground beef, onions, tomatoes, red bell peppers, and your choice of cheese. First, brown the ground beef with onions, and then add the vegetables. Cook everything together until the vegetables are tender. Finally, sprinkle cheese on top and let it melt before serving. This one-skillet meal is perfect for busy weeknights and can be customized with your favorite veggies.
7.Chili Con Carne
Chili Con Carne is a hearty and flavorful dish that combines ground beef, tomatoes, beans, and a blend of spices. The great thing about this Chili Con Carne recipe is that it can easily be cooked in a skillet. Start by browning the ground beef, then add onions and garlic, followed by tomatoes, beans, and spices. Let everything simmer together for 20-25 minutes, allowing the flavors to meld. Not only is this dish satisfying, but it's also incredibly versatile—serve it over rice, with cornbread, or even on its own with your favorite chili toppings.
Mexican-Inspired Ground Beef Dishes
In this section, we will explore some healthy, Mexican-inspired ground beef recipes that are perfect for your next meal. We will focus on two popular dishes: healthy tacos and Mexican stuffed peppers.
8.Healthy Tacos
Preparing healthy tacos with ground beef is an excellent way to create a flavorful meal without added calories or unhealthy ingredients. This fantastic Lean Beef Taco recipe uses lean ground beef and various spices to create a delicious taco filling that won't compromise your diet. Additionally, opting for a whole wheat tortilla and adding fresh vegetables like lettuce, tomatoes, and bell peppers can further increase the nutritional value of your tacos.
9.Healthy Burrito Bowl
Another great Mexican-inspired ground beef dish is this healthy burrito bowl ! It's a burrito in a bowl, an it beings a host of veggies and burrito fillings, including corn, lettuce, tomatoes, cucumbers, onions, but also something delicious like avocado and cheese. You can customize your burrito bowl any way you like.
By trying new recipes like these healthy tacos and Mexican burrito bowl, you can continue to enjoy the delightful flavors of Mexican cuisine without sacrificing your health goals. So, grab your apron and start making these delicious dishes today!
Adding Fresh Vegetables to Ground Beef Meals
It's important to incorporate fresh vegetables into your ground beef dishes to create healthier, well-balanced meals. Including a variety of veggies not only adds nutritional value, but also enhances the flavors and textures of your dishes.
10.Stir-Fry with Ground Beef and Veggies
A quick and nutritious option is creating a stir-fry with ground beef and a variety of veggies. You can choose colorful combinations like bell peppers, carrots, broccoli, and snap peas to enhance the visual appeal of the dish.
To prepare a delicious stir-fry, first sauté the vegetables in a bit of oil, then add your seasoned ground beef and cook until fully browned. Combine with your favorite stir-fry sauce and serve over rice or noodles. Enjoy this stir-fry with ground beef and veggies recipe on a busy weeknight for a satisfying meal.
11.Baked Beans with Ground Beef and Vegetables
Another way to add more veggies to your ground beef recipes is by making Baked Beans with Ground Beef and Vegetables. In this dish, you can make use of ingredients like onions, bell peppers, tomatoes, and celery. To prepare this recipe, begin by browning your ground beef, along with chopped onions and garlic.
Then add your chosen veggies, canned beans, and a flavorful sauce. Transfer the mixture to a baking dish and bake until everything is heated through and the flavors have melded together. Try this baked beans with ground beef recipe as a base, and remember to add your chopped veggies.
Healthy Crockpot Ground Beef Recipes
Experiencing delicious and healthy ground beef dishes is made easier with the help of a crockpot. Here are a few healthy crockpot ground beef recipes for you to try.
12. Ground Beef and Broccoli
Ground beef and broccoli is a classic favorite, made even better as a stir fry. Add some garlic and ginger to the sauce for an extra zing, and feel free to include other vegetables like carrots or mushrooms.
13. Swedish Meatballs
The Swedish meatballs recipe is a perfect comfort food and will leave you feeling full and content. They usually require a mix of ground pork and beef, but you can still use just lean ground beef.
14. Crockpot Burger veggie Soup
Another tasty option is the slow cooker hamburger vegetable soup. This flavorful soup includes plenty of vegetables and is a nutritious choice for those seeking a lighter meal.
15. High Protein Sloppy Joe
Finally, enjoy a high protein sloppy joe with a sweet and spicy twist. Per serving (no bun) you get 143 calories, 21.3g of protein, and 2.4g of carbs. This is the perfect option for fitness enthusiasts and busy individuals looking for a quick and healthy meal.
Explore these healthy crockpot ground beef recipes and treat yourself to a nutritious and delightful experience.
3 Salads With Ground Beef
Looking for healthy ground beef salads to switch up your meal routine? Here are three delicious and nutritious salads with ground beef that you can try.
16. Easy and Healthy Taco Salad
First, we have the Easy Healthy Taco Salad. This recipe has a delightful combination of seasoned ground beef, romaine lettuce, grape tomatoes, cheddar cheese, avocado, and green onions, topped off with salsa and sour cream. The use of avocado oil and taco seasoning gives the ground beef an extra flavor boost. You'll definitely enjoy this guilt-free salad that packs a punch.
17. Thai Ground Beef, Ginger, Peanut Salad
Last but not least, try the Thai Salad with Ginger Ground Beef and Peanut Dressing. This enticing salad features ginger-infused ground beef, a mix of fresh vegetables, and a creamy Thai peanut dressing. The combination of protein and fiber makes it a satisfying yet healthy choice for lunch or dinner. Your taste buds will be delighted by the unique mix of flavors in this easy-to-prepare dish.
These 2 salads with ground beef offer both variety and nutrition without compromising on taste. Give them a try and expand your healthy meal options with these flavorful recipes.
Conclusion
Incorporating healthy ground beef recipes into your meal plans is an excellent choice for adding variety and flavor to your diet. As you have discovered, there are many delicious and nutritious options available that cater to a wide range of tastes and dietary preferences.
Experimenting with these creative recipes can help you find new ways to enjoy ground beef while also providing essential nutrients and keeping your meals interesting. By choosing lean cuts and pairing the ground beef with wholesome, fresh ingredients like vegetables, herbs, and spices, you can create satisfying, well-rounded meals for you and your family.
Remember to keep portions in check and to balance your meals with other protein sources, whole grains, and a rainbow of fruits and vegetables. This way, you can maintain a healthy overall diet and lifestyle. Now that you have a collection of 17 healthy ground beef recipes at your fingertips, the kitchen awaits your culinary creativity. Enjoy!