Corn is possibly one of the best fall harvests, both because it's easy to use in many dishes, and because it tastes so good. Unfortunately by the time the holidays come up the fresh corn is already dried and mostly ready to be turned into cornmeal. So your options are mostly canned corn, which is delicious on its own and actually a very nice shortcut. So lets see if canned corn is already cooked and if it can be used as-is, whether on its own or in side dishes.
Is canned corn cooked ?
Canned corn is cooked before being cut off the ear and packaged in brine. The reason it's already cooked is mostly convenience for the consumer, and the fact that it will hold up better in the brine. Canned corn is mostly sweet, and a little salty.
This means you can add your canned corn to any recipe as is, or cook it along with the rest of the ingredients. Corn is hard to break down, so it won't be easy to overcook it, don't worry.
And since most of the time you only need the kernels from the corn, canned corn is actually more common than fresh ear corns that you cook yourself.
Can you eat canned corn raw ?
Yes, you can eat canned corn 'raw', as in straight from the can. The corn in the can is not raw by any means, but it can be served immediately after opening. It's a good idea to strain your corn, regardless of how you're going to use it. Most of the time you won't need the brine, except when making soup or something similar.
Read also: Why Are Brussel Sprouts Bitter ?
Should canned corn be rinsed ?
You can rinse your canned corn to reduce the sodium level that is on the outside of the corn, if there is any leftover brine still on the kernels. But there will still be some salt in the corn itself, so if lower sodium is what you're after then consider not adding any more salt until the final tasting.
Personally I don't rinse my canned corn, but I'm also not on a low sodium diet. Aside from lowering sodium, there isn't much of a reason to rinse the corn. In any case, if you're going to use your corn for something dry like a salad, you should also dry it on some paper towels.
Is canned baby corn real corn ?
Baby corn is immature, unfertilized real corn, specifically corn ears. These are simply corn that were harvested when very, very young and didn't reach maturity, so both the kernels and the cob are edible. If it's canned, the baby corn is already cooked and can be eaten as-is, it just needs to be drained.
It has a much milder corn taste than mature sweetcorn, with a mellow vegetal flavor, with corn overtones and an earthy base. Its texture is snappy, like fresh bell pepper, and almost as juicy.
Most of the time you can find baby corn as an ingredient in a side dish, though if you want to incorporate it in a traditional holiday meal you need to remember it won't taste as corny as mature sweetcorn. But if your aim is to get corn onto your plate, with a much milder taste, then baby corn is an excellent option.
Read also: What Makes Corn Sweet ?
Ideas for canned corn side dishes
Big dinners mean a lot of side dishes, and one of them is corn-based. If you're cooking a cold season holiday dinner, like Thanksgiving or Christmas, you're going to want to incorporate something that is typical for this season: corn, squash, sweet potatoes, the ever-present turkey, cranberries, and a lot of fussing over whether something's done or not. So here are a few ideas, all of them centered on canned corn.
Corn casserole, a holiday staple
If you want to go traditional and classic, you've got to go with corn casserole. The point of this dish is to provide a soft yet crispy texture, with great flavor. Most recipes will have you mix drained canned corn, cornbread or corn muffin mix, an egg to bind everything together, a whole lot of butter, and a hot oven to bake all of this. The resulting casserole should be lightly golden-brown on the top, should not jiggle, and should be cooked on medium-low heat.
Of course, you can add your own seasonings and extra pop, like adding chives, garlic, onions, a bit of grated cheese, and topping it with fresh tomatoes, what have you. It will still be a delicious corn casserole.
Sauteed canned corn, a quick and simple side dish
If you want less of an effort but still a great flavor, try sauteed/fried corn. Drain the canned corn, and add it to a skilled where you will use a small amount of butter or your favorite cooking oil (just a tablespoon of oil tho). Sauteeing takes very little, and you're not going to need crispy corn kernels, but rather just lightly browned corn. Season with salt and pepper and any other seasonings you see fit, and transfer everything to a serving bowl. You'll have a warm side dish that still evokes the corn casserole, but in a simpler way.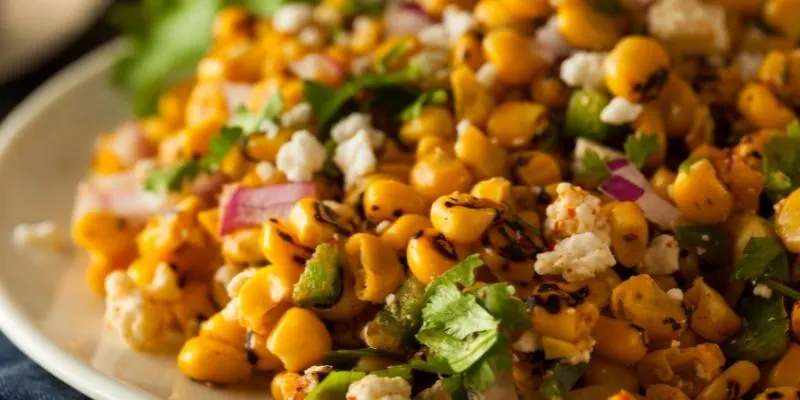 Corn salad, a great way to add more veggies
What if you're planning on a more veggie-minded side dish ? A possibly healthier one ? Consider adding your corn to a salad, again making sure to drain and even dry the corn (as much as humanly possible).
The rest of the veggies are up to you. Some good options are cucumber, cherry tomatoes, onions, canned peas, chickpeas, any sort of lettuce you like. A bit of goat cheese or any crumbly white cheese will also work well here.