Looking for something light and summery ? The Southside Fizz might just be what you're looking for, gin-based and definitely pretty to look at.
This post may contain affiliate links. This post is meant for those of legal drinking age.
What is the Southside Fizz ?
The Southside Fizz is a take on the classic Mojito, gin-based as the Mojito is rum-based. It's quite gin-forward so a great alternative for those who don't like rum in their drink. It is a little less sweet and definitely more of a refreshing drink.
Southside Fizz
A riff on the Mojito, but with gin. Light and refreshing, definitely something to enjoy in the summer.
Ingredients
2

oz

gin

1

oz

fresh lime juice

0.5

oz

simple syrup

4-6

mint leaves

plus garnish

top with sparkling water
Instructions
In a shaker add gin, lime juice, mint, simple syrup, ice cubes. Shake well.

Strain into highball glass, filled with ice.

Top with sparkling water, garnish with spring of mint.
Notes
If you want to amp up the flavor consider adding a flavored syrup instead of simple syrup. I tried one with grenadine syrup and it came out quite nice.
You can swap the sparkling water with club soda or a tonic for extra flavor.
When is this drink best ?
Like the Mojito, the Southside fizz works great in the summer when you're just looking to cool down a little. It works quite well both as a casual drink and a safe choice at a fancy place when you don't know the menu. In truth all fizz drinks are a safe choice since they're pretty tame.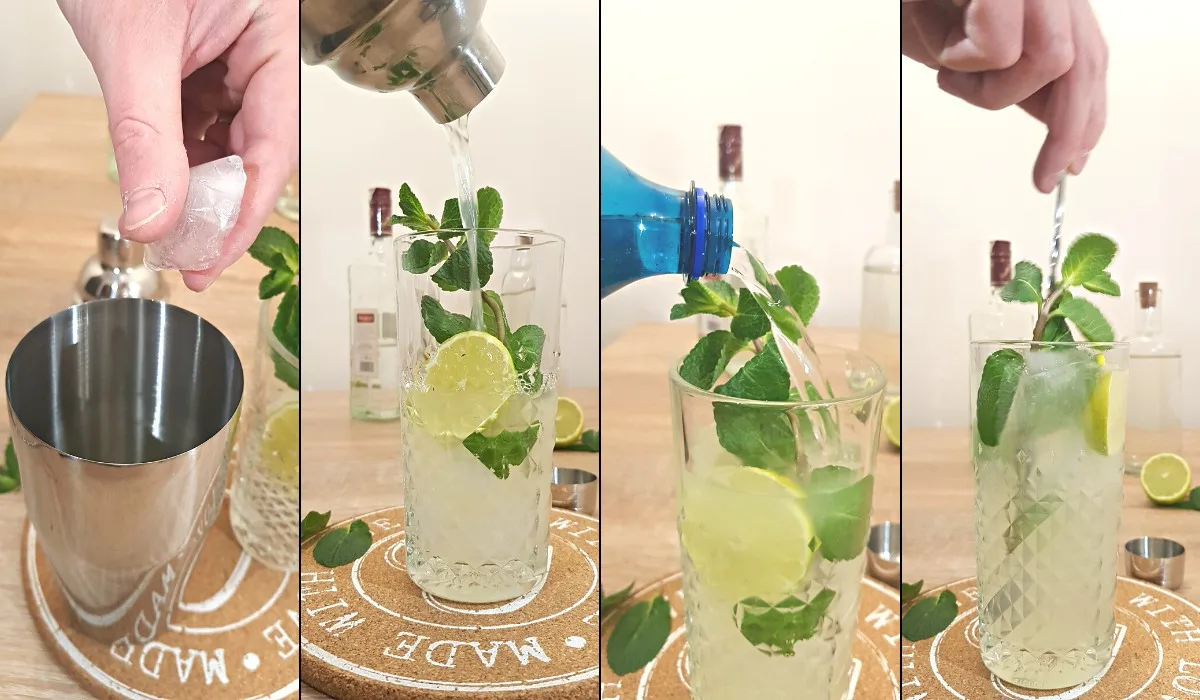 My thoughts on Southside Fizz
Neither me nor my husband enjoy gin, so I can't say I loved this one. The simple syrup lets the gin right through, and the mint does help round it out a little. As-is, I think it needs a little help. So we tried adding 0.5 oz of grenadine syrup after trying a few sips, and we think it improved the flavor. Then again, grenadine makes everything better.
If you like Southside Fizz, you might also like…
Mojito – the classic, rum-based fizz
Gin & Tonic – a bit more flavorful, and another classic
Notes, substitutes, and tips
This drink is just a step away from a gin and tonic. Swap the sparkling water for tonic water and you've got the classic.
Plain dry gin is the traditional choice here, but you could dress this up with a flavored gin of any sort and it'd work well. Something summery and fruity would work great.
If you want to amp up the summer vibes, zest the lime right into the drink and double up on the mint leaves.