The Clover Club doesn't let you guess anything by name, but it's a delicious gin sour with added raspberry syrup, a silky body, and a beautiful color.
This post may contain affiliate links. This post is meant for those of legal drinking age.
What is Clover Club ?
Clover Club is a very old cocktail, about as old as the Bellevue-Stratford Hotel in Philadelphia (later 1800s). This was the hotel bar's namesake drink, and because of the very esteemed crowd the hotel drew, the cocktail became popular outside of the bar. Its popularity waxed and waned, as is the case for all old cocktails, but it's come back to the surface in the past few years.
A mix of gin, raspberry syrup, lemon juice, and egg white make the Clover Club a silky, elegant cocktail that celebrates its gin base and offers an elegant experience. Here's how to make one.
Clover Club Cocktail Recipe
A foamy, delicious gin and raspberry cocktail.
Ingredients
2

oz

gin

0.5

oz

lemon juice

0.5

oz

raspberry syrup

0.5

oz

egg white

or half an egg white
Instructions
In a shaker combine gin, lemon juice, raspberry syrup, egg white. Dry shake for a few seconds.

Open the shaker carefully, add ice, continue shaking until cooled.

Strain into chilled coupe glass.
Notes
You can skip the dry shake if you like, but it provides extra-thick egg foam. Shaking with ice directly will dilute the foam a little.
When is this drink best ?
Clover Club seems to me more of a summer cocktail, but a summer evening at a fancy dinner party sort of drink.
The Clover Club is a refined, elegant cocktail so I see it as more of a date night drink, something to serve at a very special or elegant event, or a cocktail to go with your dinner at an upscale place.
My thoughts on Clover Club
I liked Clover Club, but I think my husband loved it more than I did. He's a big fan of all egg white cocktails for their smooth, silky texture, and this includes the Clover Club.
The raspberry and gin go wonderfully well together, pairing the unique flavor of raspberry with the botanical notes in gin and the mild spiciness. Lemon juice sharpens those notes even more, and makes gin spicier than it already was, which makes for a very beautiful and flavorful drink.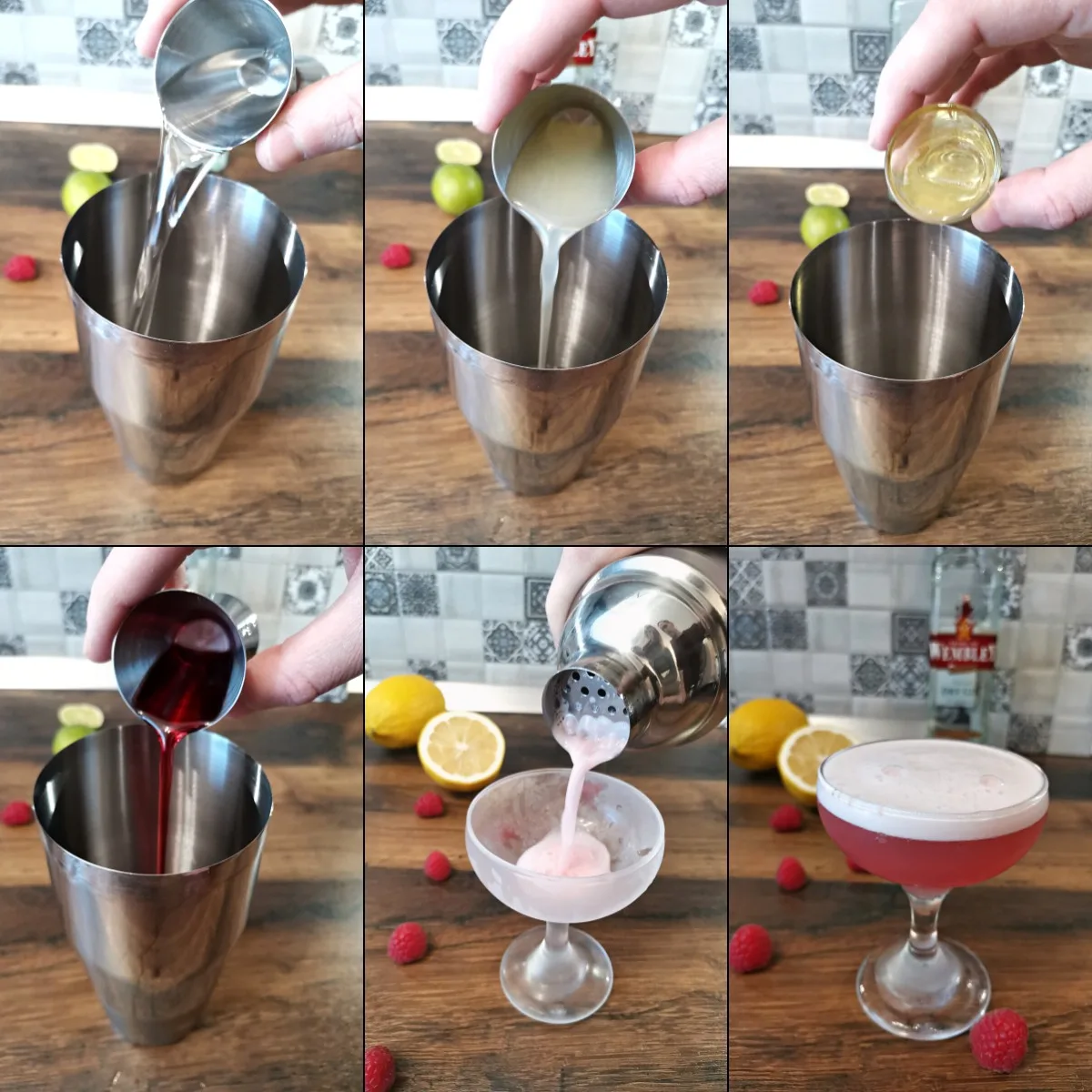 If you like Clover Club, you might also like…
Gin Fizz – a gin sour with added club soda
Gin Sour – very similar to Clover Club, minus the raspberry
Raspberry Gimlet – gin, lime, and raspberries
Strawberry Gimlet – a gimlet with strawberry syrup
Vodka Sour – a gin sour with vodka instead
Notes, substitutes, and tips
The egg white in this is meant to provide a foam head, and a silky body to balance out the gin. If you want, you can swap the egg for aquafaba (the water in chickpea cans). It offers an extremely similar effect, and the foam is a bit more stable.