Blueberry Margarita is one of the many riffs on the classic Margarita, and it's definitely something you may want to try if you're any sort of blueberry fan.
This post may contain affiliate links. This post is meant for those of legal drinking age.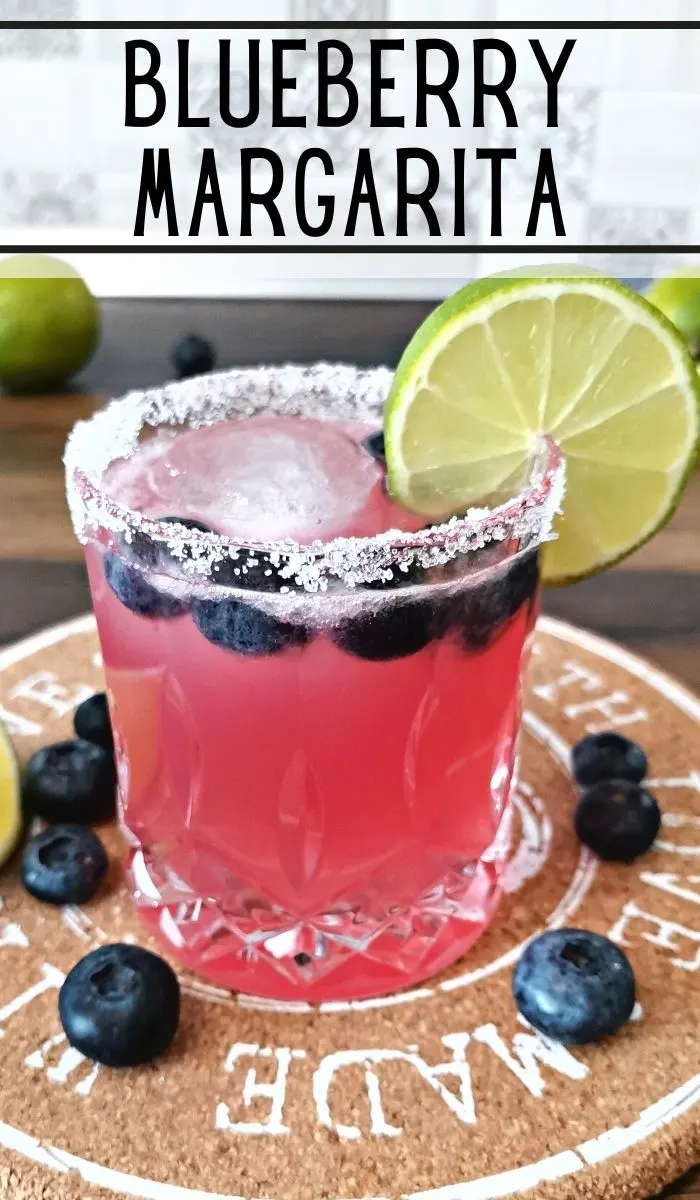 What is Blueberry Margarita ?
The blueberry Margarita is a twist on the classic Margarita, with blueberry syrup instead of agave syrup. The result is a fruity, flavorful cocktail that will come as a nice change from the usual Margarita.
Blueberry Margarita Cocktail Recipe
A fruity take on the classic Margarita - with blueberry
Ingredients
1.5

oz

tequila

1.5

oz

triple sec

1

oz

lime juice

1

oz

blueberry syrup

granulated sugar for the rim
Instructions
Wet the rim of a rocks glass and dip it in granulated sugar. Set aside.

In a shaker combine tequila, triple sec, lime juice, blueberry syrup, and ice. Shake very well.

Strain into prepared rocks glass.
Notes
This comes out pretty sweet, so the sugar rim is there mostly for decor.
Some choose to use salt for the rim (because tequila) but I don't think that works here.
I used a rocks glass but you can always use a Margarita glass instead.
When is this drink best ?
Blueberry Margarita works great as a summer cocktail, same as a classic Margarita. Only this time, the blueberry adds a nice fruity note that makes this cocktail even more fun.
I could see the blueberry Margarita as a dinner drink, or something to try out at your next date.
My thoughts on Blueberry Margarita
I found blueberry Margarita to be quite sweet, perhaps due to the combination of blueberry syrup and triple sec, which are both sweet and very flavorful. You can still taste the tequila flavor in this, but it's not as noticeable as in a classic Margarita; the blueberry masks it quite a bit.
There is a slight tart note from the lime juice, which I think would be far stronger if you add less syrup or triple sec. Overall I wouldn't class this as a tequila sour, compared to a Margarita.
If you like Blueberry Margarita, you might also like…
Raspberry Margarita – same as the blueberry, but with raspberry syrup instead
Coconut Margarita – a sweet, beachy version of the Margarita
Blood Orange Margarita – a citrus-forward version of Margarita
Strawberry Margarita – a Margarita with strawberries
Cinnamon Tequila Sour – a tequila sour with cinnamon and egg foam
Blueberry Lemon Drop – a Lemon Drop with blueberry syrup
Notes, substitutes, and tips
Blueberries have a subtler flavor than other fruits, so you might not be able to pick it out on your first sip.