A Mojito is great on its own, but sometimes a little added fruit goes a long way. So how about adding a few blueberries to your Mojito ? This is a great way to get the warm season started, and also a good exercise in making muddled cocktails.
This post may contain affiliate links. This post is meant for those of legal drinking age.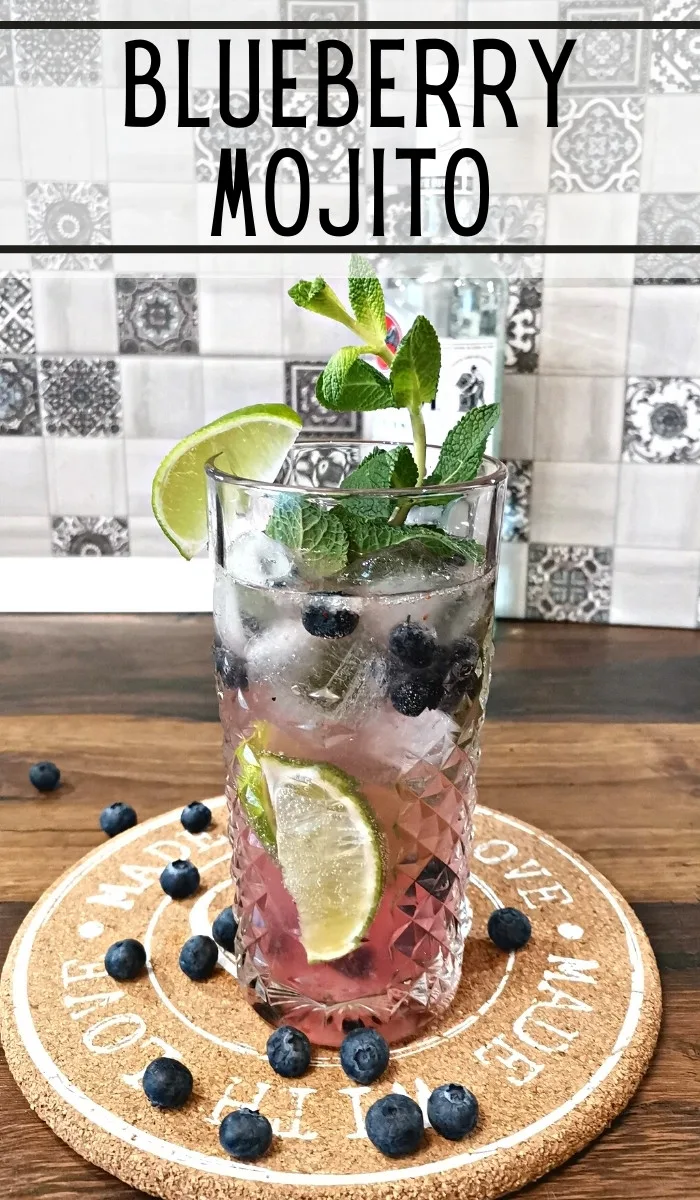 What is Blueberry Mojito ?
The blueberry Mojito is simply a Mojito you add blueberries to. You can do blueberry syrup, puree, or fresh blueberries. If you're going the classic route like I did, you'll muddle your lime and mint and sugar, so that calls for fresh blueberries as well (frozen are fine too if that's all you have).
Muddled blueberries aren't nearly as sweet as a syrup of course, but they have an irresistible charm and offer a beautiful color to your minty Mojito. Here's how to make a blueberry Mojito.
Blueberry Mojito Cocktail Recipe
A blueberry version of a Mojito
Ingredients
2

oz

white rum

2

tsp

granulated sugar

5-7

mint leaves

2

lime wedges

5-7

blueberries

club soda to top
Instructions
In a shaker combine sugar, mint, lime, and blueberries. Muddle thoroughly.

Add ice and rum, shake very well.

Strain into ice-filled Collins of highball glass.

Top with club soda.
Notes
Muddling will always give you a lot of pulp/mash. Straining won't be easy but be patient.
This won't be a very sweet or overly flavorful Mojito. It uses the old recipe (with muddling) so it will be different from one made with syrups.
When is this drink best ?
The blueberry Mojito works great as a summer cocktail, especially since it's not very sweet. Instead it's very minty and refreshing and definitely a great choice to cool off.
Due to its bubbly and refreshing nature, I see this as more of a casual drink, something to have at brunch or lunch, or maybe on a hot summer evening when out for dinner with friends.
My thoughts on Blueberry Mojito
I liked the blueberry Mojito, though I have to say the blueberry flavor wasn't as strong as I'd expected. After all, these are muddled blueberries with just a bit of sugar, so the overall flavor isn't sweet or very fruity. I could definitely taste the blueberries, but they weren't overwhelming.
The mint and rum were very noticeable, which I absolutely liked, and the blueberry/lime background was just perfect. A cool refreshing cocktail, and an especially good one if you don't want to have something too sweet.
If you like Blueberry Mojito, you might also like…
Strawberry Mojito – a Mojito with fresh strawberries
Raspberry Mojito – a Mojito with raspberries
Classic Mojito – my version of a Mojito, extra minty
Strawberry Gin Smash – a muddled gin and strawberry highball
Notes, substitutes, and tips
If you feel the blueberries aren't enough, you could make them into a sweetened puree instead, and add about 0.5 oz of that puree to the cocktail. Or, you could use syrup, but that will not give you fresh fruit and it will be a much sweeter cocktail.
This recipe is the muddled version of a Mojito. It will never be sweet, since all the sugar is used for muddling and you won't get much of it in you cocktail.